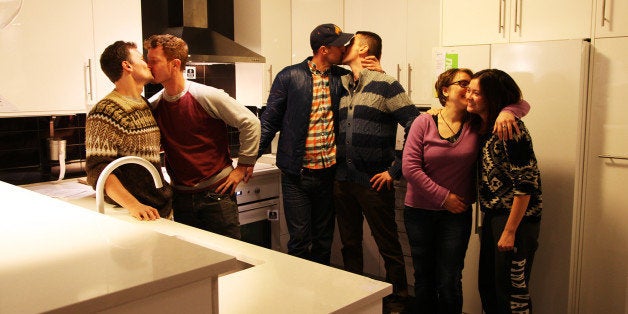 A group of gay and lesbian demonstrators touched down at an Ikea in Brooklyn, N.Y. over the weekend for a "guerilla photo shoot" in protest of the Swedish company's decision to nix an article about a same-sex couple from the December issue of the Ikea Family Live magazine, which is distributed in Russia.
"Ikea calls themselves the 'life improvement' store, but we decided they have some major room for improvement after they deleted a lesbian couple from the Russian version of their catalog," Huff-Hannon told HuffPost Gay Voices in an email. It's a cause particularly close to Huff-Hannon, as his boyfriend, Artyom Matusov, was born in Moscow: "Ikea should stop insulting their LGBT customers in Russia and around the world, show some backbone, and publish the story in Russian."
Gennadiy Kaliberda, who was part of the protest, called the move a "real step back" for the company: "Ikea knows better and should do better."
The magazine feature in question was reportedly focused on British lesbians Clara and Kirsty, who live in London with their son and run the popular parenting blog My Two Mums. An Ikea representative says the feature was nixed because of possible legal ramifications.
"One of the conditions we have of running our business is that we have to follow the law in the markets where we operate," Ikea spokeswoman Ylva Magnusson told The Wall Street Journal. Russia is Ikea's fifth best-selling country, with 14 stores throughout the nation, according to that report.
Russia's controversial "gay propaganda" legislation, who bans the distribution of "any information about homosexuality" to children and stigmatizes the nation's lesbian, gay, bisexual and transgender (LGBT) population, passed in June. The law has been in the headlines consistently since then, partly due to its non-specific implications on foreign athletes and attendees at the forthcoming 2014 Winter Olympics in Sochi.
View photos from the weekend's Ikea photo protest below:
Before You Go
NYC IKEA Protest
Popular in the Community