Editor's Note: An earlier version of this article incorrectly reported that IKEA plans on selling prefabricated homes in the United States. It does not. The home featured below was appointed by an IKEA store in Portland, Ore., but is available for sale from IdeaBox.
Prefab housemaker Ideabox previewed its first U.S. home, "Aktiv," at the Portland Home & Garden Show last week, Sustainable Business Oregon reports. The home was designed in collaboration with IKEA Portland.
But buyers of the one bedroom Aktiv, which costs $86,500, won't have to figure out where to put 1,000 tiny screws.
The house can be delivered to your empty lot by a semi-truck in one or two big pieces. It arrives already constructed and partially furnished, with an IKEA bedroom, kitchen and bathroom installed. "It's your own personal euro designer flat ... only where you want it!" Ideabox's website boasts.
"For those of us IKEA fans, the pure delight of walking and imagining our way through an IKEA store quickly turns to the daunting task of assembly when we get home," Ideabox wrote on its website. "Not a worry… When your ideabox aktiv arrives, all of the cabinets, countertops, and flooring are installed… it's like the best of everything!"
While self-assembly is part of IKEA's DNA -- and part of what helps it keep prices low -- the process has frustrated more than a few American shoppers. Last month, IKEA responded to critics of its minimalist stick-figure instruction books with a video tutorial series, featuring cheery IKEA workers screwing together "Malm" beds in yellow shirts.
The Aktiv will be green -- not blue and yellow, thankfully -- and designed with a socially-conscious inhabitant in mind. Buyers get water efficient pipes, energy efficient appliances and LED light-fixtures. They choose their own colors and surface materials. "We want our homes to be so rockin' cool that people just want them," Ideabox owner Jim Russell told Sustainable Business Oregon.
IKEA, best known as world's largest furniture maker, has been making prefab BoKlok, or "smart living," homes in Sweden since 1996.
The Aktiv concept might not please everyone. For those who think IKEA's maze-like stores are frustrating, or that a single company's aesthetic shouldn't dominate most of the world's domestic space, all-IKEA houses could seem more creepy than cool.
Check out more pictures of the inside of the Ideabox house: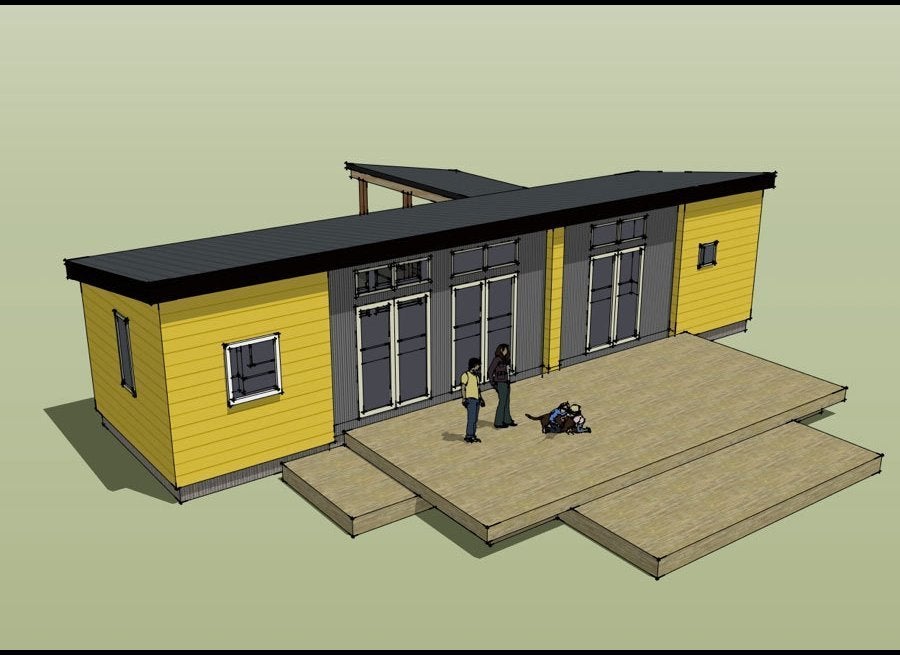 Popular in the Community