"Kepulihan" is an Indonesian word for healing and recovery, and it's a word that still resonates across the Southeast Asian nation five years after the deadly Indian Ocean tsunami claimed more than 230,000 in 14 countries.
It's also a word that is at the heart of a new documentary, Kepulihan: Stories from the Tsunami, which follows four Indonesian survivors during a four-year period, as they rebuild their homes and their lives after one of the worst natural disasters on record.
There have been previous film and television productions chronicling the aftermath of the December 2004 tsunami, but Kepulihan, which premieres on ABC in select markets in November, specifically explores the long-term recovery effort. In the wake of the recent earthquakes in Haiti and Chile, a focus on long-term disaster relief seems especially timely.
"When the media and public attention move to the next big news headline, the really critical process of healing and recovery would have just begun," said Kepulihan director David Barnhart, who also works with the Presbyterian Disaster Assistance.
As Huffington Post's own Rebuilding Haiti blog stresses, ground reports from a disaster area are still important, if not essential, even as news of the disaster fade from the headlines. A significant amount of coverage of the recovery and reconstruction efforts can help aid workers and relief programs in the future.
Kepulihan is also proving, however, that letting survivors tell their own stories can help them in their own healing and rehabilitation. From 2004 to 2008, Barnhart returned to Sumatra every year to chronicle the progress of the documentary's four subjects. One of them, a farmer named Yadi, lost all 15 members of his family, including his wife and children, and another survivor, 19-year-old Damai, suffered injuries that had left her paralyzed.
Barnhart gave Yadi and Damai, and the two other survivors, the opportunity to participate in the storytelling and filmmaking process. They had full input on what they want to discuss in interviews, and were able to review the filmmaker's footage every year to see their own progress.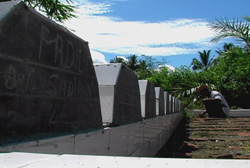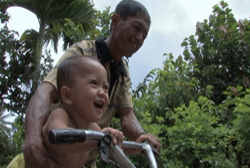 Although the most compelling images from the documentary may be the survivors' own emotional reflections of loss (such as when one of the subjects, Mahmud, remembers the flavor of the rice he and his children used to eat), the most inspiring are the survivors' stories of empowerment and recovery.
After receiving a small seed grant, Yadi helped rebuild his village and form a cooperative that is now helping dozens of families. Damai became a manager at rehabilitation center, and an advocate for disabled people in her community.
"The disaster was enormous," said Barnhart. "It's going to be a long road. A long road."
As Indonesian officials and international relief workers found out, that long road is riddled with challenges. The focus of the government was on immediate response and rebuilding rather than on assisting communities with long-term recovery. There were inadequate funding and technical assistance to aid economic recovery, especially for small businesses.
But as Kepulihan demonstrates with its stories of survival and transformation, progressive rebuilding is possible. However, rebuilding is not about "going back to normal"--existing views, whether political or cultural, remain. Existing community biases linger (in the doc, we see the frustrations of Damai regarding prejudice against the disabled, and she begins to question her future in Sumatra).
As the inspiring stories of the Kepulihan's survivors prove, providing communities with the tools, support and mentoring needed will aid in the recovery process, and make it easier for them to connect, come together and grow stronger after a disaster.
Here's hoping that five years from now, we learn about--and learn from--equally inspiring stories of healing and recovery rising from the rubble of the Haiti and Chile earthquakes.
REAL LIFE. REAL NEWS. REAL VOICES.
Help us tell more of the stories that matter from voices that too often remain unheard.