A program started by President Dwight Eisenhower is a lifeline today for Syria's war victims. The U.S. Food for Peace initiative is feeding millions of hungry Syrians affected by the brutal civil war.
Last week, Food for Peace made a $65 million donation through the UN World Food Programme (WFP) for Syria. It came just in the nick of time. WFP was about to cut its food aid to Syrian refugees because of low funds. Even with the donation, WFP still cannot restore full rations, showing how much more needs to be done.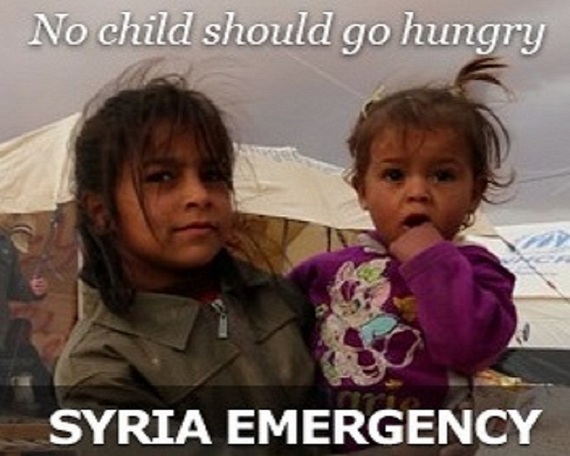 Muhannad Hadi, WFP Regional Director for the Middle East, pleads

"It is devastating to hear a mother saying she ties scarves around her children's bellies so they don't wake up feeling hungry. But these heartbreaking stories will continue if humanitarian assistance comes to a halt. The entire international community must help us uphold our humanitarian duty to keep refugees from going hungry."
The war in Syria has caused a major refugee and hunger crisis. It's one of the largest of our generation. The UN World Food Programme is the lead agency in providing the food aid both inside Syria and neighboring countries.
WFP relies entirely on voluntary donations from governments and the public. Their number one donor is Food For Peace.
The top video is President Eisenhower announcing the Food for Peace program back in the 1950's. In the bottom video hear from Syrian refugees who today depend on Food for Peace donations.
But the size of the humanitarian crisis in Syria is so large that donations from Food for Peace and other countries needs to pick up dramatically. The situation is urgent.
Dina Esposito, Director of USAID's Office of Food for Peace, says, "We have heard tragic stories of hungry refugees returning to war-torn Syria and taking children out of school to beg."
President Obama and the Congress need to first increase funding and support for Food for Peace. Current proposals from the President and Congress don't even reach 1.5 billion per year. This is simply too low for the amount of hunger emergencies ongoing.
As Food for Peace makes up a relatively tiny part of the federal budget (less than one tenth of one percent), it would not be that hard for at least a few hundred million to be added to its budget. It has to be done. The World Food Program USA is recommending at least 1.75 billion for Food for Peace.
The funding should support emergency food aid, nutrition for children and agricultural recovery. Nations affected by war, natural disasters and poverty need agricultural support so they can grow food again.
Funding should also emphasize feeding children at schools. In the 1960's Food for Peace was reaching around 40 million children a year with school lunches. We should implement this now in Lebanon, Jordan and elsewhere to reduce the rate of child refugees who drop out of school to search for food.
Next, the President and the Congress need to encourage other nations to increase their food assistance as well. Remember how Herbert Hoover was able to rally international cooperation to avoid a famine after World War II? We need the same type of outreach now. A food ambassador should be appointed to lead this all important effort.
We have to remember that hunger emergencies are escalating not only in Syria but also Yemen, Iraq and South Sudan. We need to respond and provide one of the few stabilizing forces during times of conflict.
It's been a long time since President Dwight Eisenhower put pen to paper and started the U.S. Food for Peace program. But this world hunger fighting plan has made a difference every day around the world since.
We need it more than ever now. So let's boost Food for Peace and encourage others to follow. This is a time of trial for the international community. History will judge us on how we respond. Did we listen to the cries of help coming from the starving war victims? Did we take action?
We can start by increasing funding for Food for Peace. Let's feed the the hungry in Syria and across the globe.
Related
Popular in the Community