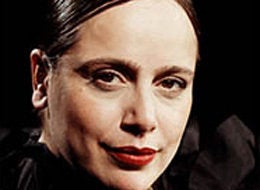 To me Ikram Goldman is the get of fashion week . Like my stakeouts of years past as a street reporter...I feel like I am waiting for a perp walk all week. My Citybuzz crews, interns, producers and I stake out the shows of the designers Goldman carries in her Chicago boutique, Ikram, hoping for a glimpse of her. The style press corps knows that Ikram is the first lady's stealth style weapon and she is appropriately elusive. My fellow fashion editors tell me they cannot interview Goldman without signing a legal agreement that prohibits using the first lady's name in the same article! She even declined an interview with the New York Times for a piece they did on her last week. And yes, even though I signed no such contract...I am not going to breathe the "M" word.
My heart skips a beat. Could that be the fashion oracle about to go into the Proenza Schouler show on West 26th street? My heart skips another beat. This is unreal...is she really so graciously stopping for us on the rainy sidewalk as the fashion mob rushes by her? No one seems to notice this mother of twins, full of life and color with her trademark red lips contrasting her lily white skin. Goldman vets our questions before she will talk on camera.
I want to hear Goldman's fashion vision. After all, she is building a wardrobe for the nation's new fashion role model. This adorable, soft spoken, 41 year old is not a size 2 and neither is her client, She Who Shall Not Be Named. And she stands to influence American fashion from the runway to the mall as her number one client's fashion parade is gobbled up by the media and the mainstream. She is the Obi-Wan Kenobi of the fashion universe, and we listen intently like an eager master class.. She speaks the latest fashion gospel: Textured fabrics-tweeds and checks. Dresses are big, especially sleeveless ones for winter. No doubt for that client we won't name but who we know to have pretty pecs.
Goldman is a fashionista's ista...she talks the talk...fashion is not dead ..."it's art" and is here for bad and good times. Cognizant of plunging appetite and budget for fashion, Goldman praises designers for working with their factories to try and lower price points for the American consumer. Even her upscale clients, she says, are being careful but will always make room for something "special" in their closets.
And I'm just glad she made room for us.