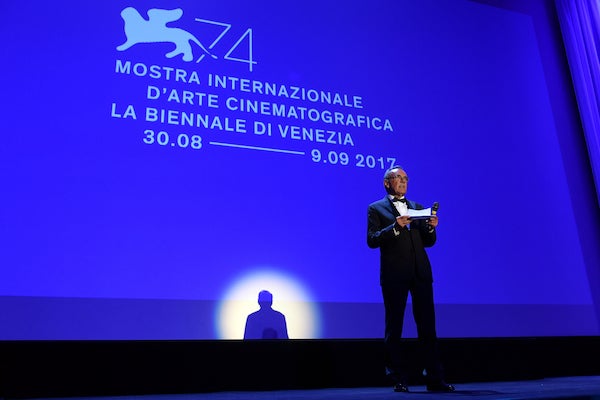 I started attending the Venice Film Festival shortly after Artistic Director Alberto Barbera return, so I don't have other administrations to compare him to, in Venice. But having been to my share of international film festivals around the world, straight away I admired Barbera's great enthusiasm, combined with his stylish presence and obvious interest in new ventures and techniques. There is something just perfect about him, how he greets his VIPs on the red carpet for every premiere at the Sala Grande, yet finds the time to run into the Orizzonti screenings to say hello and when he walks around the grounds around the Casinò and the Palazzo del Cinema he always appears down to earth and approachable.
But beyond his own exquisite personality, an artistic director needs to live up to his duty, which boils down to making a festival irresistible in my opinion. And Barbera has done that — and more. In the last four years alone, the festival featured the world premieres of most of the films which went on to win the big awards at the Golden Globes and the Oscars. Most of my American colleagues would like to say that award season kicks off at TIFF or Telluride but it's only because their publications won't send them overseas and instead of feeling like they are missing out on a great festival with stars galore and films for every palate, they pull an Aesop's fable of the fox and the sour grapes bit on Venice. Yet those of us who can come here, we know the truth.
I sat down with Alberto Barbera for some Venice Film Festival wisdom on a terrace overlooking the official red carpet and the beach of the Lido just steps beyond that. The resulting talk made me adore this festival even more.
This is now officially the place where everything gets kicked off to the awards season. Is that something conscious or does it come organically when you choose for this festival?
Alberto Barbera: No, it comes organically. We were lucky enough to host in Venice, in the last four years, four films that ran for the Oscars and won awards — it started with 'Gravity' then 'Birdman', 'Spotlight' and 'La La Land' last year — so this of course changed completely the perspective. It changed the attitude of Hollywood studios towards Venice, because in the past it was much more difficult to convince them to come to Venice to promote a film. They preferred to go to Toronto because they thought it was easier, it was cheaper, it was enough to go to Toronto and launch the film for the domestic release and so on. When they realized that launching a film in Venice would help a lot both in terms of international promotion of the film and for the Oscar race, they changed attitude. Now they are offering us films because they understand that Venice can be a wonderful launching platform for a film.
But, dare I say, that seems to have happened since you've gotten here!
Barbera: (Chuckles) Well, you know… Again, this is the result of a project, meaning that six years ago when I decided to accept to come back to Venice I asked to share with the President of La Biennale certain project. The idea to work on the renovation of the venue, of all the facilities, all the services that we offer to the production companies, the filmmakers and so on. So we decided to start a light market, we decided to start the Biennale College for Cinema, and we had this big project of renovation of the entire area. And then I started to explain this project to bring back Venice to the role that Venice had in the past. Explaining why and how we would do that. So little by little we rebuilt the relationships with the studios, with the major production companies not only in America but in Europe and we succeeded in bringing back key people from the film industry. At a certain point they disappeared from Venice, they would go to Toronto directly, skipping Venice. Building on those elements we succeeded in creating something new: a new profile, a new role for Venice. We keep, year after year, adding new elements.
Like this year, you've added a whole island dedicated to Virtual Reality.
Barbera: Sure, which is the first time that a major film festival has decided to have a competition for VR and it was again a bet. We are in the air, it's something new, there's a lot of curiosity about it in the last three years, there are skeptics of course… Some festivals decided to present some VRs, Sundance, one thing in Cannes, there were a few more in Tribeca in NYC, but we realized it was the moment to open a new territory. There is a lot of investment from the film industry into VR because they think it's a very strong opportunity for a new market based on this new technology. At the same time a lot of filmmakers are very curious about the possibilities of using this technology to create a new aesthetic, a new experience and a new language maybe. In a way, we are in the same position of D. W. Griffith and the Lumière when they invented something new out of nothing. This is the same case.
Is VR threatening to the existence of cinema?
Barbera: I don't think VR is the future of cinema or even an extension of cinema, it will not kill cinema for sure, it's another medium. I'm pretty sure it will stay, but it's a completely different experience. So, we thought it was the moment and made a bet again. We didn't know how many submissions we would have, we thought about 20 to 30 and we got more than a 100, maybe a 120 in total. So the content is there, the quality is there, maybe not from the point of view of technology, but that will come soon enough because it's so fast, the content is there.
There have been very high attendances on this magical island where the VR section is housed, one must go because the combination between the very old architecture and the novelty of the VR is magic in a way.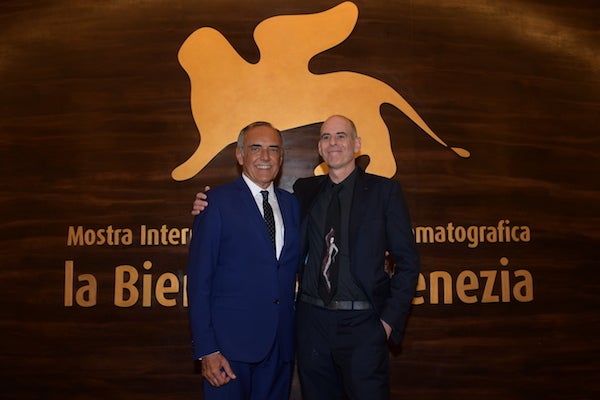 I met with James Toback who is making a film while here called 'Venice Lives!' and he compared Cannes and Venice. So he said about Cannes "it's just a strip on hotels on the Croisette overlooking the Mediterranean where once a year a film festival comes to town." But "Venice is a city state where architecture, art and economy started for Italy" he admitted. What is your view on the identity of Venice in the global film festival arena?
Barbera: First of all, the festival, the Mostra is part of La Biennale, which is a completely different thing. I mean, La Biennale is the most important cultural institution in Italy, and there are year-long activities concerning visual art, architecture, dance, music and cinema. It's a sort of permanent lab for contemporary art. So this changed completely the perspective because you can feel and understand that you are in the middle of an ongoing process of the renovation of art. You are participating in a process of building the new territories of contemporary art in different fields. For example, I think it would have been much more difficult to create a competition environment for VR in a traditional festival. We have been able to do that because we are used to working with visual arts, we are used to invent environments for contemporary artists and so on, and VR is a sort of cross between cinema, visual art and dance as well and theater and so on. This is a specific and original characteristic of Venice.
In this very chaotic world of ours at the moment, can cinema help us heal?
Barbera: I think so. Most of the films we have seen so far are dealing with contemporary problems that we have to face: migrations, the corruption of traditional values, the conflict between different cultures. You can find these elements almost in every single film that we have watched so far in Venice. That's not just the festival of course, but the characteristic of cinema today, which is much more open to the world — it's a sort of sponge for contemporary problems.
Popular in the Community