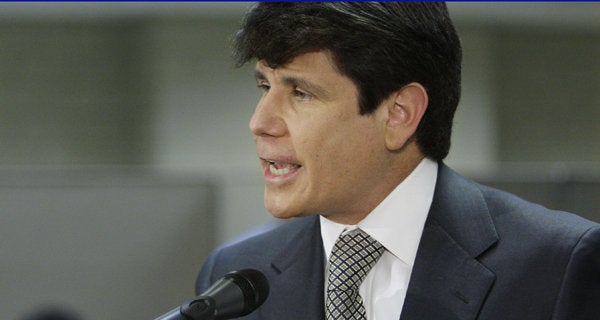 There has, of course, been much speculation over who Illinois Governor Rod Blagojevich will appoint to succeed President-elect Barack Obama in the U.S. Senate. One of the fundamental questions in such speculation has regarded whether Blagojevich will appoint someone who will serve as a placeholder, to only serve for the two years until the 2010 election, or whether he will appoint someone who will serve with the intention of accruing seniority and running in their own right as the incumbent in 2010.
A week and a half ago, Nate Silver and kos laid out why Blagojevich should appoint a placeholder. Silver:
If there's nothing else we learned from the Presidential race this year, it's that there's no better way to vet, challenge and season candidates than vigorously-contested primary.
Illinois has some great young talent on the way up. Let them earn the seat the old-fashioned way, the same way Obama did -- in an election.
A challenged primary is a better vetting process and is simply more democratic - that's why Blagojevich should appoint a placeholder.
The circle appears to be closing in on ethically-embattled Illinois Gov. Rod Blagojevich (D). The Chicago Tribune reports today that the governor's former Congressional chief of staff, John Wyma, wore a wiretap to help federal investigators secure an indictment against him.

As Illinois political expert Rich Miller writes on his Capitol Fax blog, Wyma isn't just any Blago staffer. He's one of the governor's "closest political and personal friends."

Blagojevich is tasked with appointing a successor for President-elect Barack Obama's vacant Senate seat, and this news will certainly color coverage of that decision.
Blagojevich has been sporting an approval rating in the low teens, which probably makes him as popular in Illinois as Dick Cheney is. As such, being pegged as "Blago's pick" is detrimental enough to a politician.
As we saw with the Ted Stevens corruption trial, the feds don't wiretap willy-nilly (tap your phones, maybe, but not have someone personally record conversations), and they don't get your closest confidants to wear the wire unless some real action is about to go down. (And it doesn't come out in the press that somebody wore the wire unless some real action is about to go down very soon.)
Governor Rod Blagojevich may be on the brink of becoming indicted Governor Rod Blagojevich. If Blagojevich appoints someone who is still working to raise their statewide recognition (which is pretty much any potential name in the mix), Republicans will find it very easy to tag the selection with the "Blago's pick" moniker, affixing all of the negativity around Blagojevich to the newly appointed Senator, crippling their 2010 campaign from the get-go. Maybe the crippling won't be politically fatal in blue Illinois, but why invite the anchor?
Illinois has a very deep, strong, and young bench of Democratic talent. No need to taint such a promising slate with the toxicity of one politician who may very well be on his way out. There are reasons why Blagojevich should appoint a placeholder. There are also reasons why he might have to.

Calling all HuffPost superfans!
Sign up for membership to become a founding member and help shape HuffPost's next chapter