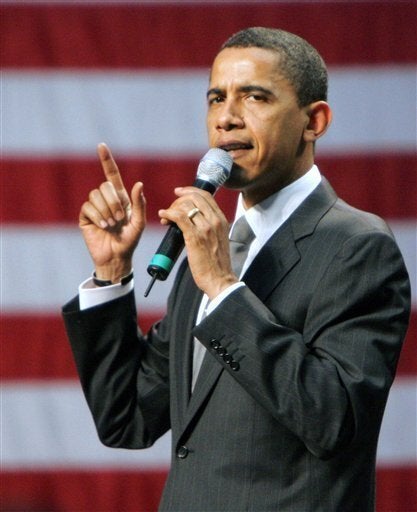 This article also appears on the author's blog, Peoria Story.
Steve Powell, 44, of Mundelein, Il., is one of two "members at large" superdelegates. He and the other member-at-large superdelegate, Edward M. Smith, are both members of the Democratic National Committee. They are top labor leaders in Illinois.
(Note, the links to superdelegate lists above may not be totally accurate, but give an indication of who has been named. Illinois will have 32 superdelegates to send to the convention.)
WHO ARE THEY? Steven M. Powell is Secretary/Treasurer of Local 881, United Food and Commercial Workers International Union, based in Rosemont, Il., a close-in Chicago suburb.
Powell said he personally endorsed Obama before the Feb. 5 Illinois primary.
"I've known Barack since the Illinois Senate, and am interested in how he can bring both sides together. Republicans are doing ads for him," Powell said.
Powell spontaneously commented on some criticism that Obama has received in the press.
Regarding Obama's "present" votes in the Illinois Senate, that (type of vote) occurs "when they want to make the legislation better or continue voting. Someone should do an in depth story on how the Illinois General Assembly does that" (uses 'present' votes)," he said.
Then he predicted that Obama would win the support of 100 percent of the Illinois superdelegates, most of whom are elected officials.
Powell's father, Ron Powell, is president of the local and vice president of the International union.
Ron Powell ran as a Democratic Convention delegate in the Illinois 8th Congressional District pledged to Barack Obama in the Illinois primary election on Feb. 5. He was elected, Steve Powell said.
Steve Powell who holds a BA in business and political science, has been a director of political affairs for his union, and became its secretary/treasurer in 1999.
He also is Central Committeeman in the 8th Congressional District and Trustee for the UFCW Midwest Health Benefits and Pension Funds, according to his union biography.
Powell's union, a part of the Change to Win labor federation, has endorsed Obama.
In 2001, Powell, a Mundelein village trustee, ran for mayor against an incumbent in a contentious campaign that saw Illinois Sen. Dick Durbin support him, according the Chicago Tribune.
Though most suburban elections are nonpartisan, several Lake County Democrats are expected to stand behind Powell's candidacy in an attempt to make more inroads into the GOP-controlled suburbs,
Unions contributed heavily to his campaign fund, but he lost the race then resigned from the village board.
In 2004 Powell was an alternate delegate to the Democratic Convention pledged to John Kerry.
Smith, 53, of Olive Grove, in southern Illinois, is Midwest Regional Manager of the Laborers' International Union of North America a position he has held since 1994.
His blue ribbon credentials include Vice President of the International Union, membership on International's General Executive Board, an Assistant to the General President for the International Union, which has about 500,000 members.
Smith's many roles within the union include the Laborers' National Pension Fund, Chairman of the Central Laborers' Pension Fund, Laborers' Home Development Corporation, Laborers' International Federal Employees Credit Union, Southern Illinois Laborers' Fringe Benefit Funds, Railroad Maintenance Health & Welfare Fund, and the Illinois Laborers' & Contractors Joint Apprenticeship & Training Fund.
Smith also is the former chairman of the Illinois State Board of Investment, serves as a member of the Illinois Department of Labor Advisory Board, and is chairman of the National Alliance for Fair Contracting, and is Executive Vice President of Union Labor Life Insurance Company (ULLICO).
In his role as a financial officer, Smith tried to use his clout to reform labor practices.
In 2005 he signed letters with others calling on Wal-Mart to investigate its "workplace practices." The group of signers controlled about 11.5 million shares of Wal-Mart stock worth $545.8 million at the time, according to Bloomberg News. The letters "show how the shareholders pressured Wal-Mart and were rebuffed," the story says.
Smith was a delegate to the Democratic conventions in 2000 and 2004.
Smith and his union were named as defendants with several other defendants in a complicated vote buying and vote fraud lawsuit in southern Illinois, stemming from the 2000 election when he won a delegate spot pledged to Al Gore.
Smith's union has been controversial. In the past it had a history of mob connections and was placed under government oversight.
The Laborers' International is part of the Change to Win labor federation which has endorsed Obama.
But the Laborers' International has so far refrained from an Obama endorsement, based on a pledge that it would not endorse until 60 percent of the membership approved an endorsement.
Smith may be feeling the stress of divided loyalty. In 2000, Smith contributed $1,000 to Sen. Hillary Clinton's campaign, according to federal election records, and also $1,000 to the Democratic National Committee.
This piece was produced as part of OffTheBus's Superdelegate Investigation. Click here to read more superdelegate profiles.
Support HuffPost
The Stakes Have Never Been Higher
Related
Popular in the Community