I wouldn't again pay $6.50 for parking to see Double Standard - the retrospective of Dennis Hopper curated by Julian Schnabel currently on view at the Geffen wing of the Los Angeles Museum of Contemporary Art.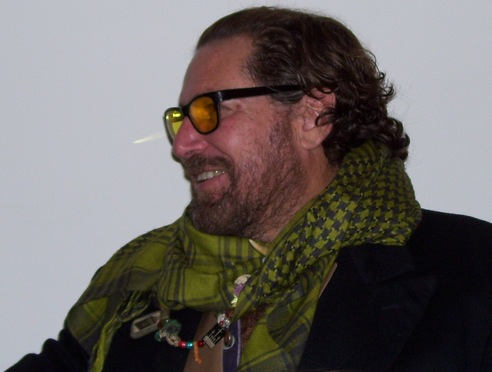 Artist Julian Schnabel, curator of "Double Standard" at MOCA (Photo: S.A. DuTan for Coagula.com)
I went to see it on a Saturday afternoon and it was crowded. Hey, wait a minute, I've been going to MOCA since it opened in the early 1980s, and this sizable afternoon crowd in the middle of an exhibition's run is a rare thing. So even if it is bad art (and holy hell it is), shows like this are baby steps in the direction that MOCA's new director Jeffrey Deitch wants to take the museum. Deitch is pulling MOCA back from the brink of fiscal disaster. Deitch's choice of CPR is to have fewer (if any) academic, navel-gazing shows (MOCA's bread and butter). The goal is to make the museum vital in the lives of Angelenos by introducing a wider swath of the general public to the museum experience itself. If a painting is hung in a museum and nobody sees it, is it still art if all it gets is a thumbs-up review that nobody reads in the LA Times? Deitch's job is to make MOCA's shows sell themselves in order to make the museum attractive and not need the LA Times in the process.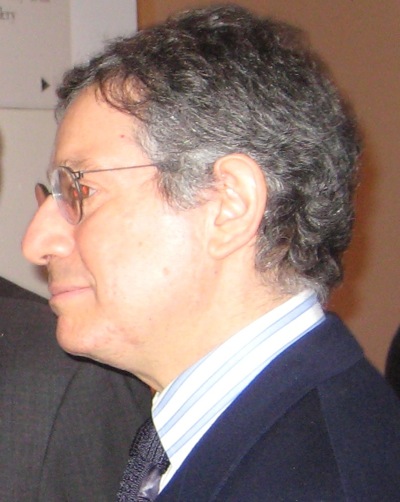 LA MOCA director Jeffrey Deitch (Coagula Archives)

But a celebrity marquee attracting the general public is the most offensive thing on earth to the art establishment. Not content to just call a bad show the lousy hanging that it was, the mother hen of the L.A. art world elite, LA Times art writer Christopher Knight, questioned the very premise of why Hopper got the show at all. Knight's critical mission has been the silent complicity of never asking just how the heck this artist or that artist even got their damn shows. Knight has made a career of keeping local art exhibits elusive with historically inane rationalizations for bad academic art taking up museum space within a contemptible circular prose. But now that MOCA betrays the insiders and hosts a survey of the work of a popular personality, mother hen disingenuously hectors Hollywood daring to step into his private art country club.
Please understand that the Dennis Hopper show is a cruddy show. And Knight is correct; Hopper only got it because he was a famous actor. But so what? Artists championed by Knight get big shows all the time because of insidious art world politics and the Times' critic never lifts a pen to describe the "how." How can it be that such pointless pictures regularly appear on the museum's walls? In Knight's world, it is never asked because the answer is always: this artist is a bankable asset of my chummy buddies on the Westside of LA or the Upper East Side of Manhattan. But break the seal on the art world vacuum by bringing in an outsider (in this case Dennis Hopper) and the aged Times critic rigidly demands exhibition qualification standards after never applying anything of the sort to decades of MOCA's investment-grade garbage exhibitions.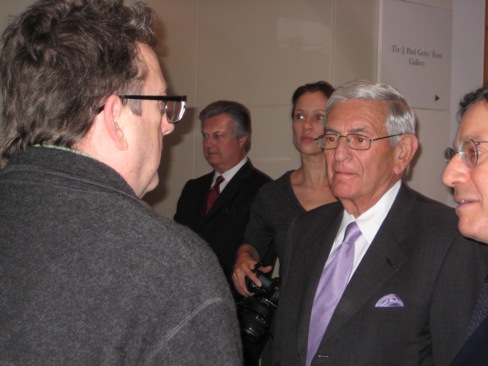 LA Times' Christopher Knight (far left with mullet-style haircut), Eli Broad and Jefrey Deitch in happier times at MOCA (Photo: Coagula Art Journal)
I have seen plenty of terrible shows at MOCA that did not involve a famous actor and these shows never seemed to attract even 100 people to visit and view them in their entire run. The LA Times has picked a peculiar moment in the museum's history to allow an arbitrary critical double standard to suddenly apply to the museum's curatorial selection process. That is, if the editors there haven't just stopped reading Christopher Knight's insider blathering altogether, shrugging at his insider rationalizations and evasive judgments of blue chip masturbation before heading off to a sporting event with everyone else. And why not, the cultural sphere of Los Angeles is not being threatened by barbarians at the gates, it has been absconded by them in the barbarism of Christopher Knight's pen and removed from public life.
Popular in the Community