Ilana Glazer and Jillian Bell would like to address the "old dinosaurs" of Hollywood. Their new movie, "Rough Night," is about rowdy women doing rowdy things ― something that shouldn't be a fresh phenomenon. It's a stopgap, though hardly a solution, in a genre of storytelling that has largely remained the purview of men. 
Glazer, best known for "Broad City," and Bell, the "Workaholics" star with standout roles in "22 Jump Street" and "The Night Before," know "Rough Night" will invite correlations to macho capers like "The Hangover," "Very Bad Things" and "Weekend at Bernie's." Scarlett Johansson, Zoë Kravitz, Glazer and Bell play college BFFs who reunite for a bachelorette weekend in Miami, where they are joined by the bride-to-be's eccentric Australian pal (Kate McKinnon). The group's booze- and cocaine-fueled hoopla takes a nosedive when they accidentally kill a stripper (Ryan Cooper) and attempt to dispose of the body. It's the sort of antics that men undertake on the big screen all the time.
"We talked a lot about what people were going to compare us to," Glazer told HuffPost last weekend at the movie's New York junket. "Female-centric work is always more harshly compared and pigeonholed into some box when it's described." (For the record, Glazer has proudly never seen "The Hangover" and has no desire to change that.)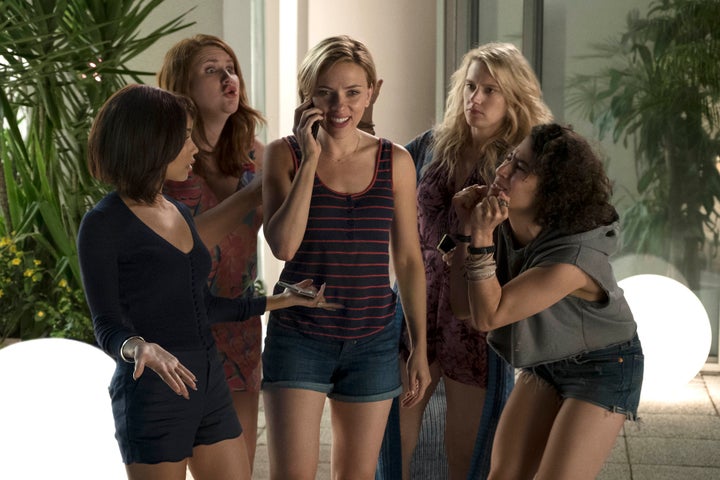 Last month, a Sony press release touted "Rough Night" as the first R-rated comedy produced by a major studio and directed by a woman since Tamra Davis' "Half Baked" in 1998. Vanity Fair later published a headline with the same erroneous statistic, which discounts Nancy Meyers' "It's Complicated" and Mary Haron's "American Psycho" (if you're willing to consider that a comedy). Glazer also repeated this factoid, latching onto the notion as evidence of Hollywood's resistance to adult female humor. The exact data almost doesn't matter, though ― there are too few films that put women at the helm of bawdy material. Glazer is determined to speak out. In keeping, "Rough Night" ― directed and co-written by "Broad City" veteran Lucia Aniello ― represents another small step forward.
And yet. Glazer and Bell are keenly aware that one-off success stories can read as false progress. Geena Davis and Susan Sarandon have long said the 1991 feminist classic "Thelma & Louise" did little to galvanize female-focused projects, despite an Oscar-winning script by Callie Khouri and $81.5 million in domestic grosses when adjusted for inflation. Similarly, "Bridesmaids" was expected to precipitate a boom in female comedy, earning $169 domestically and an Oscar nomination for Annie Mumolo and Kristen Wiig's script. Alas, here we are, still having conversations about the inhibitions surrounding women on the big screen.
"People get cocky," Glazer said. "They think the change has happened."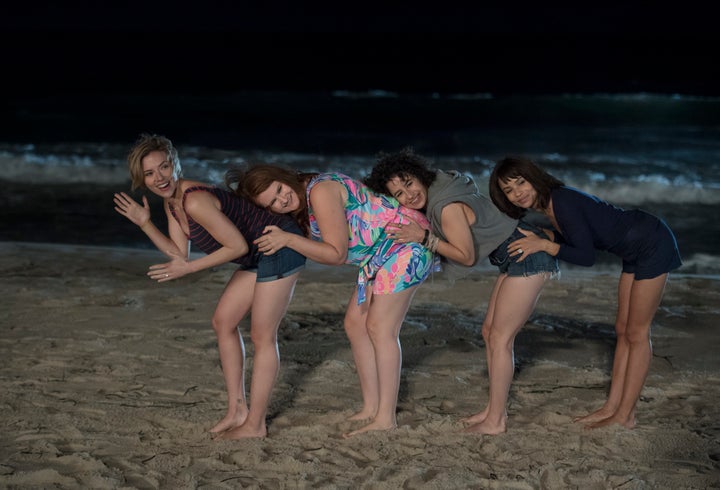 There's a similar dynamic at play with "Wonder Woman." Now that it's a bona fide critical and commercial success, the conversation turns to what that success means for female directors. Will more be invited to the table? It's a reasonable question, but it carries the burden of implying that, had "Wonder Woman" failed, these aspiring filmmakers would still be stuck in the dugout. That's a lot of pressure for one movie to carry. With regard to "Rough Night," Aniello has spoken about not wanting to "mess it up for the next woman to come along."
Thankfully, Bell and Glazer are also writers who have devoted themselves to telling stories about women. The next season of "Broad City" premieres Aug. 23. Bell is working on one script with Charlotte Newhouse, her writing partner on the series "Idiotsitter," which she likens to a Coen brothers movie. "And then the other one I like to call my little feminist project," she said, referring to another she's writing. Bell declined to elaborate, other than to emphasize, "It's what I want to see as a viewer." She's determined to recruit a woman behind the camera, because "to hear the facts about female directors is actually upsetting."
"Hollywood should look at itself," Glazer said.
"Rough Night" opens June 16.
REAL LIFE. REAL NEWS. REAL VOICES.
Help us tell more of the stories that matter from voices that too often remain unheard.
BEFORE YOU GO
PHOTO GALLERY
2017 Summer Movie Preview