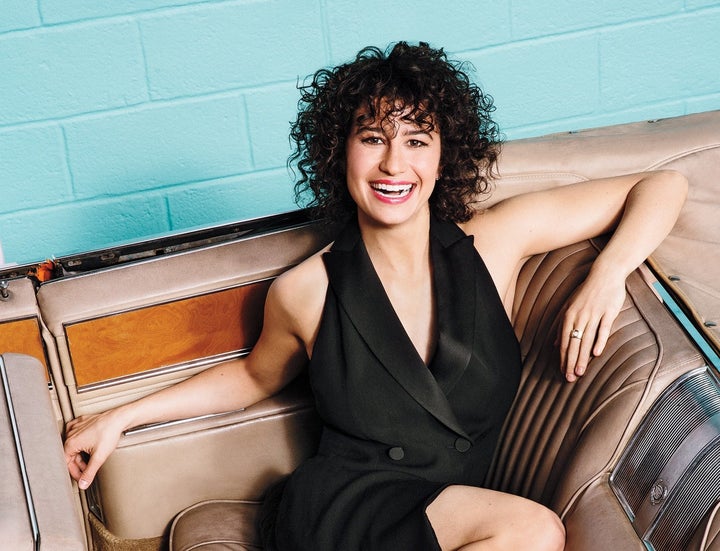 Celebrities are just like us! They go to the grocery story and go out with their friends -- and have to deal with bullshit catcallers. Some of TV's funniest women just shared their best how-to-deal-with-invasive-dudes advice.  
Gina Rodriguez, Ilana Glazer and Rachel Bloom recently sat down to discuss gender equality, sexism and their experiences in Hollywood for The Hollywood Reporter's comedy actress roundtable. The three were joined by fellow funny women Lily Tomlin, Niecy Nash and Allison Janney. The conversation was poignant, powerful and, of course, hilarious. 
When asked what the best career advice they've ever received is, Bloom responded with a piece of wisdom she learned from Glazer -- her former roommate. Glazer's words of guidance were more life advice than career advice.
I got the best advice from Ilana. We lived together in Brooklyn, and when you live in Brooklyn, there's a lot of catcalling. Her advice for it was to go, 'Suck my dick!' Because here's what it does: The guy is having a mental image of you, like, naked, and then when you go, "Suck my dick" or "Lick my balls," it throws them for a loop. They're like, "Wait, she has balls? What am I picturing now?"
Rodriguez quickly followed up with an equally adept response to street harassers. 
"After NYU, I lived deep, deep in Brooklyn, and you'd get the catcalling, and I'd just turn and bark. (Makes barking noises)," she said. "And they were like, 'This b*tch is crazy.' And I'd be like, 'Yeah, g'bye.'" 
Women shouldn't have to deal with catcallers, much less share advice about how to fend them off. But when all else fails -- bark.
Bloom explained that a lot of the sexism she experiences is rooted in a show's script. "It's the type of roles you're auditioning for, and you see the difference between the way female characters and male characters are written," she said. 
As the co-creator and star of Comedy Central's "Broad City," Glazer said she even faces sexism on her own set.
"Because Abbi [Jacobson] and I are women and we're young, there's some subtle sexism. Especially [from] crew guys," Glazer said. "Recently, this guy was calling us 'ladybugs' and 'love bugs.' We're like, 'We have a show -- you are helping run the promo for the show that we created!'" 
Way to drop knowledge, ladies. 
REAL LIFE. REAL NEWS. REAL VOICES.
Help us tell more of the stories that matter from voices that too often remain unheard.
BEFORE YOU GO
PHOTO GALLERY
24 Times Sexism Was Very Very Real In 2015