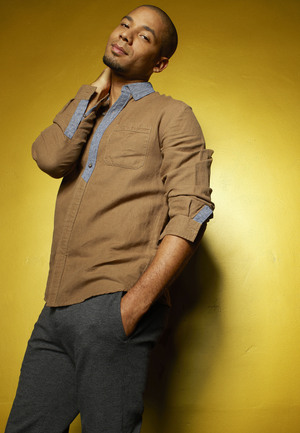 Since Empire premiered Jan. 7, its ratings have increased each week. Last week over 12 million viewers tuned into the FOX drama centering around a hip-hop entertainment company. One of the most beloved stories centers around Jamal (Jussie Smollett), a young African-American musician who struggles to live as an openly gay man due to pressures from his family.
Co-creator Lee Daniels, who also directed The Butler, has said from the beginning that one of his intentions for the show is to "blow the lid off homophobia" in the African-American community. Daniels has even incorporated his own experiences into Jamal's story. During last week's episode viewers' hearts were broken when Michael (Rafael de la Fuente), Jamal's boyfriend, grew tired of keeping their relationship a secret and left him, saying, "I love you, but you're in love with your music; you don't have room for anyone else."
Get ready, because on this week's episode, airing Wednesday, Feb. 25, Jamal's life will change forever. Executive Producer Ilene Chaiken teases:
Jamal's storyline is realized in a way that we've talked about from the very beginning. It's not to say that the story is over, but Jamal makes a bold move and comes to a reckoning with a lot of things he's been contending with. I really think it's powerful. Also, there's a spectacular musical performance that has an important role in this storyline. It's a song that actually continues to play a role throughout several episodes, and it really is a character.
I talked with Chaiken, who created The L Word, which ran on Showtime from 2004 to 2009, about Empire and the role that gay characters play on TV today.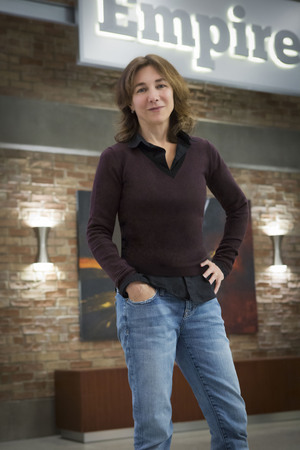 You were passionate about Empire from the beginning and said you wanted to be a part of it because it was "game-changing television." What makes it a game changer?
I can't really articulate what it is. I just saw this pilot, and I knew in my gut that it was a game changer. Clearly it is. The audience is reacting powerfully. It's drawing these huge numbers. It's telling a lot of stories all together that are sociological and cultural, as well as being wildly entertaining. We're telling these stories with bold and unbridled frankness that we haven't seen before in this genre on television, and we're doing it with music that is created and produced in a way that I think we haven't seen done on television. Those elements coming together is what I think makes it a game changer.
Do you think Empire is revealing homophobia in the African-American community the way Lee Daniels has talked about?
I hope it has an impact. I'm always leery of saying that any single piece of entertainment changes the entire culture, but I think it's having a powerful impact. I've seen things and experienced things personally that make me think Lee is onto something.
Even before the show debuted I watched it with a test audience. Most of the men in the room were straight, and it was a group of men I've watched watching television before. I know a couple of years ago they wouldn't have embraced this character [Jamal] this way. There is something about the portrayal and the moment in time that I actually just felt like I was seeing the cultural change happening in front of my eyes. These men were moved by this story. Men who wouldn't have wanted to know this guy said, "He is my favorite character; that is a man who is talented, working hard and is deserving and is not getting his due because of prejudice." That was really striking to me.
Nowadays so many shows have gay characters. Why is this story, and particularly this upcoming episode, so talked about?
There are a couple of things. This isn't the first black gay character on television, but we are talking about homosexuality and homophobia in a community in which there are issues that go beyond some of the global issues. They are still global issues, but they are also still very specific to the black community. We are talking about it with detailed specificity, largely drawn from Lee's own personal experience. It's not simple. It's not a symbolic representation of gayness. It's one man's personal story that seems to really be having a ripple effect in the cultural conversation.
Lee Daniels has no problem labeling the show as a soap, even calling it his "black Dynasty." You worked with Aaron Spelling in the past but have said that Empire has qualities that the vintage primetime soaps didn't have. Like what?
No disrespect to Aaron Spelling, because, as you said, I worked for him, but Aaron, I think, coined the term "mind candy." He loved that, and that's what he wanted to do. Empire has its share of candy, but it's much more than that. It's really about issues and characters, and it tells these stories with an authenticity that I think was not a feature of those 1970s soap operas.
Co-creator Danny Strong has referred to you as an "iconic lesbian." What do you think when you hear that?
[Laughs.] I'm flabbergasted. I'm grasping at an image, but I love it. I love Danny for saying that. I'm flattered and honored. Um, what can I say but, yeah, flattered!
You are perhaps best known for creating The L Word. Where does that show sit in your heart all these years later?
There will never be another show that sits like The L Word in my heart. It couldn't be more personal to me. In so many ways it defines my work and my career. I'm still proud and grateful for that show.
How do you think the portrayal of gay characters has changed on TV since The L Word?
It's not where I think we want it to be, but it's certainly come a long way. There are a lot more gay characters on television. As you said, they pop up everywhere. There's still a sense of obligatory "Oh, we should have a gay character on the show." There should be more shows in which the leading character is gay, living life, and isn't watered down in any way. I'm still waiting for that to happen more.
When The L Word was on, the big issue in the gay community was the fight for same-sex marriage. Do you think that is still the biggest issue, or is there something else the community should be focusing on?
I'm the wrong person to answer that. There are so many activists on the ground who are fighting the good fight. I don't want to speak for people who are more knowledgeable than me. All of our civil rights, including our gay civil rights, are far from won. We're just still fighting for equality. Marriage is still on the docket. You can't legislate feelings. You can't legislate against prejudice. We still have a long way to go toward creating a world where there's real equality across the board.
For those who haven't started watching Empire yet, what would you say to them?
Obviously you don't know what you're missing. Come on down. It's so much more than anything you can imagine it is.
Empire airs on Fox Wednesdays at 9 p.m. ET (8 p.m. CT). For more information visit fox.com/empire.
REAL LIFE. REAL NEWS. REAL VOICES.
Help us tell more of the stories that matter from voices that too often remain unheard.