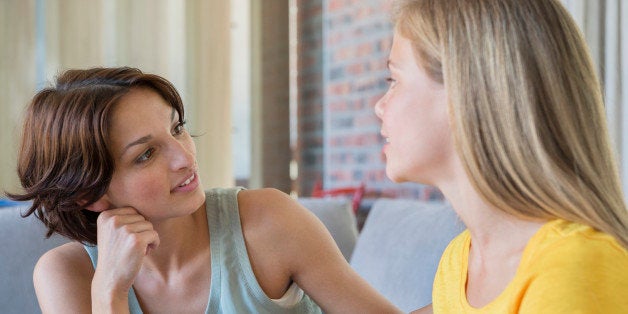 The "sex talk" is one of the topics even the best parents put off for as long as they can. Why? It's uncomfortable and scary, especially when you're faced with an inquisitive child who throws questions you'll never expect from them.
As a mother, I often wondered what answers will I give my daughter once she becomes inquisitive and curious enough to start asking about "birds and bees."
Will I tell her exactly how sex works? Will sex ed cause her more good than bad? What if it gets her more confused than she already is? These are just some of the questions that are bugging me.
Growing up, I didn't receive adequate information about sex and sexuality. I grew up with a single mom who's always out to work a living so she can make ends meet. While I don't blame her for the lack of information, I would have loved it if I've gotten the education first hand from her than my friends and the media.
With this said, I've vowed to myself that I'll be open to conversations about sex with my daughter the moment she starts asking. Here are four reasons I believe it's a choice all parents should make.
1. Your children are more empowered when you arm them with correct and adequate information.

Contrary to the popular saying, ignorance is not always bliss. You don't want your kids trying out anything, especially something dangerous, out of curiosity. So the moment they're able to understand and communicate with you, let them know what penis and vagina are, their functions, and their role in reproductive life. As they grow older and get hungrier for information, supply them with what you believe they need, always reminding them that more than anyone else, you're there to guide them.
2. Having conversations about sex ed is one way to protect your children.

When your children possess accurate information about sex, they'll likely grow up avoiding behaviors that are risky. When they reach the adolescence stage, they won't easily be swayed with misinformation from their friends, because they've heard and learned from you first. More importantly, if your children grow up having conversations with you about sex, and you didn't turn them away, they'll likely go to you if they face other problems that come with being adolescent, like drugs, depression, and others. They know they can trust you so they're never hesitant in reaching out for help when they need it.
3. Talking to your children about sex ed is a way to install family values in them.

If you're a parent who believes that sexual intercourse should only happen between married people, and you want that value instilled in your children, sex ed is a great way to tell them about it. Having this conversation with them early on in their life will save you from a non-receptive feedback, which is common if you only deal with their questions during their teenage years (when they've obviously gathered information from friends who are as confused as them). Aside from that, it also allows you to set sensible guidelines for them when it comes to things like sexually transmitted disease (STD), birth control, pre-marital sex, and the like.
4. Sex ed helps your children develop a healthy attitude about sex.

Being properly informed about sex and sexuality helps your children learn the value of living a sexually healthy life. They'll appreciate their bodies and what their reproductive organs do. More importantly, they'll express intimacy and affection in appropriate ways.
Sex ed may seem like a sensitive and complicated thing. It is, until you guide your children to understanding. You're the key to one of the most valuable gifts your child is entitled to: timely and proper sex ed. So don't ever withhold it from them.
Related