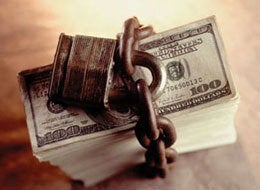 The clock is ticking. Congress told the Army Corps of Engineers to give New Orleans what it thought it had, so-called Category 3 hurricane protection, and the Corps' deadline is 2011. So, less than two years from the moment when the Corps again tells New Orleanians the comforting news that we're safe, here comes confirmation that a money shortage may be inclining the Corps toward building a technologically inferior solution to the problem of getting rainwater out of the city while keeping storm surge from entering it.
The first problem is a recurring one: It rains a lot in New Orleans, and when it does, it often seems as if the sky is having a clearance sale on water. The second problem also recurs, though much less frequently: when a major hurricane is in the Gulf of Mexico, storm surge can get to Lake Ponchartrain and needs to be kept in the lake, lest it catastrophically flood the city.
This Times-Picayune story points out that not only is the Corps leaning toward the cheaper solution, which outside experts deride as technologically inferior, but, some critics allege, the Corps may be inflating the cost of the superior solution and underestimating the cost of its preferred solution--putting its fingers on the scale.
The quote that stuns, though, is this one, from Tom Jackson, past president of the American Society of Civil Engineers:
"This is a plan fraught with the potential for failure, and if the corps goes through with it and leaves those bad floodwalls in place, I'll consider it criminal," Jackson has said.
Those bad floodwalls, of course, are the ones that failed so catastrophically in 2005. The Corps' plan calls for keeping rainfall outflow in those canals at a set level, above which, the agency believes, the walls might fail. Again. The Corps should know. It designed and supervised the construction of those floodwalls.
The project has to be finished by 2011. It needs money now, which would make the technically superior method achievable. Too bad there isn't something like, oh, let's say, a stimulus package that could provide those funds.

Calling all HuffPost superfans!
Sign up for membership to become a founding member and help shape HuffPost's next chapter