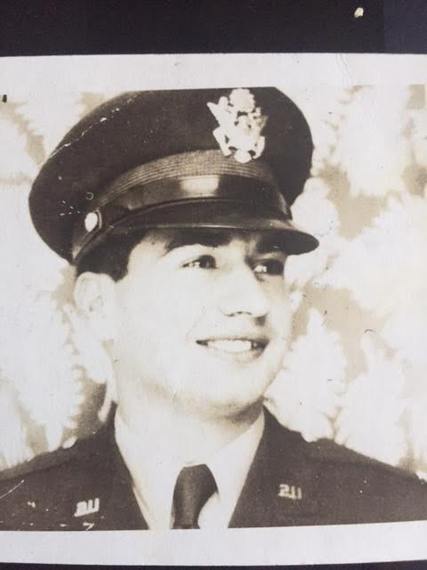 I was having dinner in NYC with my friend Larry Rivkin earlier this month when I brought up the work that my charity, RIP Medical Debt, was doing to address a crisis that few people even know exists - that millions of dollars in unpaid and unpayable personal medical debt are being run up by both current and former military members.
That's correct, and Larry as a WWII veteran, couldn't believe it either.
He, like most Americans, are under the impression that our country takes care of its veterans when they return from service. Especially their medical needs, whether service-connected or not. In a Veteran's Day blog I wrote last year titled The Parades Are Over. Where Are Your Vets? I did my best to educate my readers to the contrary.
More evidence has mounted since that our warriors not only get less-than-stellar care, but that the medical bills that they run up at emergency rooms and at doctor's offices far from a VA hospital can haunt them forever...even overseas. The Government's answer - to beef up their own bill collection activities while also offering help in paying those medical bills. Only if you qualify for hardship, that is.
Larry's got some strong allies in seeing that these wrongs are righted. But first, more about this man and the generation he represents. In the spirit of Veteran's Day coming up, November 11, I am sharing his story.
When the war broke out with the bombing of Pearl Harbor, Larry had to have his parent's consent - given his age - to volunteer. That provided, he enlisted in the Army Air Corps and was sent to Monroe, LA as an aviation cadet for preflight school and from there to several other locations to complete his certification as a navigator.
In summer of 1943, Larry (now a second lieutenant), was stationed in Devonshire where his squadron's assignment was to search for German submarines over the Bay of Biscay. After several months on duty and many brushes with German Fokkers, his 406th squadron, was expanded into the 492nd, Air Group and was transferred to the midlands on a special assignment to work with the OSS - predecessor of today's CIA.
Quite a dangerous assignment, and one performed in extreme secrecy.
This squadron flew black-painted B-24's at night and at low level - 400 feet and less - to drop supplies, munitions and sometime men or women to support the underground in France and Norway. As Larry remembers it, they were told to navigate to drop points by instructions as vague as "follow a certain river, look for three flashing lights in a row, and make the drop."
When Larry completed 30 missions he was sent home on leave. That requirement fulfilled, he volunteered to return for another tour. Back in action, he was soon appointed to group navigator and attained the rank of Captain.
Among his decorations are the Air Medal with four oak leave clusters, Distinguished Flying Cross and the French Croix de Guerre with Palm.
Tending to today's "wounded" - a medical debt relief campaign
Now, about those allies and why unpaid military medical debt unites them with Larry.
Larry's decision to contribute to RIP is being echoed and accelerated through the special cadre of industry specialists who are coming together to help with that task. Among these companies are ARxChange, TheNumber, ID.me, Global Debt Registry, and the economics departments of the University of California/Berkeley and MIT which are combining forces to do a groundbreaking economic impact study of the effects of medical debt relief.
RIP's CEO, Craig Antico, has access to buy and has identified one hundred million dollars! in unpaid military debt in the debt portfolios to which he has access.
"If you don't think debt is a problem for members of the military," Craig says, "you should read the Consumer Finance Protection Bureau paper (CFPB) A Snapshot of complaints received from servicemembers, veterans, and their families. Consider this: 39% of all complaints received by CFPB from this group over a period of two years! This comprised 11,600 complaints against bill collectors. That medical debt is even included in these grievances makes it even more urgent to put to rest."
"When you consider that there are over two million visits each month by veterans to non-VA hospitals, clinics or doctors, you can see how the potential for these bills to fall through the cracks," he adds.
Vishal Garg, an early and enthusiastic supporter of RIP, has this take on the project and the contributions of his organization, TheNumber, a 1/0 Capital portfolio company.
"Combat veterans have given everything to ensure our freedom and make America the greatest country in the world. We are super proud to help Craig and the RIP team identify a population of veterans by providing crucial underwriting data to better connect them with donors who can help them resolve their unaffordable medical debt."
The first challenge - locating those legitimately in need
The challenge of confirming military status fell to our partner, ID.me. Its Director of Strategic Partnerships, Steve Smith describes that as a challenge worth accepting and that his organization is "excited to help in this critical issue" - to provide military data privately and securely.
ID.me began as an effort to help military members form an online community marketplace they could trust. This included government agencies and non-profits, such as the Department of Veterans Affairs and U.S. Chamber of Commerce "Hiring Our Heroes" initiative. This strong identity verification service prevents frauds - and now with RIP helps that the right people are forgiven.
"Not all charities get this sort of attention, nor do donors such as Larry, and RIP Medical Debt is aware of this and grateful," Antico acknowledges.
"So, let's make this personal.
Thank you for your donation, Captain Lawrence Rivkin, and even more for your service. May you and all past and present members of the military receive that same appreciation and acknowledgment this Friday."
Popular in the Community