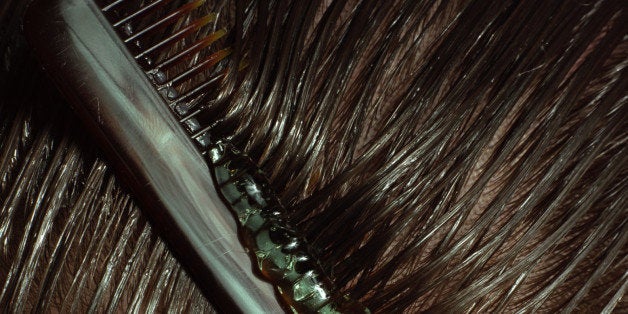 I had just started 7th grade when I told my dad, "I'm tired of the gel I use - I want a pomade product that doesn't make my hair look wet - because it makes it look dirty. I want a gel that looks matte." My father encouraged me to create a product for the haircare line he and my mom have. But, honestly? I wanted my own line.
I started The Nobu Collection with one product: my matte Yokozuna Pomade. Having grown up with parents in the beauty industry, I have been around products my whole life. Many times when it was my turn to set the table, I'd have to move product samples and boxes of shampoo. I've heard my parents talk about products and sourcing out ingredients. I knew what I wanted but wasn't sure how to do it.
My parents told me that if I wanted the product to be mine, I needed to invest some of my own money. They told me they would guide me and sell the product in their salons.
The first thing I had to do was meet with the chemists and agree to the product. After just a few tries, I was happy with what they made. I then had to design the labels and packaging. I knew I wanted the product to be named Champion. A Yokozuna is a champion sumo wrestler...perfect.
I had to decide what my brand was, who my target client was, how big I wanted the opening order to be....so many decisions for just one little product.
I then asked my band teacher, my friends, family members and my coach to try the product and give me feedback. Their responses were positive so I gave the green light to start full production. Within weeks, Yokozuna Pomade was on the shelves.
Every Monday, I would call the accounting department and ask about the sales from the previous week. I was really motivated to make a profit - I wanted to purchase a new computer. I now receive weekly sales reports, monthly profit and loss reports and can see just how well the product is doing. I discovered that sales were growing because a lot of women were purchasing the product as well. I knew I needed to change my ideas on marketing so that other clients were targeted.
Recently, a large hotel firm approached my parents about creating a line for their retail store as well as their spa areas. I had been thinking about expanding my line and told my parents that I'd like to take a shot at creating something. I already knew that I wanted a sporty scent - something that smelled clean but not too strong. I headed back to the chemists and received samples. I worked with a graphic artist to design a possible label. The product looked and smelled great so the sample was delivered to the hotel buyers. They accepted it and placed orders!
Now that I know I can have an idea, create something and see results, I'm excited about what else I can do. I have started on my website and have begun working on expanding the line even more. Stay tuned.
REAL LIFE. REAL NEWS. REAL VOICES.
Help us tell more of the stories that matter from voices that too often remain unheard.