The rain pelted against the house, sounding like rocks tossed by an angry neighbor, waking us well before our 6 a.m. alarm went off. I trudged out of bed, turned up the heater then returned with two cups of strong coffee and crawled under the blankets. A strong gust lashed against the windows as my wife checked the outside temperature: 44 degrees. She took a big sip of coffee, wrapped her arms around me and whispered, "I want to go back to St. Pete."
I was brought to St. Petersburg, FL on a weekend business trip; and we hit the Florida jackpot. Waking up to a view of gently swaying sailboats on shimmering salt water set the tone for the weekend. We were there to eat so we headed to the farmers' market just a few blocks away. We found a great selection of coffees, juices, empanadas (from Mr. Empanada no less), pastries, pretty local vegetables, delicious BBQ, local seafood and so on. The selection was so enticing I found myself wishing for a commercial kitchen so I could cook dinner for 60. From there we headed out for an early lunch at Mazzaro's Market, the reason we were in St. Pete in the first place. Mazzaro's is one of those places that feels as authentic as a favorite pair of worn-out shoes. It's as rustic, exuberant and crazy as a 100-year-old market can be, yet it's only been around less than 20. It's filled with relics of Italy that appear to have been set down and then forgotten, only to become part of the scenery. I overheard one of the cooks asking for his pizza peel and his supervisor pointed to the wall, now graced with a cracked pizza peel.
"We hung that thing up a few weeks back; there's another one around here somewhere."
Mazzaro's roasts their own coffee, rolls and fills a variety of pasta, has local seafood, a good-looking butcher's case, a great eclectic selection of Italian wines and features the heaviest cheese ever shipped to the U.S. It's an 1,100-pound loaf of Provolone that hangs from the ceiling via thick chains, like a giant cheese Marlin at a saltwater pier. Travelers stop and pose for pictures with this behemoth before mentioning to no one in particular, "We should come back when they cut this thing."
My wife and I sampled a wide variety of goods and when we went to pay, the bill came to astounding $16. Trader Joe's should be as much fun.
We refueled with espresso then headed to the beach. The charming town of Pass A Grille, just south of the famous Don Cesar hotel, is a brightly painted respite of warm spring colors yet it was the beach that stopped us in our tracks. I love everything about swimming in salt water and I've been to beaches up and down the Gulf, Atlantic and Pacific. Pass A Grille's shimmering Caribbean blue water took my breath away. We weren't dressed for a swim but after I caught my breath, I started shedding my clothes, my wife certain I wasn't going to stop until it all came off. Fortunately I was wearing shorts. The sand was fine and sugary white, the water clear, salty and delicious, and the sun cast it all in an exquisite light. When I emerged, we started counting our assets, wondering what it would take to retire in one of these cottages.
That evening we met up with some old friends who walked us downtown to the Edge District. We started off with craft brews at the appropriately named Cycle Brewing, where the tables are made from recycled bicycle parts, cash is the only payment and their product features cycling related names such as wheelie, chain slap, and fixie. Their beers were delicious and followed the small batch trend of brewing with local ingredients or aging in whiskey barrels. We downed our pints then headed to Bodega and some of the most memorable Latin food I've had. Bodega, a tiny snack shop of a restaurant, doesn't really have table service. One orders at the window and when your food is ready it's brought out to you in paper boxes or wax paper. The Cuban pork, redolent with garlic, lime and cilantro, glistened in its own warm pork fat and salt. The grilled chicken was marinated in coconut milk, the Cuban sandwich was rich with pork fat and butter and to cut through all that fatty wonderfulness, Bodega makes their own chile vinegar and soda Fresca. My wife's Fresca, flavored with hibiscus, cane syrup and lime, was sparkling perfection. With a squeeze of lime on the fried plantains and a dash of Cholula for the black beans and a sip of frothy ale, we were in heaven.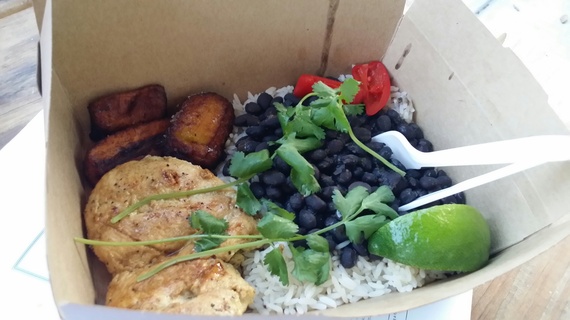 To fight off the pork-induced lethargy, we finished with a thick shot of their intense Cuban coffee. We then walked across Central Avenue to Green Bench Brewing's beer garden where we enjoyed outdoor music paired with a spicy White IPA, rich Coffee Stout and a hearty Brown Ale. The balmy weather, friendly atmosphere and spicy shrimp buns from I Wanna Wok food truck put the icing on the day's cake.
"Well John," our friends asked, "y'all ready to move to St. Pete?"
When I said yes, I'm pretty sure it was the craft brew talking, or the salt water, or the hospitality, or the Cuban food. And 36 hours later, when that cold Carolina rain was beating against our house, we started plotting our return.