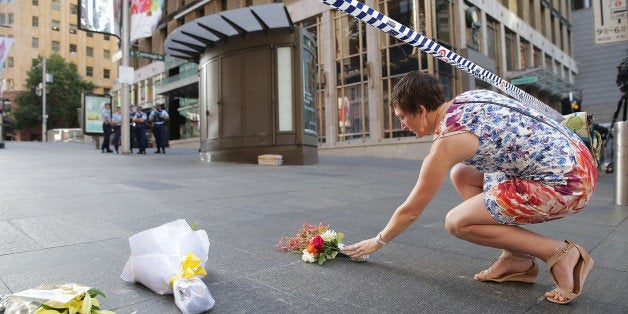 Last night, a gunman held hostages in a Sydney café and this terrible, heinous, atrocious, frightening act has made me proud to be an Australian.
What those people in a cafe in Martin Place went through chills me to the core and has preoccupied my thoughts the 24 hours since it started. Especially throughout most of yesterday, when we didn't know any details of who was behind this or why, I was fearful for those people's lives. I was fearful for what this meant for my society. I was fearful for what this meant for the future for my children.
And yet I have never been so proud to call Australia home. I am proud of the responsibility our media took by -- en mass -- agreeing not to give this violent and terrible perpetrator a voice. As a magazine writer myself, I know how tempting is the hysterical headline. Yet, on the whole, our TV stations, radio networks and our newspapers exercised restraint in their coverage to protect the safety of those trapped inside. And now that is is over, they are at pains to reemphasize again and again that the perpetrator was a lone assailant, not part of an organized religious threat.
I am proud of our police force and firefighters and other volunteers who not only rushed to the scene to assist and support and risk their own lives, but have similarly been on high alert to avoid stirring up unnecessary turmoil by discouraging the use of that terrible word we're all so fearful of that starts with a "T".
I am proud of our community leaders who have presented a united front condemning this lone actor. No one in any authority, to my knowledge, is stepping forward to show support for such an abuse of trust.
I am proud of my peers -- the average people in the street -- who have reacted calmly, sensibly and with an innate understanding that we simply need to let the authorities do their job. There has been no mass hysterics in the street and remarkably little in the vox pop of online -- emotional vigilante responses have generally been muted or quickly dismissed by the vast majority.
We are by no means a perfect society. Far from it. I myself know what it is to face overt and sometimes violent prejudice in Australia just because you look different. There are times when I have felt shame about my nationality because of race riots in Cronulla or because of the constant stream of Australians caught importing illegal drugs across Asian borders or when a surrogate baby is abandoned by its Australian parents in Thailand.
In November, my adopted son was granted his Australian citizenship. Today, more than ever, I am extremely proud of his little passport and the nationality he will grow up with. Because at a time of deep crisis the people of Sydney -- my home of seven years -- have shown me that equality, tolerance and non violence are not just hipster rhetoric. Multiculturalism, acceptance and compassion are not just boho bullshit.
In this moment, we stand together as people supporting other people in the most human of ways, regardless of color, nationality or creed, and we say #IllRideWithYou.
Popular in the Community