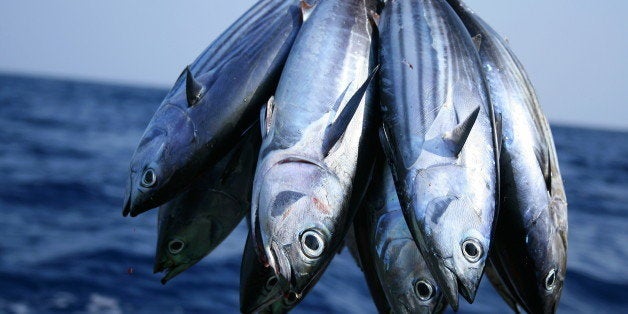 The Port State Measures Agreement adds a vital new tool in a global strategy to deter lawbreaking fishermen

For some of the world's most audacious thieves, life just got trickier. For decades they have roamed the ocean, fishing without licenses, without regard for the marine environment, and, in most cases, without much fear of being caught. With about 140 million square miles of surface water and no central authority, the ocean has proved to be an easy place for these illegal fishermen to get away with a crime.

And their haul has been huge. Experts estimate that illegal fishing accounts for up to 26 million metric tons of seafood annually, worth up to $23.5 billion. This theft undercuts law-abiding fishermen, threatens the health of our oceans and fish populations, and destabilizes coastal communities that rely on consistent fish stocks for food and jobs.

But on June 5, a global treaty to end illegal fishing, called the Port State Measures Agreement (PSMA), entered into force; the pact is now international law in 35 governments and overseas territories, including the European Union. The agreement was designed to combat illegal, unreported, and unregulated fishing by making it significantly harder to move illegally caught fish to market.

The PSMA, the first legally binding international measure targeting illegal fishing, requires captains to give notice when approaching a port--whether to unload their catch or for such services as refueling--and provide details on their licensing and fishing activities. Based on that information, and coupled with a vessel's history, port officials decide whether to allow the vessel to offload, inspect it, or turn it away.

The treaty also requires that port officials inform neighboring countries of known or suspected illegal catches--a key provision to help apprehend criminals who shop around for a port willing to accept their fish.

But the PSMA is only one component of an effective global strategy to end illegal fishing. Authorities and fishery managers need numerous mechanisms and consistent enforcement around the world. Here is a summary of how we could fully cinch the net on illegal fishing.

Expand PSMA membership: Coastal countries that have not signed on to the PSMA should do so quickly; those that have should move swiftly to implement and enforce the treaty. As long as illegal operators can find a port where they can unload and sell their catch, they will continue to profit from their crimes.

Mandate permanent, unique identifying numbers: To fish in most parts of the world, vessels need only a name, the flag of a country, and a radio call sign. None of those identifiers is permanent, and all can easily and quickly be changed, at little cost. That has made it difficult for governments to prosecute illegal fishermen and has allowed many repeat offenders to return known illegal vessels to the water under new identities.

Flag states and coastal states should require that all large fishing vessels have permanent, unique identifiers--specifically, one administered by the International Maritime Organization. An IMO number is essentially a serial number, like a vessel fingerprint that is assigned to a boat until it is scrapped, and can reveal a ship's real identity--including its owner and where it is licensed to fish.

Coordinate transnational efforts: Until recently, governments faced logistical and legal nightmares in pursuing illegal fishing operators into a neighboring country's waters. Even when officials wanted to reach out for help, they often didn't know whom to call.

To help address that, Interpol in 2013 launched Project Scale, an initiative designed to improve cooperation among the agency's 190 member countries to stop fisheries crimes.

Since the project's launch, Interpol has issued 17 Purple Notices, or alerts, on vessels engaged in illegal fishing and related crimes. Coordinated efforts by the agency and its member countries helped set the stage for the sinking of the notorious illegal fishing vessel Thunder on April 6, 2015, in the waters off West Africa. All Interpol member countries with a stake in marine fishing should be encouraged to coordinate and communicate through Project Scale.

Leverage technology to monitor the ocean: Traditionally, finding and chasing illegal fishermen on the water was expensive, dangerous, and often futile. Conducting the same operations via satellite is efficient, safe, and effective. Project Eyes on the Seas, a collaboration between The Pew Charitable Trusts and the British firm Satellite Applications Catapult, uses satellites to pinpoint a ship's location and heading, and overlays the data with other information, including a vessel's history of compliance with the law. That can help fisheries analysts determine--in near real time--whether a vessel is likely to be engaged in questionable activity.

Among governments that have used this system are the United Kingdom, Palau, and countries in the Polynesian Leaders Group, including Niue, the Cook Islands, Tonga, and Samoa. More governments should consider Eyes on the Seas as a tool to reduce illegal fishing in their waters.

Other initiatives are shining a spotlight on criminal fishing operations, including the European Commission's system of first warning countries that support lawbreaking, and then banning their seafood imports. Also, countries are using regional partnerships in southeastern Africa, Central America, and the Pacific islands to share resources and information to detect illegal fishermen and keep them out of their collective waters.

Together, these mechanisms can expose unlawful operators and close off their opportunities for selling stolen fish. That could make life so difficult for the offenders that they hang up their nets and hooks, once and for all.

Tony Long leads The Pew Charitable Trusts' work to end illegal fishing worldwide.
Calling all HuffPost superfans!
Sign up for membership to become a founding member and help shape HuffPost's next chapter