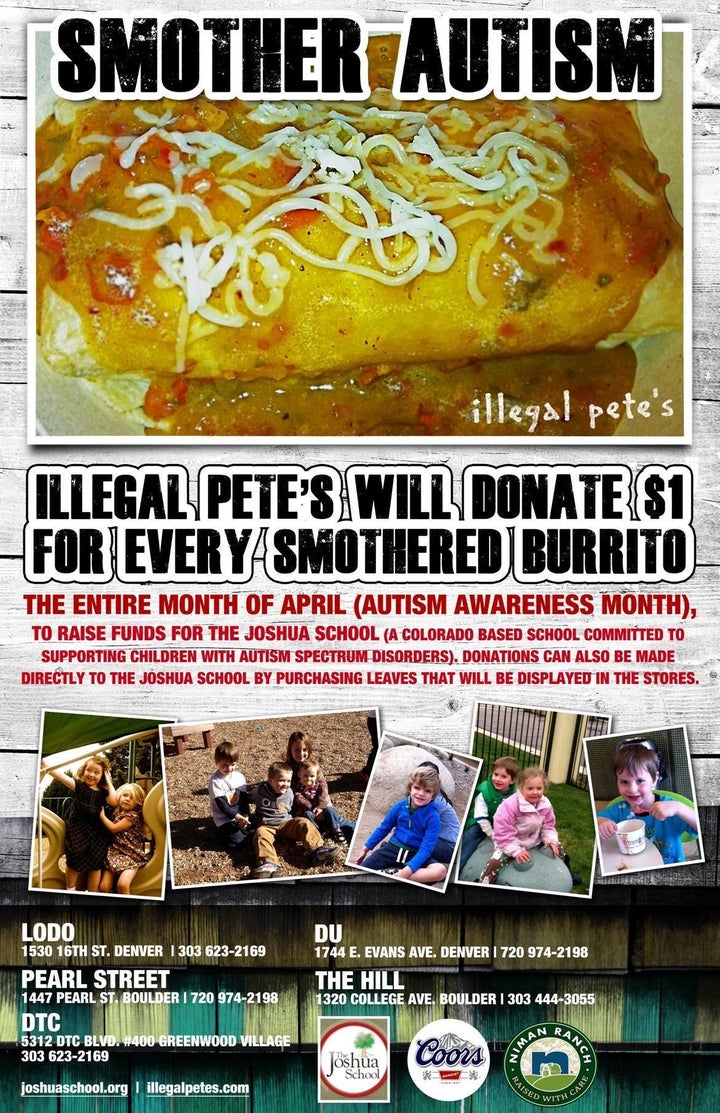 Chelsea Kelly-Marx, Illegal Pete's operations manager and the person behind the campaign, recently chatted with The Huffington Post about the importance of this fundraiser.
What is the "Smother Autism" campaign?
One of the fundamental values of Illegal Pete's is to become a part of the community in which we do business. In the past, we have done this on an individual restaurant level by working with neighborhood community organizations to do fundraising events. Last spring, when I learned that The Joshua School, a Denver-based school supporting children and families effected by Autism Spectrum Disorders, was planning to open a second campus in Boulder, I thought this was the perfect opportunity for us to do an all-restaurant fundraiser to support the cause. On the back of last year's success, we have decided to make this an annual event.
During the entire month of April, Autism Awareness Month, all Illegal Pete's restaurants donate $1 to The Joshua School every time someone smothers their burrito. We also have a leaf campaign since The Joshua School logo is a tree. A customer can donate $1 and sign a leaf that we then post in our store, building our own community trees at each location. The leaves read, "With this leaf… (Customer Name) grows the abilities of all and smothers the challenges of Autism." All donations will be going to support a Scholarship Fund at The Joshua School to help families without access to full funding for their child.
We are grateful that Niman Ranch is sponsoring the event by donating their sustainable, responsibly sourced pork for the Pork Green Chile that customers smother their burritos in. Coors is also a generous sponsor, and will be contributing to appreciation parties that allow us to celebrate the success of the event by bringing together the Illegal Pete's staff and The Joshua School staff for celebrations at our Denver and Boulder locations in May.
April is Austism Awareness Month, but why else was this a cause that you wanted Illegal Pete's to get behind?
Besides my love of community involvement, this is an intensely personal cause for me. My son was diagnosed with Autism Spectrum Disorder in September of 2010 at the age of two and a half. My family's journey with this disorder has had a profound impact on our lives. When he was diagnosed my son did not speak; at two and a half I had never heard him say the word, "Mama," to me. He would not hold my hand or look into my eyes when I was talking to him. At times, he would become so frustrated at his inability to communicate with the world around him he would bang his head against the floor out of sheer frustration. As a parent, it was heartbreaking to watch and not know how to help or support your unique child.
When my son was diagnosed with ASD, the hardest part was that there was no prognosis. For every question I had about what to expect for the future of my son, the response was, "It all depends." You are told that everything about your child's future, their potential to talk, their potential to live an independent life, their potential to have meaningful relationships with other people, all depends on how their brain continues to develop until the age of six. So as a parent, you feel like you must do everything in your power to get your child enough help between now until that time. Many insurance companies still don't have to cover services and therapies for children with ASD, so trying to follow through on all the recommended services can be an extremely overwhelming and emotional process. This is why it's so important for me that we support the scholarship fund. Being in the position with no funding to do what is best for your child, is an unimaginably painful experience. I hope that through "Smother Autism" we can prevent other families from ever facing such tough choices.
Fortunately, since my son's diagnosis, we have worked with many extremely talented and dedicated professionals, like those at The Joshua School. My son, who I was once told may never talk, now, at the age of five, never stops. He has made amazing gains in communication, social abilities, and, I'm proud to say, is a happy, funny, and loving preschooler. I now hear those wonderful words, "Mommy, I love you", on a daily basis. His progress has been amazing. While I know he is an awesome kid, who has overcome some great challenges himself. I also recognize that the talented, caring, and dedicated professionals who work with children with Autism Spectrum Disorders, like the teachers and staff at The Joshua School, make an incredible impact in these kids lives.

What are some common misconceptions about children with autism?
The primary misconception I encounter is that Autism Spectrum Disorder is purely an affliction, a problem. While those with ASD do face many challenges in our society, they all look at the world in incredibly unique ways. I think that having a brain that makes interesting or atypical connections is a wonderful thing, that creates potential for innovation, not an affliction.
Beyond that, in my experience, there are two common misconceptions. One, that your child is completely disabled in all social, emotional, and cognitive abilities. Or two, that they are a socially awkward savant. The term "Rain Man" is still used a lot by people, referring to Dustin Hoffman's portrayal in the '80s movie by the same name. Bottom line is that either of these misconceptions alter the way some people interact with your child, expecting them to be completely incapable of typical interaction and negating their desire for some of the same things we all seek: caring understanding, laughter, and normalcy. In the Autism community, there is a saying, "If you have met one child with Autism, then you have met one child with Autism", because all of these children are so unique. Anyone who makes general assumptions about individuals with ASD is most likely mistaken.
What is The Joshua School?
For me and my family, The Joshua School has been a second home. A place where I trust that every person there cares as much about my son and his success as I do. It's a place that fosters the social, emotional, and intellectual growth and development children affected by ASD daily. Each and every member of the staff there is nothing less than amazing due to their patience, dedication, and their exceptional experience working with these kids.
What kind of therapy does The Joshua School focus on that is effective for children with an autism spectrum disorder?
The therapeutic approach that The Joshua School uses is called ABA, or Applied Behavioral Analysis. To defer to The Joshua School's website, "ABA is the use of behavior analytic methods and research findings to change socially important behaviors in meaningful ways." What this means for me as a parent, is that The Joshua School teachers are always keeping track of what's going on with my son. If there is a particular challenge that he is facing they will first work to identify the "function" of the behavior (why he's doing it), then they will work to employ strategies to change that behavior. Throughout this process, they constantly track and monitor the success of what they are doing. I can always see exactly what kind of progress my son is making towards his goals.
They also integrate speech and occupational therapies into their programs daily with the assistance of speech and occupational therapists.
'Smother Autism' Flyer: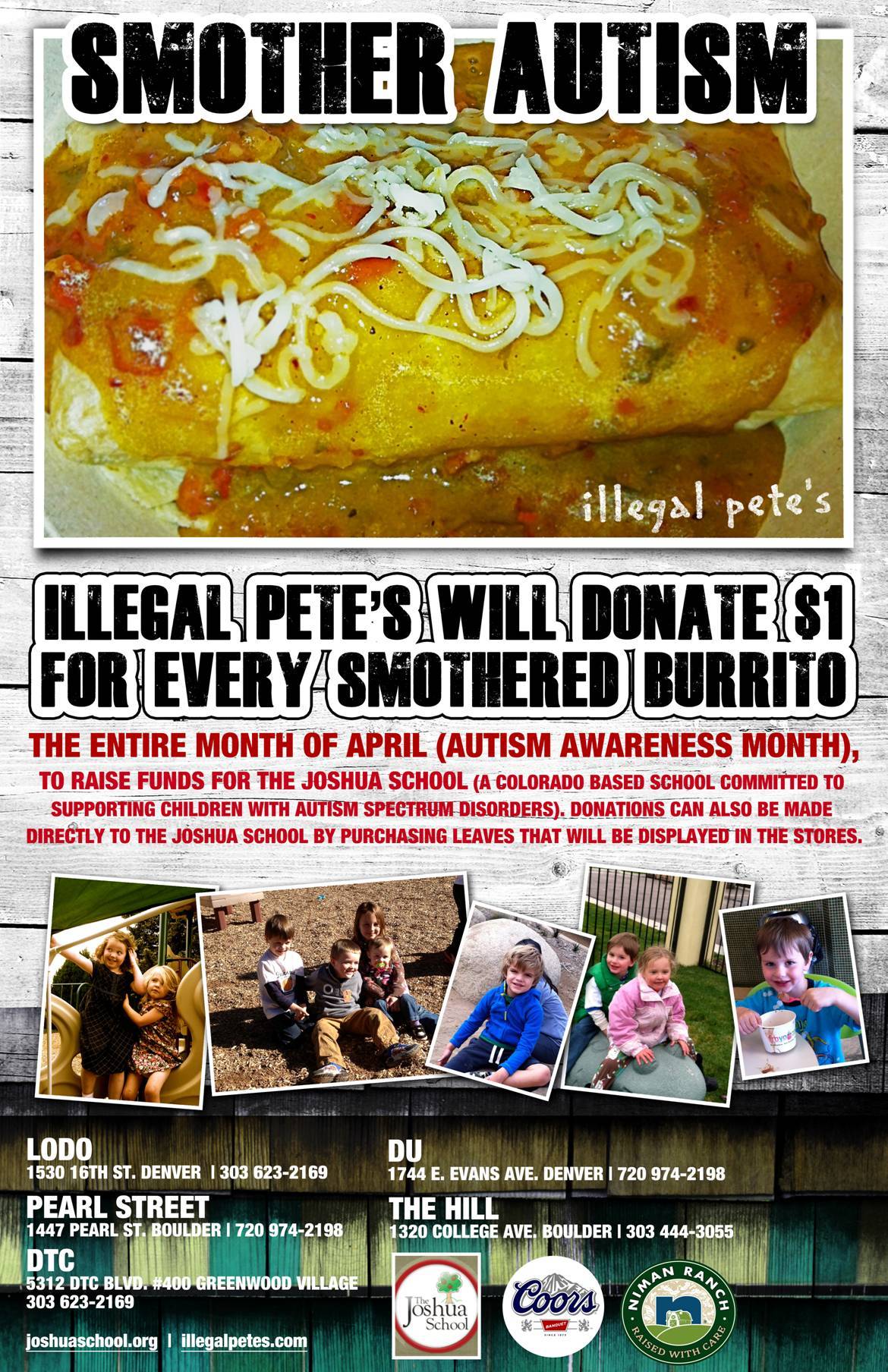 Calling all HuffPost superfans!
Sign up for membership to become a founding member and help shape HuffPost's next chapter
BEFORE YOU GO