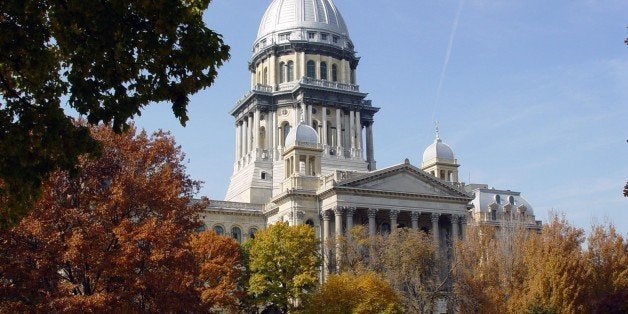 While the identity of her successor remains a mystery, Illinois continues to remember the life and governmental career of state Comptroller Judy Baar Topinka. Recollections came in from prominent political figures, including Chicago Mayor Rahm Emanuel and even President Obama.
My favorite so far, though, arrived this morning in the Chicago Tribune, where Illinois Senate President John Cullerton memorialized his former Republican Senate colleague in a piece headlined, "Why this Democrat will miss GOP's Judy." (In the print edition, it appears aside similar pieces from Sheila Simon, who lost to Topinka in the November election, and former Gov. Jim Thompson.)
A couple years ago, Judy Baar Topinka and I were sparring over the numbers she was using for the state's backlog of bills, so I invited her to my office for a chat.

She strides in, tosses a folder full of financial documents on my desk and loudly proclaims:

"There's my poop."

We eventually agreed to disagree, and the conversation turned to me haggling her to quit smoking and her detailed description of the effects of the smoking-cessation drug Chantix.

And I came away with the same impression I had from numerous other meetings with Judy over the nearly 30 years that I've known her. If I may borrow from Judy's vibrant vocabulary -- when it came to state finances and politics -- she did indeed know her poop.
Other politicians also shared their sadness at Topinka's passing this week.
Michelle and I were saddened to learn of the passing of Illinois State Comptroller Judy Baar Topinka. Judy was an institution in Illinois politics. Her public service spanned more than 30 years, including her tenure in the State Legislature and as Chair of the Illinois Republican Party. Judy was a fierce advocate for her constituents, which I got to see firsthand when she was State Treasurer - the first woman to hold that office. She was blunt, pragmatic, unfailingly cheerful and energetic, and always willing to put politics aside to find commonsense solutions that made a difference for the people of Illinois. She will be greatly missed. Michelle and I extend our deepest sympathies to Judy's family, friends and constituents today.
Today is a sad day in the state of Illinois. I am heartbroken to hear of the passing of my friend, Judy Baar Topinka.

As the first female Treasurer of Illinois and a longtime public servant, Judy was a trailblazer in every sense of the word.

Never without her signature sense of humor, Judy was a force of nature. She left her mark on the state she has called home her entire life. Her leadership improved Illinois and paved the way for countless women in politics.

My deepest sympathies go out to Judy's son, Joe, daughter-in-law Christina, granddaughter Alexandra, her family, friends and devoted staff.

Today the entire state mourns the loss of one of the greats. Judy Baar Topinka will be incredibly missed.
Check out more at Reboot Illinois, including thoughts from House Speaker Michael Madigan and Gov.-elect Bruce Rauner.

REAL LIFE. REAL NEWS. REAL VOICES.
Help us tell more of the stories that matter from voices that too often remain unheard.