Illinois Gov. Bruce Rauner (R) signed a law Monday authorizing different state agencies to automatically register voters when they interact with them, marking a huge victory for voting advocates after Rauner vetoed similar legislation a year ago.
Illinois is the 10th state to adopt automatic voter registration, a process by which people are automatically registered to vote or have their information updated on the rolls when they interact with the state's motor vehicle agency or some other state agencies. Oregon was the first state to adapt automatic voter registration in 2015, and advocates say the reform can significantly strengthen voting rights.
While it's too early to assess the overall impact of automatic voter registration, early indications suggest that it could significantly bolster voter participation.
In Illinois, Rauner's signature is particularly significant not only because he is a Republican ― most of the places that have adopted automatic voter registration are heavily Democratic ― but because he vetoed automatic voter legislation in August of 2016. At the time, he said it would open the door to voter fraud.
After the state's legislature failing to override his veto, voting advocates brought up the measure again this year. They tweaked the language making it so that voters had to affirm they were eligible to vote when they registered and giving them the option to opt-out at the time of a transaction with the state agency. The new law also allows the state to verify voter rolls using data collected from state agencies participating in automatic voter registration, something that will significantly improve accuracy, according to Abe Scarr, the director of Illinois PIRG, which was a member of the Just Democracy coalition that pushed for automatic voter registration.
The retooled legislation passed both chambers of the Illinois legislature unanimously.
Advocates appealed to legislators by emphasizing the ways the new law would save money and improve the accuracy and security of voter rolls, Scarr said.
"We kind of came in thinking the efficiency and saving taxpayer dollars would be a real big selling point and it was fine, but it was often the accuracy and security message that worked both with Republican legislators and more broadly with the public," he said.
Andy Kang, legal director of the Chicago chapter of Asian Americans Advancing Justice, another member of the coalition, said Republicans and immigrants were able to find common ground on concerns over election security.
"We don't want to see accidental voter registration to ineligible folks, either. There are very severe immigration consequences," Kang said. "We were very careful and put in a lot of thought about addressing how this automatic process would work to make accidental [registration] much less likely, to have cleaner lists of eligible voters and have a more accurate system long term."
"I think when we were able to find that common ground there, we had that same concern, same goal ― maybe we're coming at it a little bit differently ― that was something we could think about when talking to Republicans," he added.
Scarr said advocates also accepted a request from Rauner's office to include the Department of Natural Resources and Department of Financial and Professional Regulation to be agencies that offered automatic voter registration.
"This was never stated, but they're more symbolically Republican agencies, you know, hunters, fishers, small business people," Scarr said.
For voting rights advocates, who want registration in as many state agencies as possible, it was easy to accept.
Even though Rauner's office said in May he intended to decide on the legislation, he had been largely silent on it since then. Former Missouri Secretary of State Jason Kander (D), who is now leading a voter advocacy group called Let America Vote, had penned an op-ed earlier in August speculating that Rauner might veto the legislation to prevent new voters from getting registered in hopes of boosting his election chances next year.
But Rauner's signature on Monday will immediately allow Illinois election officials to begin to develop guidelines for implementing the law.
Automatic voter registration at motor vehicle agencies will start on July 1, 2018, and a year later at other state agencies.
"Passing a law is not the end of a campaign, it's an opportunity and so it's very important to us that we stay engaged with the implementing agencies which are numerous," Scarr said. "We're very excited and proud of where we've gotten to but it's not done until the law goes into effect and has the outcomes that we've promised and advocated for the last two years."
Before You Go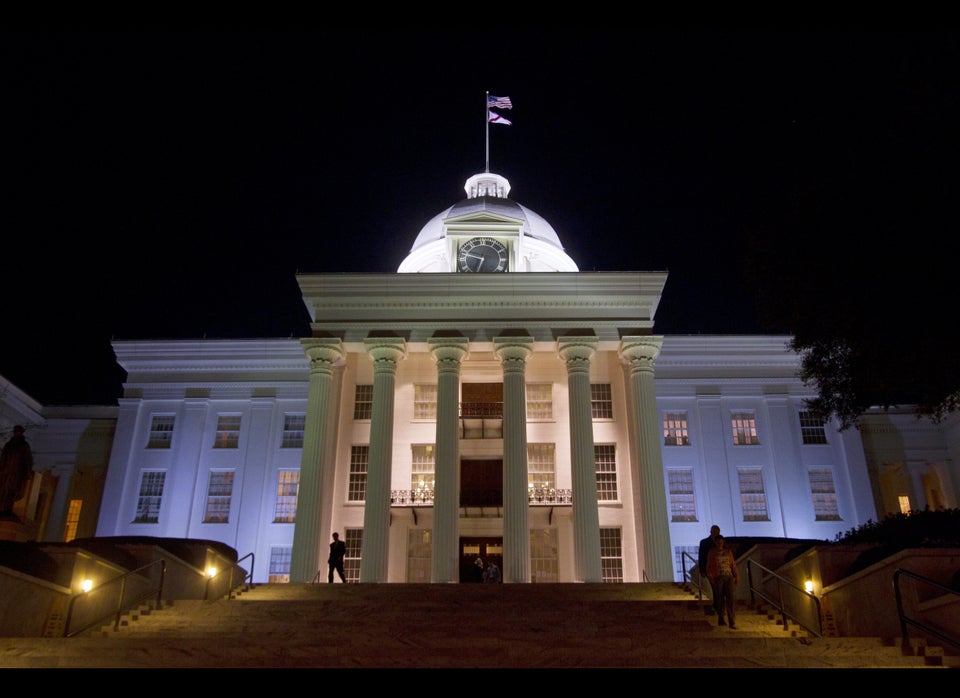 U.S. State Capitol Buildings
Popular in the Community