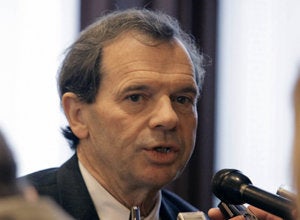 In an election season where Republicans won control of 19 state legislatures across the country, Democrats in Springfield were able to avoid getting caught up in the red tide. If Tuesday's results hold up, Democrats will retain control of both houses of the legislature and of the governor's mansion.
But now that they've won, of course, they have to govern.
The biggest issue facing the state is its massive budget shortfall, estimated at around $14 billion, and its staggering pension obligation, which is less than 50 percent funded. Fresh off the election, the State Senate is back to work on solving that problem, debating a $4 billion borrowing package today that would cover upcoming pension payments.
Tuesday's results have added placed added pressure on the Senate to pass the measure. Senate President John Cullerton's election losses, while not enough to cost him a majority, will cost him the ability to push through a budget without Republican support. It takes 36 votes to approve borrowing in the Senate; the Democratic caucus will shrink from 37 to 35 come January, falling just short of the critical total.
What's more, the House requires 71 votes to pass a borrowing package. Such a bill passed earlier this year, with the 69 Democrats and two lame-duck Republicans voting in favor. But if it fails to get through the Senate this fall, the House will have to take it up again in the new year, with only 64 Democratic representatives.
And a cagey Republican leadership has placed caveats on its support for borrowing. From the Tribune:
[Senate Republican leader Christine] Radogno maintained she and other Senate Republicans are not unalterably opposed to borrowing the $3.8 billion that would help the state make its annual payment to the woefully underfunded pension systems. But she also insisted there needs to be a comprehensive overall financial plan first, along with commitments to reform in workers' compensation and Medicaid.

President Cullerton may try to use his last good chance this November to get the borrowing plan through without acceding to such demands. As he told WBEZ, "The Governor asked us to come back in as soon as possible after the election. They would like to have this pension issue resolved."
Other contentious issues that may come up during the lame-duck session include civil unions for gay couples and an expansion of casino gambling.
REAL LIFE. REAL NEWS. REAL VOICES.
Help us tell more of the stories that matter from voices that too often remain unheard.