Daniel Biss, an Illinois state senator seeking the Democratic gubernatorial nomination, dropped Chicago Alderman Carlos Ramirez-Rosa as his running mate on Wednesday over Ramirez-Rosa's criticism of Israel and affiliation with a group that supports the Boycott, Divestment and Sanctions movement.
The incident served as a reminder that, while the surge in progressive activism ushered in by the presidential campaign of Sen. Bernie Sanders (I-Vt.) has moved Democrats to the left on many economic issues, the spectrum of acceptable debate about the Israeli-Palestinian conflict remains relatively narrow.
"I was hopeful that this campaign could have recognized our differences and come together to focus on those key progressive issues that are important to Illinois's working families. And unfortunately, that did not occur," Ramirez-Rosa told HuffPost. "My hope is that five years from now, as a Democratic Party, we are more committed to having these constructive dialogues and allowing for these differences to exist."
Biss's selection of Ramirez-Rosa as his candidate for lieutenant governor last Thursday sparked an outpouring of excitement from progressive activists and organizations. At 28, Ramirez-Rosa is Chicago's first openly gay Latino alderman and one of the country's most prominent members of the Democratic Socialists of America. Thanks in no small part to Sanders, who calls himself a democratic socialist, DSA has seen its dues-paying membership nearly quadruple, to more than 28,000, since the November election. Ramirez-Rosa, who joined in February, has become the organization's closest thing to a political celebrity.
But Ramirez-Rosa's affiliation with DSA, which has endorsed the Boycott, Divestment and Sanctions (BDS) movement against Israel, immediately created a political headache for Biss.
Ramirez-Rosa, who served as a Democratic National Convention delegate for Sanders in July 2016, has also spoken out against what he considers the United States' sponsorship of the Israeli occupation of the Palestinian territories Israel conquered in 1967.
"You know, for too long the U.S. government has subsidized the oppression of the Palestinian people, and it's time that that's stopped," Ramirez-Rosa told the left-wing Real News Network in June 2016. "And we have seen a shift internationally in favor of justice for the Palestinian people. You know, people stand with Israel, but they also want to make sure the Palestinian people have [justice]."
"I'm not going to throw a nonviolent movement under the bus or impugn their aims or impugn their tactics."
Rep. Brad Schneider (D-Ill.), a moderate who represents affluent Chicago suburbs, withdrew his endorsement of Biss in a note on Facebook on Sunday, citing Ramirez-Rosa's tough criticism of Israel and membership in DSA. Schneider is an active member of the American-Israel Public Affairs Committee, a hawkish and influential pro-Israel lobby, and pro-Israel groups were his third-largest category of donors in 2016.
Biss responded by demanding that Ramirez-Rosa unequivocally denounce BDS or leave the ticket, according to a source with knowledge of their conversations.
After several days of discussions, Ramirez-Rosa announced his departure from the ticket, claiming in a Facebook message that his difference of opinion with Biss on BDS at the federal rather than state level had proved insurmountable. (In an interview with HuffPost, Ramirez-Rosa would not confirm the details of their talks, citing his commitment to their shared privacy.)
Ramirez-Rosa said he refuses to condemn BDS in all its forms because he believes that it is "part of a constructive dialogue" about how the United States should leverage its power on the global stage to end the Israeli occupation of the West Bank, Gaza and East Jerusalem.
"I'm not going to throw a nonviolent movement under the bus or impugn their aims or impugn their tactics," he told HuffPost. "Amongst the international community and within the United States, there is a broad agreement that we need to end the occupation of Palestine, that we need a solution that recognizes the humanity of both the Israeli and the Palestinian people."
Such a solution must also recognize "4,000 years of anti-Semitism," he added.
At the same time, Ramirez-Rosa does not support state governments boycotting Israel, since foreign policy is a federal matter.
When asked by HuffPost if, in his capacity as lieutenant governor, he would have visited Israel as part of a state government delegation, Ramirez-Rosa affirmed that he "absolutely" would have.
Ramirez-Rosa said he remained supportive of a two-state solution in which a Palestinian state would exist alongside Israel. He has not adopted the far left's preference for the creation of one binational state between the Jordan River and the Mediterranean Sea.
Biss, who is Jewish and whose mother is Israeli, said in a statement about Ramirez-Rosa's departure that he believes BDS "moves us further away from a peaceful solution."
He also accused Ramirez-Rosa of failing to be upfront about his views on the matter.
"When I asked him in the interview process prior to his selection, Carlos said he too supported a two-state solution and opposed BDS," Biss wrote. "After much discussion, it's become clear that Carlos' position has changed. While I respect his right to come to his own conclusions on the issue, it simply wasn't the understanding we shared when I asked him to join the ticket."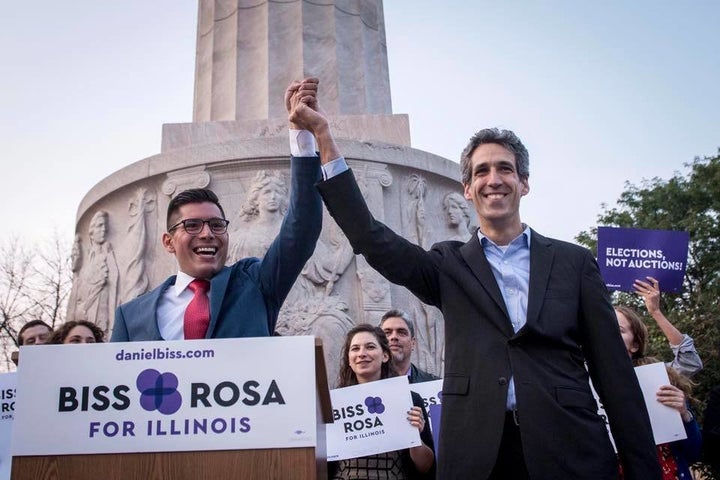 Ramirez-Rosa insisted to HuffPost that he spoke candidly about it, explaining his opposition to boycotts by state governments and openness to federally led boycotts. When pressed, he acknowledged that the distinction between state-government and federal-government boycotts may have led Biss to misunderstand.
"It's not difficult to find Rosa's positions on this issue," said Micah Uetricht, a friend of Ramirez-Rosa's and associate editor of Jacobin, a popular socialist magazine. "If you Googled 'Carlos Rosa Israel Palestine' you could find his position on it. Did no one in the Biss campaign do this?"
BDS began in 2005 when Palestinian civil society groups asked the international community to boycott, divest from and sanction Israel until Israel ends its occupation of the Palestinian territories captured in 1967, allows Palestinian refugees from the 1948 war to return to their homes and grants equal rights to Israel's Palestinian citizens.
The movement has steadily picked up adherents, particularly in Europe, with many European musicians, including Roger Waters and Brian Eno, refusing to tour in Israel.
BDS remains relatively obscure and controversial in the United States, however, where public opinion is more supportive of the Israeli government.
Opponents of BDS argue that it unfairly singles out Israel among all of the world's many imperfect nations. Critics also object to its leaders' insistence on a right of return for all Palestinian refugees, which would dissolve the demographic Jewish majority that is the basis for Israel's "Jewish character."
Ramirez-Rosa admitted that he is not familiar with the finer details of the Palestinian-Israeli conflict, including the best way to address the issue of Palestinian refugees.
In the near term, the biggest casualty of Biss's rupture with Ramirez-Rosa appears to have been his own campaign.
Democrats are clamoring to unseat Illinois Gov. Bruce Rauner, a billionaire Republican viewed as one of 2018's more vulnerable incumbents.
In a crowded and contentious field dominated by billionaire investor J.B. Pritzker and philanthropist Chris Kennedy, son of the late Robert F. Kennedy, Biss is seeking to upset his well-heeled competitors by cornering the progressive wing of the Democratic Party. He boasts an ambitious platform that calls for a $15 minimum wage, state-level single-payer health care, paid family leave and free public college tuition.
But Biss's lack of a running mate limits his ability to collect the petition signatures he needs to land a spot on the ballot, according to The Washington Post's Dave Weigel. And his rejection of Ramirez-Rosa has prompted criticism from previously supportive individuals and groups, souring much of the credibility he'd earned with progressive activists.
Biss "just seems like an empty suit," Uetricht said. "He saw a political opportunity in the Bernie Sanders campaign, a political moment where if you embraced Bernie-style politics you could get somewhere, but that was a purely opportunistic move."
Even Ramirez-Rosa would no longer commit to voting for Biss.
"I will be playing close attention to how this race unfolds," he said.
Biss's fall from grace may open up room for Chicago Alderman Ameya Pawar, another long-shot contender who has also sought to court left-leaning voters.
Ramirez-Rosa's progressive allies see his decision not to renounce BDS as a foreshadowing of the growing acceptance of BDS and a long-term win for the democratic socialists who embrace it.
"This country is dramatically changing and things that used to seem impossible are very much probable," said David Duhalde, the deputy director of the Democratic Socialists of America.
Carlos' decision "shows people how incredibly committed and principled politicians like Carlos are and Democratic Socialists of America members are, too," Duhalde added. "People like Carlos sticking by their values is a very good thing for the socialist movement."
Before You Go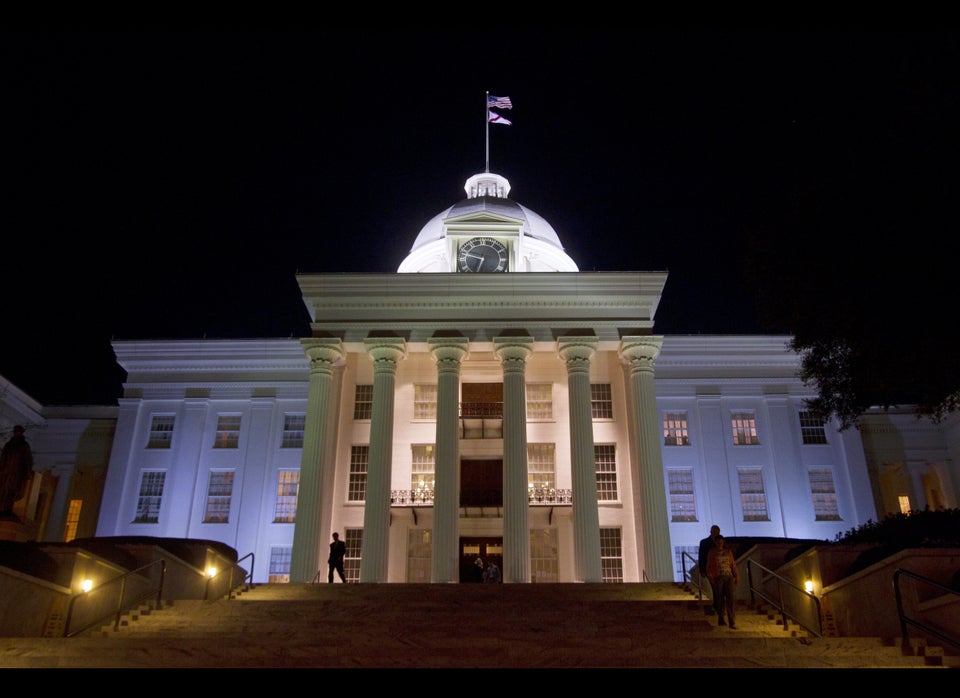 U.S. State Capitol Buildings
Popular in the Community