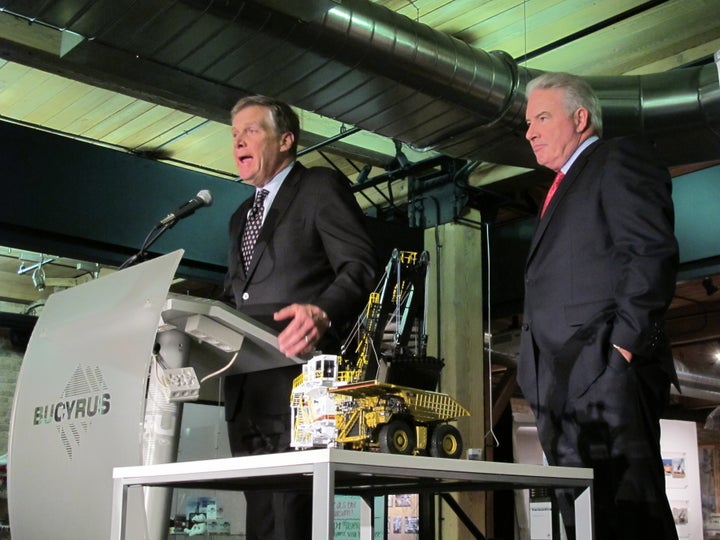 Across the midwest, public workers have protested proposed cuts to benefits, pay, and collective bargaining rights. But in Illinois, one chief executive is now leading a different kind of protest: following personal and corporate tax hikes in January, Caterpillar CEO Doug Oberhelman has threatened take his business out of state.
Last week, Oberhelman sent a letter to Illinois Governor Pat Quinn, noting that four states have invited the Peoria-based heavy equipment colossus (Caterpillar employs more than one hundred thousand globally) to relocate, Reuters reports.
"I want to stay here. But as the leader of this business, I have to do what's right for Caterpillar when making decisions about where to invest," Oberhelman wrote.
Illinois is facing a potential $15 billion budget gap, according to Reuters. CNBC ranks it number one (tied with Nevada) for worst state budget gaps in 2011. In January, the state legislature passed a bill raising the corporate tax rate from to 7 percent from 4.8 percent and personal income taxes 5 percent from 3. The U.S. corporate tax rate is 35 percent.
A recent report by the Center on Budget and Policy Priorities concluded that U.S. corporations are now paying taxes at "historical lows as a share of the [total] economy," thanks, in large part, to creative use of tax structures.
While Oberhelman's letter does not specifically mention the tax increases, Caterpillar spokesman Jim Dugan said the recent tax increase played a significant role in triggering the note, according to Pantagraph.com. According to Dugan, the letter is not a threat, but rather "an olive branch to offer our help." In past interviews, Oberhelman has expressed concern about the state deficit but always cautioned that he didn't believe tax cuts would be the right way to address this issue.
Caterpillar employs 23,000 people in Illinois and 104,000 globally.
Oberhelman isn't alone among CEOs who have suggested they may be forced to move their companies over concerns about corporate taxes. Last month, 3M CEO George Buckley, suggested that U.S. companies could leave for Canada or Mexico.

Calling all HuffPost superfans!
Sign up for membership to become a founding member and help shape HuffPost's next chapter