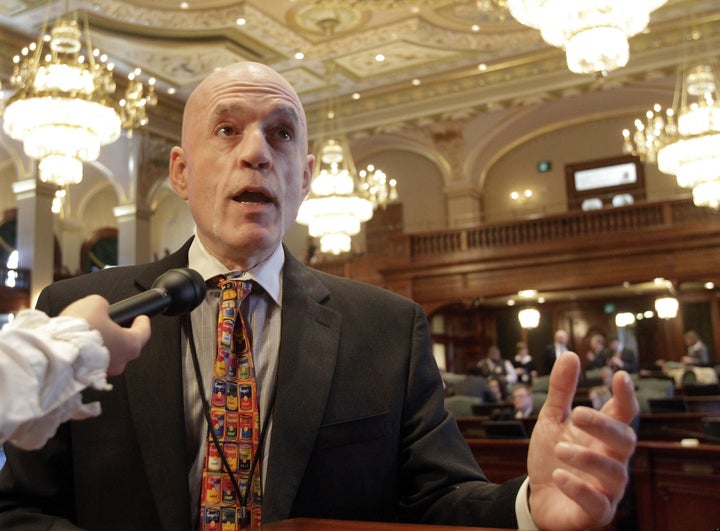 Governor Pat Quinn has already pledged to sign SB1716, the "Illinois Religious Freedom Protection and Civil Union Act," which was co-sponsored by openly gay Rep. Greg Harris.
The measure passed in the Senate by a 32-24-1 vote Wednesday, and the passed the Illinois House by a 61-52 majority vote on Tuesday.
"This is a legacy vote," Sen. Heather Steans (D-Chicago) said on the Senate floor. "It makes a statement about the justice for which we stand." The Chicago Tribune reports that Steans was referencing the civil rights movement and Martin Luther King, urging colleagues to bend "the moral arc of justice."
Civil unions would provide legal recognition of gay couples and give them some of the same benefits automatically available to married couples, including the right to visit a sick partner in the hospital, disposition of a deceased loved one's remains and the right to make decisions about a loved one's medical care.
The Illinois Religious Freedom and Civil Union Act will also protect the rights of religious institutions to define marriage as they choose, and will be available to any couple, same-sex or opposite-sex, in a committed relationship who are: 18 years of age or older, not in an existing marriage or civil union, and are not related. It would take effect July 2011.
Supporters of the bill expected it to pass the state Senate, but many onlookers were curious about how Sen. James Meeks would vote. Meeks ultimately voted against the civil unions bill, which is consistent with his history--but a damaging blow to his mayoral campaign.
Meeks serves as the pastor of Chicago's Salem Baptist Church, and has made many offensive statements about homosexuals in the past. In 2007, he was named one of the "leading black religious voices in the anti-gay movement" by the Southern Poverty Law Center. Since announcing his bid for mayor, he has tried to cozy up with the gay community--a vocal base of Chicago voters.
Sen. James Meeks said this morning that he intends to vote "No" on the civil unions bill when it comes up for a vote today.

This isn't much of a surprise since Meeks' record hasn't exactly been pro-gay. But there had been some speculation that he might change his mind now that he's running for mayor of Chicago. But Meeks said if he voted for the bill he'd be deemed a flip-flopper who was pandering for votes ahead of the mayoral election and he planned to stick to his principles.
Meeks, a Democrat, told reporters after the vote that he believes that marriage should be between a man and a woman--even though the vote wasn't actually on gay marriage.
Many lawmakers took to Twitter to congratulate Rep. Greg Harris on victory. The openly gay Harris co-sponsored the bill and worked tirelessly for its passage.
"We have a chance today to make Illinois a more fair state, a more just state, and a state which treats all of its citizens equally under the law," Harris said on the House floor Tuesday. "We have a chance here, as leaders have had in previous generations, to correct injustice and to move us down the path toward liberty."
While most debate on the Senate floor was in support of the bill, some opponents stood to voice their opposition to it.
"Why civil unions now?" Sen. Chris Lauzen (R-Aurora) asked, according to the Chicago Tribune. ". . .We are the incompetence[sic] laughing stock of government mismanagement and misplaced priorities, and our one-party (Democratic) leadership spends our time on homosexual civil unions."
On Tuesday, Republicam Rep. Ron Stephens blamed "open homosexuality" for the fall of Rome, implying that civil unions would lead to the decline in American civilization. (Video here.)
Gov. Quinn scheduled a Wednesday afternoon press conference to discuss the civil unions bill.
Calling all HuffPost superfans!
Sign up for membership to become a founding member and help shape HuffPost's next chapter