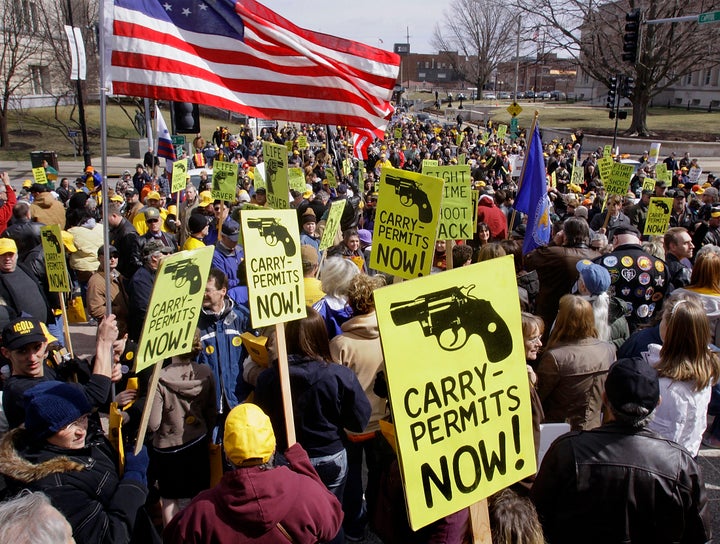 As a concealed carry measure headed to Wisconsin Governor Scott Walker's desk Tuesday night, gun rights activists in Illinois applauded their neighbors to the north--and slammed local lawmakers for making Illinois the last state in the nation to uphold an outright ban on concealed weapons.
"This good fortune enjoyed by the citizens of Wisconsin underscores the ongoing plight of their neighbors to the south," the Illinois State Rifle Association said in a statement. "Once the Wisconsin governor signs concealed carry into law, Illinois will be the only state in the nation that prohibits its citizens from protecting themselves with the most effective tool available – the defensive firearm."
"I cannot imagine a reason you need to carry a concealed, loaded weapon unless you're willing to use it on another human being," Jennifer Loudon, the widow of Chicago Police Office Thor Soderberg, told the Chicago Tribune when a concealed carry bill was introduced in Springfield in March. Soderberg was gunned down outside of a police station last year. "I cannot wish that on anybody else. I do not want another family to ever have go through what our family has had to go through."
The ISRA, however, has been using the recent uptick in Chicago crime to support their cause. News stations began almost nonstop coverage of violent teen "mobs" over Memorial Day weekend, when residents in the upscale Gold Coast and Streeterville neighborhoods reported being attacked by "groups of 20 or more young men." The Magnificent Mile shopping district was also a "flash mob" magnet, according to some reports.
"As most of our readers know, the most effective defense a victim could muster against a flash mob would be for the victim to draw a concealed firearm," the ISRA wrote in a fundraising letter to supporters last week. "As most of our readers also know, Illinois is one of only two states in the nation that deny citizens the right to carry defensive firearms."
The ISRA hopes Wisconsin's approval of concealed carry legislation will help their case, and are currently behind two federal lawsuits that "address Illinois' persistent denial of the law-abiding citizen's right to self defense." The organization has accused lawmakers of siding with "bad guys" and "letting the good people of Illinois take it on the chin from murderers, robbers, rapists and the increasingly-popular flash-mobs."
Even if concealed carry advocates found support for their cause in the General Assembly, Illinois Governor Pat Quinn has repeatedly come out against it, and said he would veto anything that would allow people to carry "concealed, loaded hand guns."
In Wisconsin, those who obtain a gun permit and go through training will be able to carry a concealed weapon in public buildings unless a sign states otherwise. Weapons will not be allowed within 1,000 feet of schools, police stations, jails, prisons, courthouses, mental health facilities and beyond airport security checkpoints, according to the Associated Press. Walker is expected to sign the measure quickly.
Popular in the Community