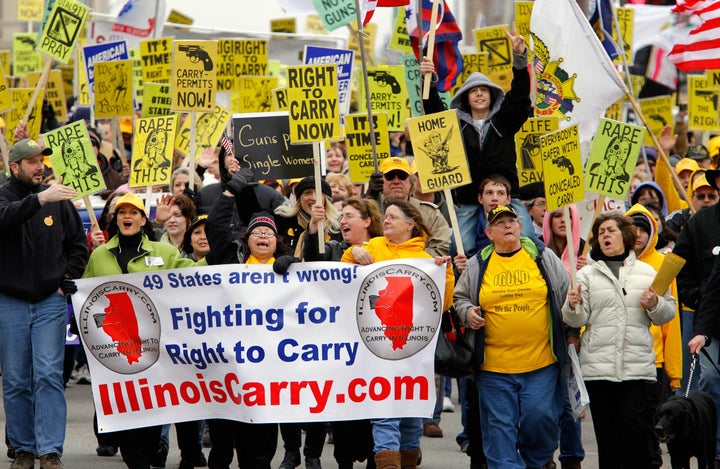 The opinion was issued after several citizens and gun rights groups filed a lawsuit claiming that Illinois is violating the Second Amendment of the U.S. Constitution by prohibiting people from carrying guns in public.
Myerscough added that the "Supreme Court has not recognized a right to bear firearms outside the home and has cautioned courts not to expand on its limited holding."
The Second Amendment Foundation believes U.S. Supreme Court justices will see things their way.
"The Second Amendment does not say the right to keep and bear arms shall not be infringed except outside your home or that it only applies inside your house. We don't check our constitutional rights at the front door," Alan Gottlieb, the foundation's vice president, said in a statement.
Currently, only Illinois and the District of Columbia prohibit the carrying of concealed weapons.
"Forty-nine other states understand this and have reasonable policies in place to ensure that only law-abiding people willing to go through authorized safety training are permitted this right," Johnson said in a statement late last year. "The only reason Illinois is the exception is Cook County. This is not acceptable."
Gun control advocates with The Brady Center filed a brief defending the Illinois law, and were pleased with Judge Myerscough's ruling.
"We are pleased that yet another court has rejected the gun lobby's claim that the Second Amendment bars communities from keeping loaded guns off their streets," Jonathan Lowy, director of the Brady Center's Legal Action Project, told the State Journal-Register. "More than a dozen courts around the nation have agreed that there is no right to carry loaded guns in public."
Another lawsuit filed by the National Rifle Association over Illinois' concealed carry policy remains in federal court.
Popular in the Community