Hundreds of couples lined up early Wednesday to get civil union licenses from the Cook County Clerk's office, as the state's historic civil unions law went into effect.
When signing the legislation in January, Illinois Governor Pat Quinn said the measure was a matter of civil rights and basic fairness. The law gives couples many of the rights that accompany traditional marriage, including the power to decide medical treatment for an ailing partner and the right to inherit a partner's property.
Sarah Stumpf and Diana Braunshausen met through mutual friends more than six years ago. The Romeoville, Ill. couple got up early Wednesday and headed to the Will County Courthouse to file their civil union paperwork--even though the two had a wedding in October.
"We had the wedding here in Illinois, so we received no legal rights for it, but it was important for us to get up in front of our family and friends to celebrate our relationship," Stumpf said. "We had considered waiting until it was legal, but honestly we just got sick of waiting for the world to catch up to the realities of our lives."
Stumpf said she and her wife already had their dream wedding--a religious ceremony in their pagan faith on their sixth anniversary--but realized the importance of full legal rights when she was diagnosed with a brain tumor this winter.
"This is just the legal paperwork that validates a journey we started six months ago, and a journey that will continue until we win full and equal rights to the word marriage on both a state and federal level," Stumpf said. ". . . access to the legal rights to have hospital visitation, make medical decisions and the standing as a legal spouse if the worst were to happen are very present in our minds right now. We were lucky that ... doctors have always treated Diana like a spouse and respected our relationship but it will be comforting to be fully protected and not have to rely on luck."
Stumpf is making a full recovery. She and her wife will celebrate their civil union on Friday night, with an officiant and a a few friends.
Stumpf and her wife are certainly not the only Illinois couples who married or made plans to wed before the civil unions law passed--and almost all of those participating in civil union ceremonies are hoping that full marriage rights are not too far off.
Logan Square residents Seth Dodson, 29 and Viktor van Bramer, 28, have been planning their wedding for more than a year, and will marry in Chicago on June 18. Now that a civil union is possible, they plan on filling out the paperwork before their big day.
"We believe that all people should celebrate their relationships how ever they want to, regardless of state law, as a form of activism and expression of freedom," Dodson said. "However, as a community we should be strong and unrelenting in our fight for equality."
Dodson and Bramer, who met more than five years ago at Chances Dances, a queer dance party, will honeymoon in Iceland. They are considering having a legally recognized marriage there.
"We believe that legal rights are immensely important but our original plan was to define this marriage for ourselves and share our love and commitment with family and friends," Dodson said.
The Civil Rights Agenda, a statewide LGBT advocacy organization that worked hard to get the civil unions law passed, will host a mass civil union ceremony in Chicago on Friday. Forty couples will gather at the Chicago History Museum for the celebration at 5:30 p.m.
On Thursday, the City of Chicago will host another mass civil union ceremony in Wrigley Square at Millennium Park. Gov. Quinn will attend the ceremony, along with Cook County Clerk David Orr, Chief Judge of the Circuit Court of Cook County Timothy C. Evans and members of the Alliance of Illinois Judges, who will officiate the ceremonies.
"This event highlights a small sample of the many families across Illinois that are provided protections, rights, and responsibilities under Illinois's new law," Lambda Legal's Jim Bennet said in a statement. "Today, we congratulate the thirty couples and all those who wish to get a civil union, it's a great day for committed same-sex couples and their children."
Meet some more Illinois couples who are taking advantage of the new civil union law. Want to add your photo and story to our slideshow? Email us at chicago@huffingtonpost.com.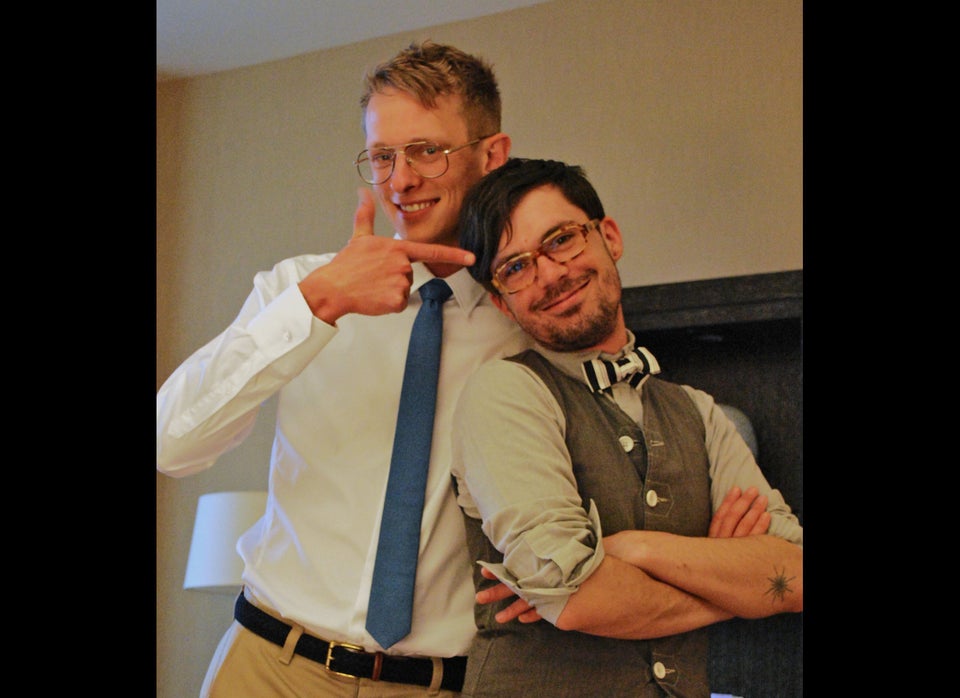 Illinois Couples Take Advantage Of Civil Union Law
Popular in the Community