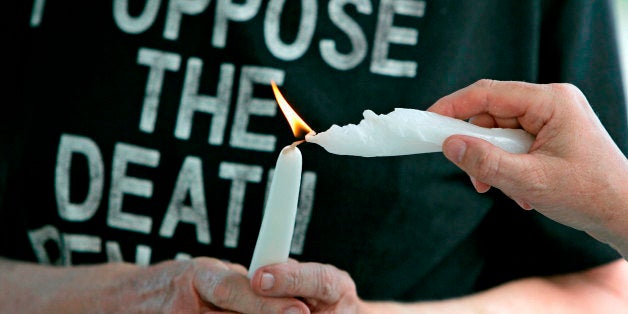 Four years after Illinois abolished the death penalty, a Republican state lawmaker wants to bring it back for killers he calls "the worst of the worst."
"Obviously, we don't want the same bill -- the same language -- that we had before," Cabello told The Huffington Post Friday. "We have to have something in place for the worst of the worst. The bill is to make sure the discussion is there."
In 2003, troubled by questions of fairness, then-Gov. George Ryan (R) cleared the state's death row in the waning hours of his administration. Gov. Pat Quinn (D) ultimately signed legislation that abolished the death penalty outright. Quinn called it the hardest decision he ever had to make as governor. Because the legislation was not retroactive, Quinn commuted the sentences of the 15 men on death row. Illinois is now one of 18 U.S. states that have abolished the death penalty.
Cabello said he wants his bill to facilitate a discussion of reforming the justice system in the House Judiciary-Criminal Committee, for which he serves as spokesman. Even if his bipartisan bill makes it to the House floor, he said he wouldn't likely call for a vote.
"I want to make sure we're going to discuss every type of penalty, every type of issue, that could possibly come up within this commission to see what and how we want our criminal justice system to look like," Cabello said.
Though Cabello said he personally supports the death penalty, he said it should only be brought back "if we came up with perfect reforms for the criminal justice system" and for "certain ironclad cases." The punishment would apply to the "worst of the worst," which he defined as including those convicted of murdering a first responder or a child under 12, or committing mass murder.
Cabello is on leave from his job as a detective at the Rockford Police Department. As a lawmaker, he said he'd like to reduce state's prison population by 25 percent within the next 10 years. He also has introduced legislation that would allow someone convicted of a non-forcible felony to have that record sealed upon successful completion of prison educational or vocational training.
"We do an excellent job of putting people in prison," Cabello said. "We do a lousy job of getting them back into society."
Cabello said his proposed legislation shouldn't define him as soft on crime. "I've unfortunately had the opportunity to investigate murders, child sex crimes, every kind if crime you can't possibly imagine and don't want to imagine," he said. "It's about getting smart on crime, not soft."
Calling all HuffPost superfans!
Sign up for membership to become a founding member and help shape HuffPost's next chapter
BEFORE YOU GO