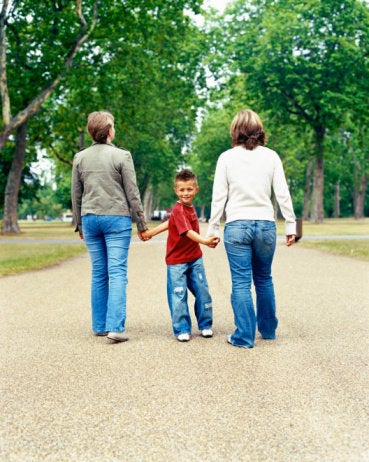 Though the state of Illinois's Department of Children and Family Services announced last week that it had suspended its foster care and adoption contracts with Catholic Charities over the agency's refusal to license couples in civil unions or unmarried partners as adoptive or foster parents, that decision has been temporarily overruled as a Sangamon County judge this week said the state must continue to send foster children the agencies' way.
Catholic Charities, represented in the lawsuit by the Thomas More Society, hope they will be allowed to continue directing same-sex-partnered and unmarried applicants elsewhere -- despite the fact that they receive state funding. They've described DCFS's cutting ties with Catholic Charities as "reckless" and have vowed to press on.
"We will continue this fight until all young people in need now and in the future are guaranteed their right to receive the high-quality foster and adoption care that the Catholic Church has provided for over a century to Illinois children," Thomas More attorney Peter Breen said of the case in a statement.
Meanwhile, DCFS spokesman Kendall Marlowe told HuffPost Chicago this week that the department is complying with the judge's order, "which includes continuing to refer children to these agencies," and that they were proceeding with "business as usual" while next month's hearing approaches. Marlowe saw the judge's order as simply a clarification that put into writing what he had already verbally stated when he issued a temporary injunction earlier in the month.
"I'm not going to presume to know what this judge is going to decide," Marlowe said, "but whatever is said may not be the final word on the matter anyway. In the mean time, we'll continue to comply with the court order and keep serving kids and families and see where we go from there."
Illinois Attorney General Lisa Madigan's office, too, told HuffPost Chicago they were in agreement with the judge's order regarding the continuation of referrals "until the judge could rule on the merits of Catholic Charities' claims" next month.
LGBT rights advocates expressed some frustration, though not surprise, with Catholic Charities' attempt to circumvent DCFS's decision.
Anthony Martinez, executive director of The Civil Rights Agenda, said his organization remains optimistic while looking to next month's hearing. They "hope and, really, sort of expect this judge to hear both sides of the issue and understand that the public accommodation and human rights law of Illinois trumps this specific case."
Bernard Cherkasov, Equality Illinois' chief executive officer, hoped that, despite the needs of those most directly impacted in the matter -- the estimated 2,000 children who are wards of the state currently under Catholic Charities' care -- are not overlooked.
"What they need is a loving, caring, safe home. What they don't need are biased child welfare agencies saying that they take state money to take care of them but are also doing everything they can to limit the pool of parents who could adopt them," Cherkasov told HuffPost Chicago.
"We need to continue focusing on what is best of those children that are in the care of the state," Cherkasov continued, "and to allow the opponents of LGBT equality to use these laws to carve out new exceptions for themselves that give in to their homophobia has nothing to do with the welfare of these children."
Earlier this month, Governor Quinn, too, had strong words for Catholic Charities, saying that the agency "made a choice" to ignore state non-discrimination laws and that the state is "not going back" to entering into contracts with the agencies should they continue to discriminate in their placements.
"If an organization... decides they don't want to voluntarily participate with the state, they have that choice and we honor that choice." Quinn said, according to the Capitol Fax blog. "We have other entities that are involved in foster care that are willing to assume that duty."
After the Catholic Charities agency in Rockford, Ill., announced they would no longer contract with the state to license foster care and adoptive parents, another agency -- the Youth Services Bureau of Illinois Valley -- took over their 300 cases. Should the judge uphold DCFS's decision, Marlowe said his agency already has longstanding procedures in place to transition the agency's remaining cases.
REAL LIFE. REAL NEWS. REAL VOICES.
Help us tell more of the stories that matter from voices that too often remain unheard.