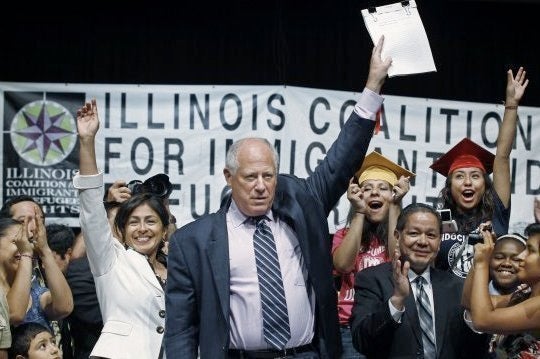 On Monday, Illinois Governor Pat Quinn signed a law that makes it easier for the children of immigrants--legal or illegal--to pay for college.
Chicago Mayor Rahm Emanuel also attended the Monday signing.
"Immigrants are a driving force in our city's cultural and economic life, and opening the way for all Chicago students to earn an excellent higher education will make our city even stronger," Emanuel said in a statement. "I am proud that families and students across Illinois will now have a better shot at the American Dream — which starts with a great education."
The law -- which borrows its name from a somewhat similar piece of federal legislation which stalled in late 2010 -- will also encourage counselors to be trained on educational opportunities for undocumented students. Unlike the federal bill, it will not provide a path to citizenship for those students.
U.S. Rep. Luis Gutierrez, who was arrested in front of the White House last week for protesting the Obama administration's deportation record, had planned on attending Monday's signing, but was unable to attend due to the debt ceiling vote in Washington.
"Because our immigration system has been in a shambles for almost three decades, individual states and localities are having to pick up the pieces," Rep. Gutierrez said in a statement. "Illinois has been and continues to be visionary in its approach to including immigrants into the fabric of our communities. The Illinois DREAM Act begins to deal with the reality that we have about a million young people nationally who came here at a young age, were raised in the U.S., and do not have legal immigration status, yet they have aspirations for higher education, service, and contributing to the success of this country, the only country they have ever known."
Arianna Salgado, and undocumented immigrant, was reportedly told by a high school counselor that she could not attend college because she could not receive financial aid. She spoke at Monday's DREAM Act signing, according to the Chicago Tribune:
"Now I know that our high school and college counselors acknowledge us and know that we exist and will be able to inform us more," said Salgado, who spoke at the ceremony and drew a standing ovation. "We deserve the same opportunities to continue with our higher education because we have the same dedication and commitment as our peers."

In a statement, Rep. Gutierrez continued his criticism of the Obama administration for its deportation of students who would be helped by the federal DREAM Act if it had passed.
"President Obama should look no further than his own state in recognizing the value of these young people," he said. "He should act under the authority he has under current law to set aside their deportations until the federal government resolves their status on a long-term basis."

Check out some photos from Monday's signing here: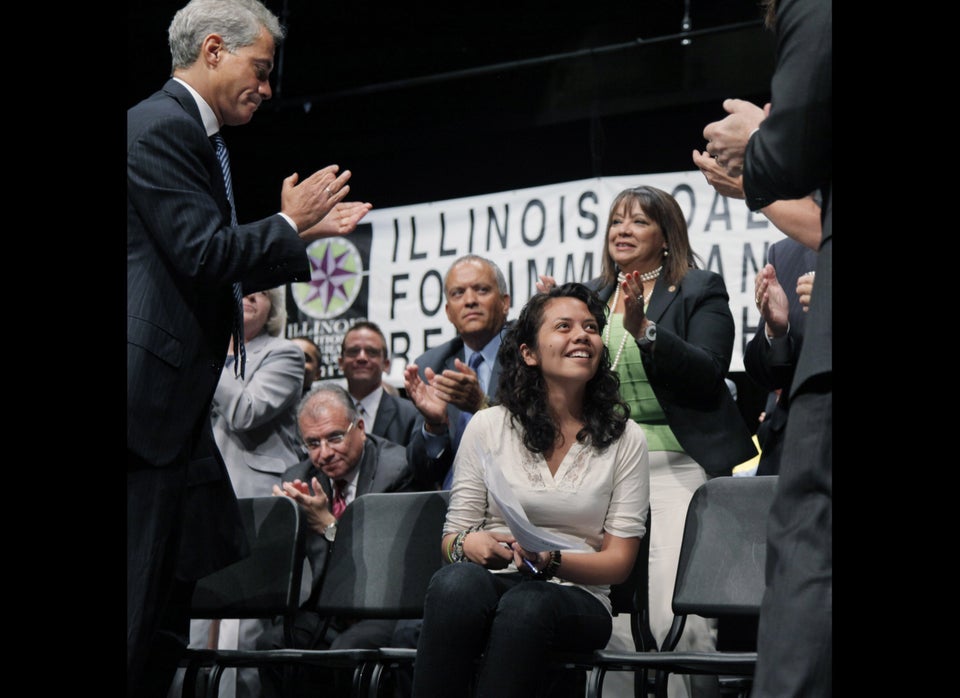 Correction: An earlier version of this story reported that Illinois was the first state in the union to pass such legislation. California passed similar legislation one week earlier, though Illinois lawmakers passed the bill in May.
Related
Popular in the Community