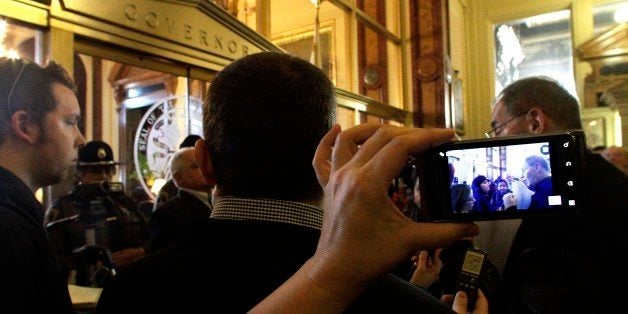 Contrary to what you may have recently read on your Facebook feed, the state of Illinois' new eavesdropping legislation will not prohibit the recording of police officers — though advocates do have other concerns about the bill.
The previous law, deemed to be among the strictest in the nation, technically forbade any recording of anyone without consent from all parties involved. The new proposal draws a distinction between "private" conversations and those that "cannot be deemed private," such as a loud argument on the street. The recording of private conversations, unless there is all-party consent or a warrant, remain prohibited under the bill.
The American Civil Liberties Union of Illinois fiercely fought the previous eavesdropping law, and worked with state lawmakers to craft its replacement. They offered a mixed review of the new proposal, saying the organization is pleased the new statute "generally protects our reasonable expectations of privacy in our conversations, phone calls, and electronic communications from unwanted recording or interception." They also noted it protects the ability of civilians to record on-duty government officials and police officers "talking with the public as part of their jobs."
However, the ACLU expressed concern that the new bill "significantly expands" police eavesdropping by allowing law enforcement and informants to record or capture certain private conversations for 24 hours before a warrant is necessary, in the event of certain serious crimes and with the approval of a state attorney. Previously, such requests required the prior approval of a judge, whose role -- unlike a state attorney's -- is outside law enforcement.
The legislation now awaits the signature of Gov. Pat Quinn (D) before it becomes law.
Quinn spokesman Dave Blanchette told The Huffington Post Wednesday the bill has not yet been received by the governor, but that once the legislation reaches his desk, he will carefully consider it. Blanchette did not say whether the governor intended to sign the measure or not.
Popular in the Community