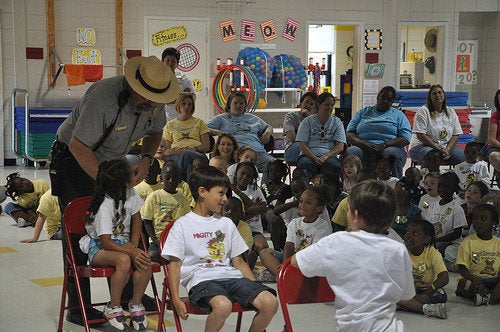 What's next for Illinois teachers?
Following the passage of sweeping education reform, advocates, lawmakers and teachers unions are breathing a tempered sigh of relief, while also working to tie up some loose ends.
On late Thursday, a bill that drastically overhauls the teaching profession cleared the state's House.
The bill, which now needs only the signature of Gov. Pat Quinn (D), a supporter, to pass into law, would make tenure contingent on student achievement, make it harder for teachers to call a strike and allow Chicago's Mayor-elect Rahm Emanuel to lengthen his city's school day. The bill makes it easier to dismiss teachers deemed ineffective based on student achievement. They would be rated on quality instead of years spent in the classroom.
The bill is one of many such measures sweeping state legislatures this year, as more local governments seek to tie teacher tenure to student scores.
But unlike similar bills in Wisconsin or Indiana, the teachers unions helped craft it.
While the end product isn't entirely complete, Dan Montgomery, president of the Illinois Federation of Teachers, said he was proud of the process. "Everywhere else around the country, it's reform done to teachers, not with teachers," he told The Huffington Post in a phone interview. "This is different. We had serious, serious input on how this law works on every page of it."
The general cooperation of teacher unions, Montgomery said, led to some concessions in their favor. "Here's a big one: They wanted to end collective bargaining and the right to strike," Montgomery said. "We got rid of that. It would have grotesquely ended negotiations, effectively ending teachers' ability to advocate for kids. "
"It sends a good message in a year where there's been a fair amount of polarization," said Jonah Edelman, CEO and founder of advocacy-group Stand for Children. "You can achieve monumental breakthroughs without a monumental battle."
Stand for Children, an education-reform advocacy group, helped set the stage with coalition building and a widely adapted "Illinois Performance Counts" agenda. Edelman interviewed 18 state candidates and supported nine with donations totaling $650,000.
"The Illinois breakthrough is very significant nationally," Edelman said. "In a state with traditionally the most powerful … unions that typically have been very effective at shutting down any significant reforms, to move this forward with a significant amount of union cooperation is just amazing."
But it wasn't smooth sailing the entire way through.
Chicago Teachers Union president Karen Lewis is a union hand involved in crafting the bill, but she said she only agreed to participate in order to prevent more severe outcomes. "There's Wisconsin, there's Indiana, there's Pennsylvania, Ohio. This is going nationwide," she told WBEZ radio. "We're trying to ameliorate some of the worst parts of what that bill had."
And two unions, the CTU and the Illinois Federation of Teachers, backed out at the last second in response to a provision they said last week they found had been added. They took issue with a provision that would affect an ongoing lawsuit and also make it harder for them to call a strike, Montgomery said.
"We are disappointed that the House didn't wait until we could finalize language that will fix the problems with the bill," Montgomery said in a statement. "We are currently working with all the stakeholders to finish a follow-up bill, and we believe we are making progress."
Montgomery was referring to a "trailer bill," which, if passed, would be tacked on to alter some of the initial bill's technicalities.
But Edelman said the union dispute was just politics. "The rhetoric about seeing things slipped in is just a joke. That's just baloney," he said, adding that the unions saw the final draft, but may have missed the offending passage. "But the desire for technical fixes like the fair share numbers is legitimate."
Montgomery shot back: "He wouldn't know, he wasn't there. I was."
The trailer bill would aim to clarify the number of teachers required to call a strike: As it stands, the bill could be interpreted to mean that 75 percent of all teachers, including all "fair share" members -- those who opt out and have no vote -- must vote to call a strike. According to Edelman, the denominator intended to point to 75 percent of all bargaining units. "To not include the fair share members makes some sense," he said.
Edelman added he's not sure if the bill would ultimately bring CTU back into the fold. "We've agreed to certain technical fixes, but we don't know if it'll result in the Chicago Teachers Union getting back on board," Edelman said.
CTU did not return requests for comment.
Related
Popular in the Community