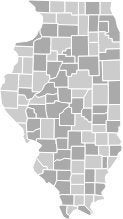 Elections have consequences and none more so than in Illinois. While the obvious places of change (State House & Senate and Congressional races) became clear throughout Tuesday night, the less obvious is becoming clearer everyday after.
Tea Party of Illinois: It is too premature to call the Tea Party in Illinois dead, but it was clear after Tuesday night it is on life support. The Illinois electorate sent the message strongly throughout the state that Tea Party politics are not what they want and as a result candidates even remotely associated with the Tea Party were voted out of office. (Even some candidates who weren't associated with the movement were brought down by ads associating them to it.) It will be interesting to watch if the remaining Republicans left standing will distance themselves even more. Equally interesting to see, will previous associations and votes to align themselves with the fizzled movement open up a path for new Governor hopefuls.
Pat Brady, Republican Chairman: No person (deservingly) will get more blame than the voice of the Republican Party in Illinois: Pat Brady. The firebrand chairman and "mastermind" of the Fire Madigan strategy was defiant about his party's chances leading up to the election itself. His overconfidence and lack of grass roots organizing resulted in one of the worst showings for the Republican Party in Illinois. To be fair, the deck was stacked against him -- but what was truly telling, about how poorly the Illinois GOP was organized, was how easily the party lost the winnable races. If the GOP plans to win back a few seats in 2014, they will need to not just take a new moderate tone but they will need new leadership and it should start with Pat Brady.
Governor Pat Quinn: The governor of Illinois wasn't on Tuesday's ballot, but make no bones about it, Speaker Madigan and President Cullerton's wins came at his expense. It is hard to imagine the governor (who was being disrespected before Tuesday's election) will get even one of his controversial ideas passed in the next two years. Even worse, it is hard to imagine he will even be at the table when the signature laws are planned. Both chambers now have veto proof majorities, so what once was a bargaining stick is now just another hurdle to eventual passage. If he is hoping for help from the Illinois GOP, good luck. Several of the few remaining members of the Senate have flirted with a run at Governor Quinn's desk and 2014 might be their best shot to win it. Helping make a sitting governor with low approval ratings relevant is hardly in their best interest. (Look for Governor Quinn to play the role we actually loved him for, that of consumer advocate. While he can't stop bad bills, like the ComEd fiasco last session, from passing, he can be the voice of the people. He still has a microphone and hopefully he uses it often.)
Conservative Groups: During the last session, groups like the Illinois Family Institute expanded their influence and power to turn back Democratic bills. The reduced numbers in both the Illinois senate and house mean less influence to push around. And push around they did. One only needs to look at their success branding an anti-bully education bill as part of the LGBT agenda to see their influence in action. Even moderate Governor hopefuls like Senator Dillard were scared to challenge them, resulting in him voting present on an important bill to protect kids. Child protection bills rarely go down. It isn't good politics to vote no or present on a bill to protect children -- but this one did. Hard to imagine groups like the Illinois Family Institute having similar success in the next two years. Republicans are going to want to appear more moderate and majorities like these mean downstate moderate democrats won't be asked to take tough votes -- all of which means conservative groups are going to be marginalized.
Treasurer Dan Rutherford: The interesting thing about Treasurer Rutherford is he set himself up to be the moderate flag bearer for the Illinois GOP, which should make him a logical winner after Tuesday's purge. The reality is he attached himself to Governor Romney in such a way that it will be hard for him to get out of the way of Republican second guessing and blame. It was a gamble, that had it worked out, would have resulted in quite a coup for Rutherford. You can see the allure of having the visual and fundraising support of a sitting president, but like all gambles, you can lose. Tuesday, Rutherford lost his gamble when Romney lost. How Rutherford responds in the next couple of months will determine if he lost his chance at governor too.
Speaker Madigan and President Cullerton: Veto-proof majorities are a big deal -- a very big deal. And now both men have them. It means Rep. Tom Cross and whoever (I suspect) is voted to replace Senator Radogno will be regulated to the role of opposition in voice only. Speaker Madigan seems to find a way to get his bills passed, but President Cullerton's chamber has been stymied by defecting Democrats and the very real threat of the governor's veto. Having the flexibility to allow some democrats to vote no while still getting their agenda passed may prove to be even more important in the Senate than the veto majority. Sure, some will say having veto proof majorities means all eyes are on you. But anyone in leadership who doesn't relish the idea of getting their agenda finally through shouldn't be in leadership. I don't suspect either of these gentlemen are, at the least, upset their passage of legislature just got easier. Naysayers are just looking for something to cling to, for at least the next two years, Illinois Democrats can think big.
Tenth Dems: No group has spent more time and resources to turn a red district blue then the Tenth Dems. Sure, it may have taken a once-in-10-years redistricting effort and millions of outside dollars, but the seat formally owned by Sen. Mark Kirk has been a democratic target for years and finally will be represented by one. It will be interesting to see the group's role change from constant antagonist to policy support of the newly elected congressman. A difficult task, but few districts have a true organization like this and they hardly seem like a group who will get complacent and hand the district back in two years.
Tammy Duckworth: The Iraq war veteran was on the verge of losing two winnable congressional races, a death kneel in politics, but while the public polls being reported tightened, her election night victory was a completely different story. She now has an opportunity in the House to be a rising star, and I wouldn't bet against her success. Defeating the Tea Party's He Who Shall Not Be Named was gravy, her real victory was getting a resounding election result while staying true to her positions in a difficult district. Tammy Duckworth was always a winner. Her campaign was just another example of why.
Senate Minority Leader Christine Radogno: I know it might be hard to imagine the minority leader a winner after Tuesday's results, but it may just give her an opportunity to define herself. The Ilinois GOP senate has two paths to choose: one of moderate co-operation or one of complete, vocal opposition. If the GOP senate takes the former path, no one is better suited for that role than former social worker and moderate Minority Leader Radogno. The more conservative wing of her party often kept Radogno from going the co-operative path, but a strong rebuff like this election may give her the freedom to be the Senator she once was before ascending to leadership. If the later path is chosen, she has an opportunity to step down and let someone like Sen. McCarter take over. That step in itself would allow her to distance herself from her party's obstruction and reach across the aisle to address social issues. Both options would bode well for her if higher office is indeed in her future.

SuperPacs: In Illinois, donations come from the regular suspects -- very seldom does new money enter the system. Controlled revenue sources help party leaders control candidates. But not so during this election. While SuperPacs may have performed poorly for Republican candidates they kept pace for Democratic candidates and more importantly for them (the benefit for the voter can be debated) they got in on the ground in Illinois and it sets themselves up for a much different 2014 and Chicago municipal elections. In 2014, the presidential coattails will no longer be as long and money will have an even more important role in the election. No more so than in city elections and democratic primaries where turnout is often dismal. A SuperPac investment in more a moderate state candidate or moderate pro business alderman can shift the power significantly and in several districts/wards will push out incumbents. They have to get better at what they spend their money on, but in several of these low dollar races -- big money could have a big effect.
Bruce Rauner, Chris Kennedy, Bill Daley, Toni Preckwinkle: All have been talked about for a future governor race in 2014 and all of them got a boost from the past election. (Note, not a single one have said they will run). The state is headed towards its own fiscal cliff and anyone associated with state government is going to be dragged down with it. As it stands now, the sitting governor has been made powerless in legislative negotiations and GOP hopefuls like Sen. Kirk Dillard and Treasurer Dan Rutherford are too entwined with state government and have made too many bad votes (or present votes) that unless the electorate changes will get pushed over the cliff too. Democrats in office are going to get blamed for the necessary steps they must take and the unnecessary steps they want to make -- a fact that makes it more difficult for one of the state's own to ascend. That opens up a huge opportunity for someone outside of state government -- someone who voters view as "not one of Springfield" to walk in as a new voice. The state's dynamics can change between now and the 2014 primaries, but if you are any of these people (Bruce Rauner, Chris Kennedy, Bill Daley, Toni Preckwinkle) or like them, and you are actually considering running for governor, your path just got clearer.
REAL LIFE. REAL NEWS. REAL VOICES.
Help us tell more of the stories that matter from voices that too often remain unheard.