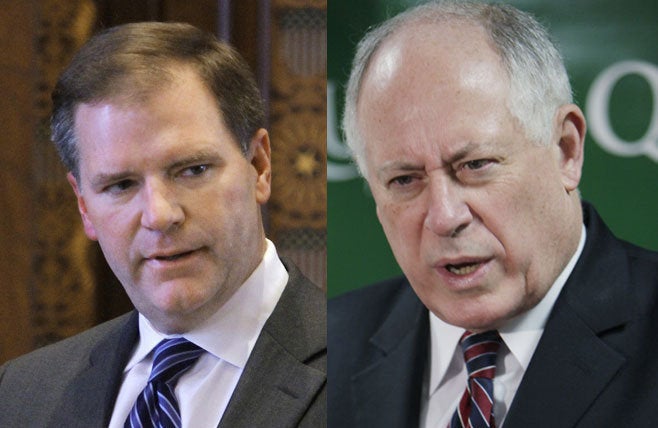 (Check our Live Blog for updates throughout the night as results come in.)
Major races for U.S. Senate, the House of Representatives and the governor's mansion all hang in the balance today in Illinois.
UPDATE: As of Wednesday morning, Governor Quinn held a lead of just over 8,000 votes, with 75 precincts in heavily Democratic Cook County remaining to be counted. Bill Brady has not yet conceded, but things look good for the Democrat.
Meanwhile, the race for President Obama's old Senate race has been neck-and-neck for months now. Mark Kirk, a five-term Republican Congressman from the Chicago suburbs, has been plagued by accusations of lying about his military record; Alexi Giannoulias, the Democratic state treasurer, watched his family's bank collapse in April, may have some business ties to organized crime, and is fighting a wave of Republican support in the state. More details about the race are here.
UPDATE: At around midnight Tuesday, Alexi Giannoulias conceded this race to Mark Kirk. He lost by a margin of 48-46.
There are also five hotly contested House races in the state. Democrat Dan Seals leads Robert Dold for the open seat in the Tenth District, being vacated by Mark Kirk -- a rare takeover possibility for the Dems. Freshman representatives Debbie Halvorson and Bill Foster have been struggling with their votes for healthcare and the stimulus in their races with Adam Kinzinger and Randy Hultgren, respectively. Downstate, in what appeared at the beginning of the cycle to be a safe seat, Phil Hare has given up considerable ground to his Republican opponent Bobby Schilling. And in the Eighth District, incumbent Melissa Bean is polling closely with her Tea Party-backed opponent, Joe Walsh, despite a significant fundraising edge.
UPDATE: In all but one of the close House races, Republicans have claimed victory. Melissa Bean and Joe Walsh are still neck-and-neck in the 8th; Bean trails by 800 votes with six precincts still uncounted. Absentee and provisional ballots will need to be counted before that race has a winner, so it could be days. Otherwise, it was a Republican sweep in the Congressional races.
We'll be watching those races and more all day and all night on our live blog. Also, check back here for final results as they come in.
REAL LIFE. REAL NEWS. REAL VOICES.
Help us tell more of the stories that matter from voices that too often remain unheard.