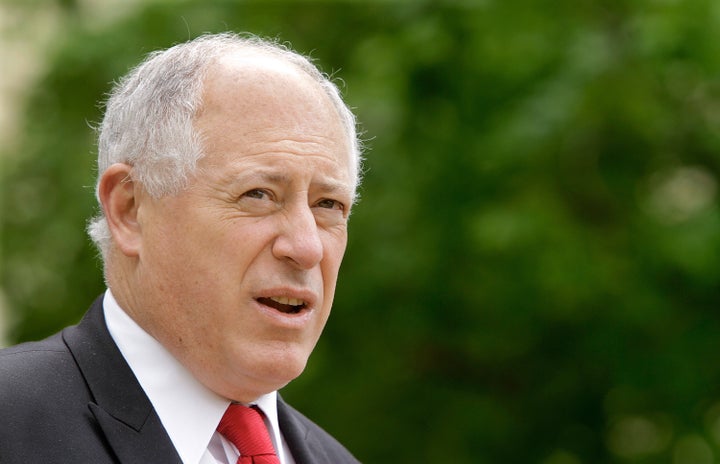 Illinois is "on the verge of a financial disaster" as payments on the state's debt have skyrocketed, Treasurer Dan Rutherford said on Monday.
Illinois faces an estimated $45 billion in principal and interest payments on its outstanding debt over the next 25 years, up nearly four-fold from the $12 billion owed in 2002, according to a position paper from the Republican treasurer, who took office in January.
Adding to the state's debt burden is $140 billion in unfunded pension and retiree health-care liabilities and $8 billion of currently unpaid bills, the paper said.
"Every household in Illinois is responsible for the repayment of $10,000 to reimburse our bondholders in the coming years," Rutherford said in a statement, adding that unpaid bills and pension and health-care liabilities would boost that total to $42,000 per household.
Illinois' widening structural deficit, huge unfunded pension liability, inability to pay the state's bills on time, cascading bond ratings and its propensity to borrow its way out of financial problems have made the state a major worry in the $2.9 trillion U.S. municipal bond market.
"We need to cut our spending and break our unsustainable borrowing cycle before we realize a further financial disaster," Rutherford said.
Even with a big income tax rate hike passed in January, Illinois is still spending about $5 billion more a year than it receives in revenue, according to the position paper, which also said the state's low bond ratings have resulted in higher borrowing costs compared with other states.
Governor Pat Quinn has been pushing the legislature for anywhere from $2 billion to $8.75 billion of bond authority to pay off bills and other obligations incurred this fiscal year.
His office said in a statement on Monday that this plan is not new borrowing, but a restructuring of debt the state owes to vendors and service providers who have been waiting months for payments.
"Governor Quinn is 100 percent committed to making good on all bills due and feels restructuring debt the state already owes at attractive rates is the least costly option for taxpayers in order to address this bill backlog," the statement said.
Calling all HuffPost superfans!
Sign up for membership to become a founding member and help shape HuffPost's next chapter