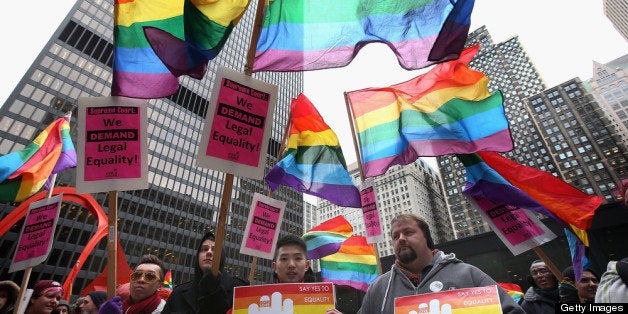 The Illinois House of Representatives will not vote on a bill that would legalize same-sex marriage in the state this session, delaying the matter to be considered next this fall at the earliest.
State Rep. Greg Harris, the bill's sponsor, addressed the House floor Friday evening and announced that he would not be calling the vote Friday because House colleagues asked for more time to consider it.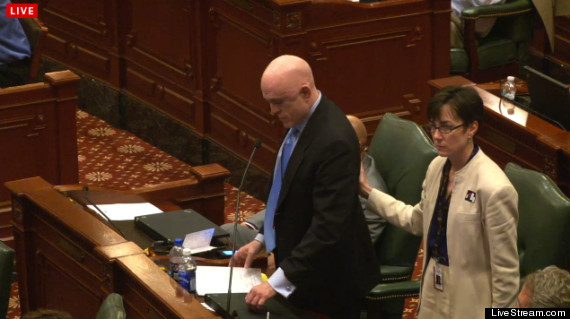 Harris (left) is comforted by state Rep. Kelly Cassidy, a fellow Chicago Democrat, as he announces he would not call the marriage bill for a vote.
Harris' speech was met with a standing ovation, as was another speech by state Rep. Deb Mell, who discussed her marriage to wife Christin Baker. Harris, Cassidy and Mell are three of four openly LGBT members of the Illinois House.
WATCH Harris' and Mell's speeches:
The marriage equality bill was already approved by the state Senate and Gov. Quinn has vowed to sign it -- so the House vote is the last remaining obstacle to its passage.
"From the beginning, we have been upset about the lack of diversity and inclusion in this process," Anthony Martinez, executive director of The Civil Rights Agenda. "Unfortunately the Sponsor didn't include people of color in the sponsorship of the bill and the rich white guys from the north side of Chicago thought they could get it done with their checkbook. That was the downfall of this bill. We will continue to push and get this done."
State Rep. Ken Dunkin, chair of the Black Caucus, told the Windy City Times after the failure to call a vote that it would be unfair to pin the delay on his caucus, adding that he felt more undecided lawmakers may have been swayed by stirring speeches on the House floor urging for their support.
Harris added, "I am sad to say that our bill, which would give all Illinoisans the freedom to marry, was not called in time before the end of session. However, we cannot let our disappointment today distract us from the fact that equal marriage will soon be a reality in Illinois."
Friday morning, marriage equality supporters and opponents alike descended on the state's Capitol, holding dueling rallies.
About an hour earlier Friday morning, "approximately 30" people opposed to same-sex marriage also came together in the rotunda of the capitol building, according to the Windy City Times. Pastor Danny Holliday of Victory Baptist Church said the state should have no role in "redefin[ing] marriage."
"I am absolutely convinced it is the right thing to do," Obama said of the bill at a private fundraiser in Chicago on Wednesday, according to NPR. "And we have to make sure that wherever we go, we are reminding people that the essence of America is that everybody is treated equally under the law without exception."
Related
Before You Go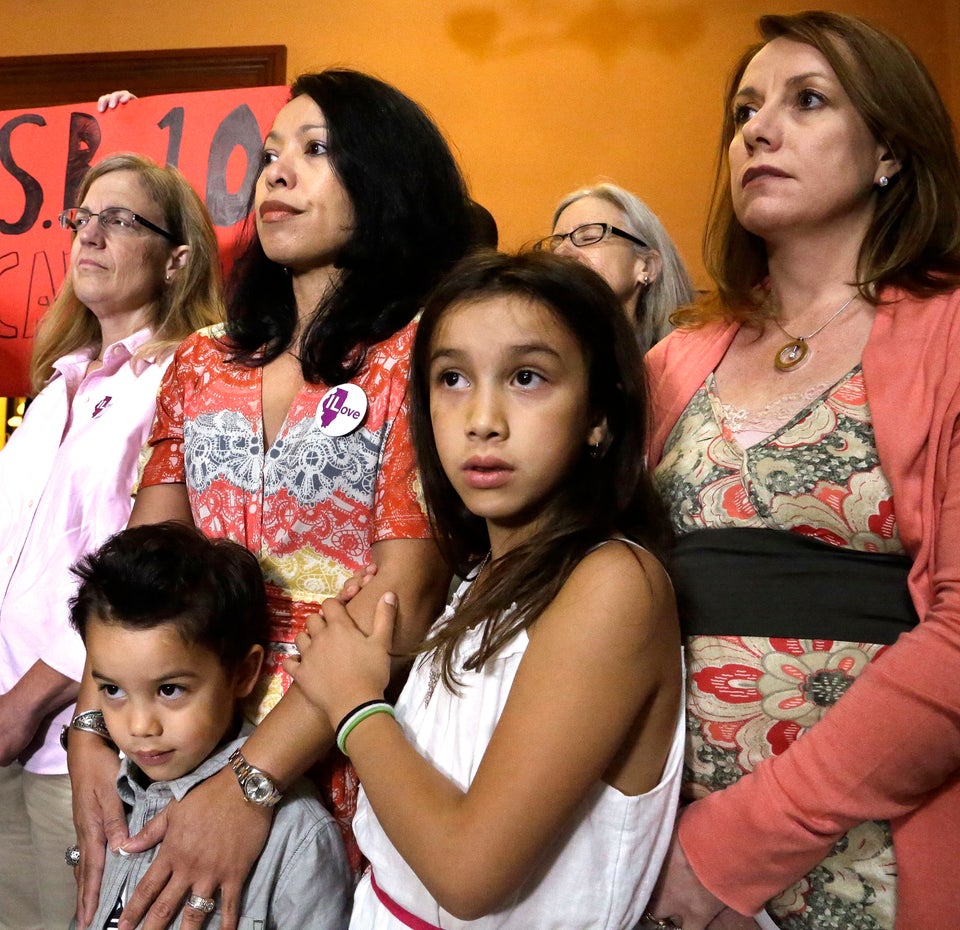 Marriage Equality In Illinois
Popular in the Community