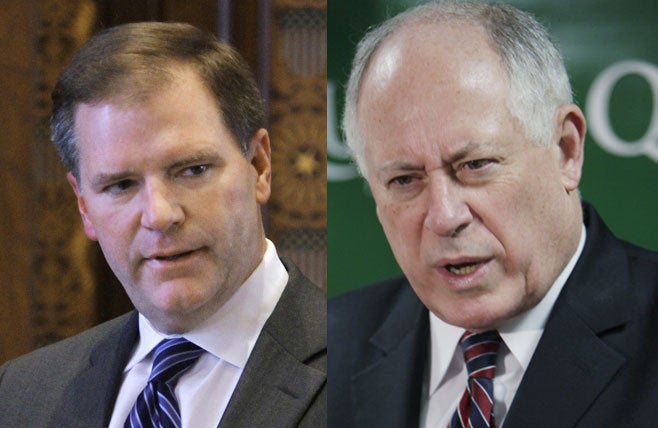 For the many analysts who have been predicting the imminent demise of Illinois Governor Pat Quinn, a handful of new polls suggest they might want to hold their horses.
The Trib poll follows on the heels of a CNN/Time survey released on Wednesday which showed Quinn within two points of Brady, a result that left many observers incredulous. Another poll this week showed Quinn trailing by seven, a wider margin but still much closer than previous polling.
So his recent climb in the polls has left pundits wondering how he could still be in the race. "It's amazing that Quinn's still in this given his continuing incredible unpopularity," wrote Tom Jensen of Public Policy Polling.
A number of factors seem to be at play. First, the Republican candidate is not a bastion of popularity himself. The Tribune poll shows Brady's favorability dropping sharply since Labor Day, and PPP shows that 44 percent of Illinoisans view him unfavorably, compared with 36 percent favoring him. The Quinn campaign's ads "introducing" voters to Brady may have had an impact here.
Second, it appears that many Democrats are coming home as Election Day approaches. In the PPP poll, the vast majority of undecideds were Democratic. While most of them don't like Quinn, it appears that they may be willing to vote for him as the race gets close. The Trib poll also shows Quinn gaining ground in Chicago and with black voters, two key areas of traditional Democratic strength.
Recent polls that show Quinn in a close race all have one thing in common: they put Cohen's name on the ballot, where others didn't.
Why Cohen's presence on the ballot benefits Quinn so strongly is unclear: Cohen appears to be getting most of his support from Democrats and independents. It could be that those disgruntled voters cast a protest vote against Quinn; when presented only with Quinn and Brady, they side with the Republican, but when Cohen is on the list, they vote for him.
In any event, third-party candidates are clearly worth a careful watch in this race. If Quinn can continue to shore up his base, and make in-roads with the protest-vote supporters of Cohen and Green Rich Whitney, then this race could become very close indeed.
Related
Popular in the Community