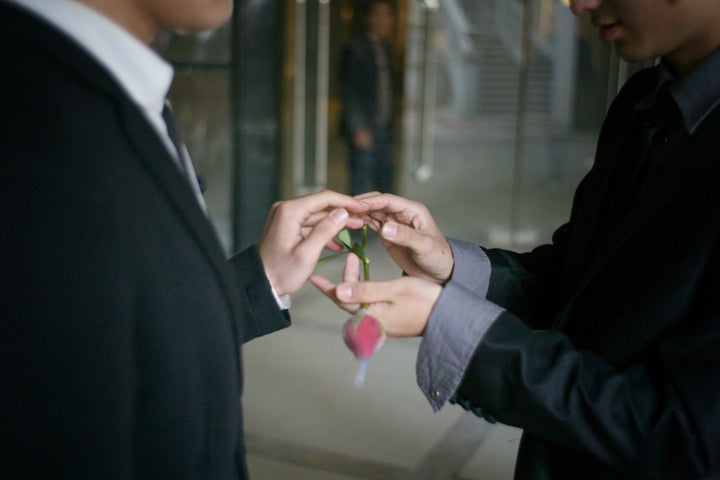 Mark Bayer married his partner in Quebec City, Canada in 2006. The couple moved to Peoria, Ill. from South Carolina in order for Bayer's husband, Dr. Nathan Fredrick, to take a lucrative emergency room position there, according to a statement from Joshua Haid, the Chicago attorney representing Bayer.
Under Illinois' new civil unions law, couples that had previously married or entered into civil unions in other jurisdictions can receive many of the same legal rights granted to married couples--including the right to divorce.
"This is about recognizing that partners in a same-sex marriage now have equal rights to partners of traditional marriages under the law in Illinois," Haid said in a statement.
Bayer is seeking alimony and a divorce, citing mental cruelty and irreconcilable differences, according to the filing submitted Wednesday morning at the Peoria County Courthouse. He claims he gave up his job as a critical care nurse to be with Fredrick, and had to relocate his biological son with cerebral palsy in order to "support his partner's professional growth."
Haid's firm issued a statement about what allegedly went wrong in the marriage:
Among the complaints in this petition is that Dr. Fredrick knowingly and willfully has denied Mr. Bayer equitable career opportunities, financial security and emotional support. From 2008 – 2010, the couple purchased and renovated two homes in Peoria. While Dr. Fredrick continued building his medical career, Mr. Bayer single- handedly rehabilitated two early 20th century homes for the family to live in. While performing the rehab on their second home, Mr. Bayer seriously injured his back. As a result of these injuries, Mr. Bayer has had to undergo several major back surgeries and months of hospitalization and rehabilitation. He has never been able to return to his nursing career.

"Being the first person going through that and a son that you're responsible for and a back surgery you're trying to recover from, it's a very scary process," Bayer, 39, told the Peoria Journal-Star.
Haid told the paper that he hoped Bayer's case could set a precedent for same-sex divorces.
"Yesterday my client could of been kicked out of the house," Haid said. "Today he could not."
Calling all HuffPost superfans!
Sign up for membership to become a founding member and help shape HuffPost's next chapter