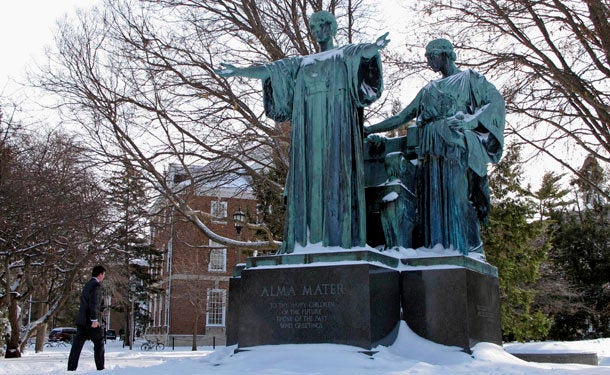 A study released last month by the National Center for Public Policy and Higher Education shows declining interest in higher education among Illinois students -- and says government corruption is at least partially to blame.
"I think for whatever combination of reasons higher education slipped off the agenda of state government," Stanley Ikenberry, the former president of the University of Illinois, told the Chicago Sun-Times. "While higher education was very much on the agenda for Jim Thompson and Jim Edgar in Illinois I don't think higher education was on the agenda at all for George Ryan and even less for Blagojevich. If you've got a governor who doesn't really care, that's a major loss."
The study echoed Ikenberry's sentiments, blaming "a weak and ineffective" Illinois Board of Higher Education and citing corruption in political appointments to various boards and state agencies under Blagojevich and Ryan.
• The state has seen declines in the percentage of high school freshmen enrolling in college within four years and the percentage of high school graduates immediately enrolling in college.

• The share of 25- to 49-year-olds enrolled in college has dropped markedly.

• Tuition has risen sharply while family incomes have fallen. At the same time, state support for needbased grants has dropped significantly.

• Blacks, Hispanics and people living in poverty are far less likely than other Illinoisans to enroll in college or, if they do enroll, to graduate within six years. Inequity in higher education is especially prominent in Chicago, which has a fifth of the state's population and high proportions of black, Hispanic and low-income residents
Where do we go from here? Study authors Laura Perna and Joni Finney of the University of Pennsylvania say the state would need to make significant changes to see any improvement.
The state would have to drastically increase the number of people getting associates and bachelor's degrees annually, increase access to higher education for its growing Hispanic population and reduce cuts which prevent many Illinois families from being able to afford college. With the state's growing fiscal problems, this is unlikely to happen any time soon.

Calling all HuffPost superfans!
Sign up for membership to become a founding member and help shape HuffPost's next chapter