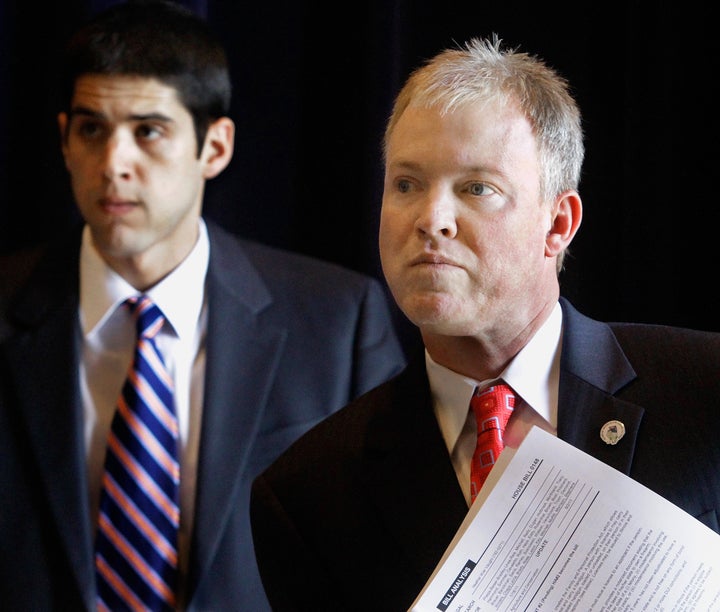 Story updated at 4:25 p.m. CT
After months of heated debate, the Illinois House voted against a concealed carry measure Thursday.
The bill received 65 "yes" votes, but needed 71 to pass.
"We are at the criminal's mercy," downstate Democrat and bill sponsor Brandon Phelps said on the House floor. Phelps managed to keep the bill alive through a parliamentary maneuver, though it is unclear when it will come up for a vote again.
"The concept of concealed, loaded hand guns in the possession of private citizens does not enhance public safety, on the contrary it increases danger for everyday people as they go about their lives," Quinn said, Tuesday. "I don't think we're in the business of trying to increase danger to the people of Illinois. We want to work with our law enforcement and prevent bad things from happening. I think the passage of this law by the General Assembly would be most unwise and they should know where they governor stands and where the people stand."
Quinn reportedly began calling House Democrats and urging them to vote against the bill. Most of the bill's opponents represent the Chicago area and collar counties.
"[Quinn's vow to veto] didn't help anything, but at the same time, it didn't shock me because I know he's catering to Cook County and the city of Chicago," Phelps told the State Journal-Register.
Quinn said that his goal is to keep Illinois residents safe, and allowing people to carry "loaded handguns" is "not a good thing for public safety."
On Tuesday, State Representative John Cavaletto told the House Agriculture and Conservation Committee that concealed weapons could save lives. He told a disturbing story about the murder of his daughter-in-law, and said that she could still be alive today if she were allowed to carry a weapon.
"I had a daughter-in-law walk three years ago on a Saturday morning and she never came back home," Cavaletto said, according to WJBD Radio. "She was hit by a car and drug into the bushes. The man came back a few hours later and stabbed her 13 times. I always said if Michele had a gun in her fanny pack when she went for a walk she may have been able to save herself. She lived on a farm and knew how to shoot a gun and if she would have had one things may have been different."
As is, the concealed carry bill would prevent public and private universities from having to allow concealed weapons. The State Journal-Register has a full list of other spaces where concealed weapons would not be allowed.
Illinois and Wisconsin are currently the only states without a concealed carry law on the books. Republican lawmakers in Wisconsin proposed a concealed carry measure this week, and expect to pass it with Governor Scott Walker's approval.
Brian Malte, director of federal and state mobilization for the Brady Campaign to Prevent Gun Violence, told the Daily Herald that Illinois is the "No. 1 battleground" for the national gun control debate. The organization recently named Illinois the ninth-best state in the union when it comes to sensible gun laws.
One "no" vote on Thursday afternoon came from Rep. Monique Davis, who represents Chicago's South Side. An NRA member told the Capitol Fax blog Davis supported the bill several months ago, but changed her mind at some point.
"I, too, like the John Wayne movies," Davis said on the House floor. "I like those movies about the Wild West where everybody's carrying a weapon and everybody's shooting at each other. We don't live in those days any more… America is no longer the Wild, Wild West. I urge a no vote."