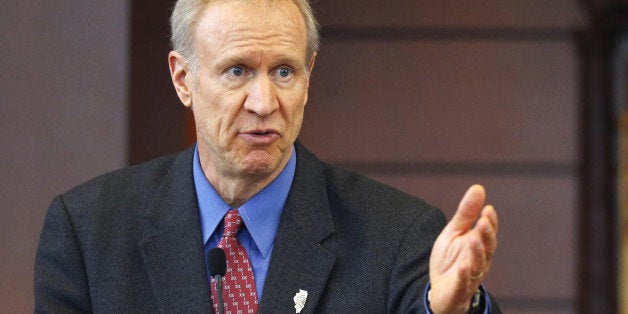 Illinois Gov. Bruce Rauner (R) has decided the state will no longer help pay for poor people's funerals to reduce a $1.6 billion budget shortfall.
"We didn't arrive at any of these decisions lightly," department spokeswoman Veronica Vera said an in interview. "We needed to make tough choices to balance the budget, so we needed to determine what grants could be suspended to preserve core services."
The Funeral & Burial Benefits program served 8,649 poor in the last fiscal year, Vera said, likely covering just a portion of funeral costs. The program offered up to $1,103 for funerals and $552 for cremations or burials for people who qualified for certain federal and state welfare programs at the time of their deaths. Eligible Illinois residents have a year to submit claims for funeral and burial costs incurred from October through mid-January.
"We as funeral directors are really going to have to put it back on the client's family," Jay Markwell, president of the Illinois chapter of funeral directors, said in an interview.
Not everybody will be able to pay. When Rauner's Democratic predecessor as governor, Pat Quinn, temporarily halted the indigent funeral benefits program, Markwell said, "Morgues that held deceased human remains, they just filled up."
Dan Brady, a funeral director who also is a Republican member of the state legislature, told the Quad-City Times he was surprised by the funeral benefit cut. He had voted in favor of a plan to close the $1.6 billion budget gap, but didn't realize Rauner would trim funeral assistance. "I was not anticipating having this type of situation," he said.
Rauner is touring the state promoting a reform agenda he calls "the Illinois turnaround."
"We have a moral duty to have an efficient government," Rauner told the Chicago Tribune on Tuesday. "The tax money belongs to the taxpayers. It doesn't belong to the bureaucracy. And government is not a welfare system."
Government assistance for indigent burials varies by state, according to the National Funeral Directors Association. In some states, like Illinois, the state oversees funding. In others, like California, counties control the funds. Elsewhere, indigent burial assistance falls to towns and municipalities. In some states, there is no government burial assistance at all.

Calling all HuffPost superfans!
Sign up for membership to become a founding member and help shape HuffPost's next chapter
BEFORE YOU GO
PHOTO GALLERY
United States Governors