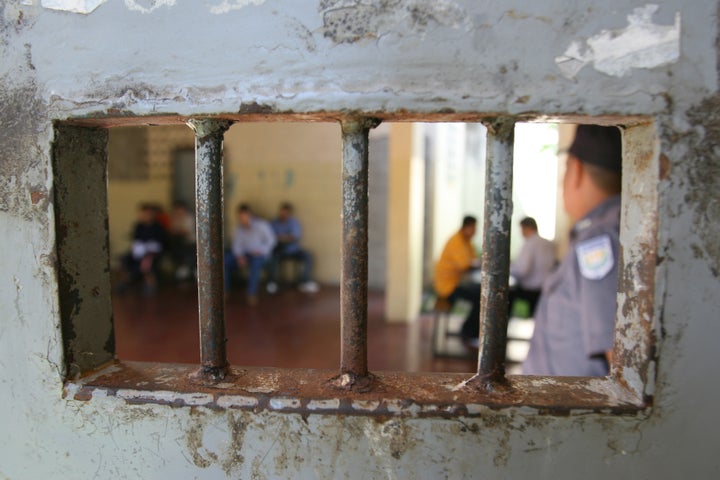 "One Commissioner observed a hearing in which there was 'no time for introduction or discussion. [The Prisoner Review Board hearing officer] was reading the wrong form and initially was going to deny parole. Then someone walked by and noticed the sheet did not match the kid sitting there. [The] youth was paroled.'"
-- Illinois Juvenile Justice Commission's Youth Reentry Improvement Report
CHICAGO -- The Illinois Juvenile Justice Commission released a report Tuesday recommending changes to the juvenile justice system that will emphasize rehabilitation and support alternatives to incarceration -- a focus shift the commission predicts will produce massive savings for the state's Department of Juvenile Justice.
The commission highlighted holes in the parole system that stack the odds against young people, who often aren't made aware of their rights or obligations and reenter jail on technicalities.
The report also found that once juveniles labeled "rehabilitated" are released back into their communities, the current program, which is based on adult parole models, misses steps that could help keep young adults from falling back into the corrections system.
"An essential measurement of any juvenile 'reentry' system is whether youth returning from incarceration remain safe and successful within their communities," the report reads. "By this fundamental measure, Illinois is failing."
The commission, appointed by Gov. Pat Quinn, made an intensive study of the reentry and aftercare options available to Illinois youth. Its evaluation included more than 230 observations of parole revocation hearings and reviews of nearly 400 case files -- an unprecedented examination of the system on an individual level, according to Julie Biehl, director of the Children and Family Justice Center and a member of the commission.
The report outlines recommendations for improving Illinois youth services and decreasing the currently high rate of once-incarcerated juveniles returning to the corrections system.
HOW JUVENILE JUSTICE 'WORKS'
In 1899, Illinois was the first state to establish a separate court system for young offenders, based on the still widely held beliefs that juveniles who commit crimes are often also victims of families or systems that failed to support them and that their moral compass is less developed than that of adults. In 2006, the state created a separate agency, independent of the Illinois Department of Corrections, to handle youth cases.
State sentencing standards in juvenile cases reflect those arguments about youth culpability. Offenders under age 21 traditionally receive open-ended sentences, and parole boards are expected to regularly reevaluate youth cases in order to limit jail time for redeemed offenders, said commission member George Timberlake, former chief justice of the Illinois Second Judicial Circuit Court. Rehabilitation of youth offenders is prioritized over punishment, which also saves the state on incarceration costs -- about $87,000 per year, according to the Department of Juvenile Justice (DJJ).
The system depends on check-ins by the Prisoner Review Board, which determines whether young offenders can be released on parole and reconsiders their status in the event of parole violations. With the exception of a recent pilot program, the system mirrors the way parole is evaluated for adults.
"Our parole system follows an adult parole model: Keep an eye on an adult offender and see if he's ready to rejoin society," Timberlake said. But "a juvenile parole system must understand the needs of an individual kid to help prevent him from committing future crimes," added Timberlake, suggesting that a juvenile is more likely to need support networks within his or her community than more jail time.
Surveillance alone, Biehl echoed, constitutes an incomplete rehabilitation model. She wants to see more youth offenders evaluated for mental health and other social service needs and then provided access to treatment -- ideally, in lieu of jail time.
Current DJJ numbers, compiled by the commission, are staggering: 48 percent of young people who serve time are re-incarcerated for new offenses. That figure excludes offenders who have aged out of the juvenile system and reenter through the Illinois Department of Corrections. For a system intended to turn out rehabilitated, newly upstanding citizens, these findings amount to failure.
Paroled young people are often re-incarcerated for so-called technical violations, including truancy, curfew infractions or continued unemployment. A 2004 study by the Center for Impact Research attributed 20 percent of adult admissions to the Illinois Department of Corrections to technical violations. Within the DJJ, 54 percent of juveniles re-incarcerated while on parole were nailed with technical violations.
For the Juvenile Justice Commission, that statistic was a red flag warning that adult parole standards, applied without case-by-case discretion, may be too extreme for juveniles.
"We are not suggesting that a child who commits a future crime should not be re-incarcerated," Timberlake said. "But it is surprising to find that what we consider normal teenage behavior could result in going back to prison."
Under current Illinois law, the Prisoner Review Board has sole authority to release a youth from incarceration and onto parole. In its observations of review board proceedings, the commission found rushed evaluations and frequent breaches of juvenile rights that seemed to be at odds with the DJJ's professed goals: to minimize jail time and return young people to their communities.
Youth parole makes up only 6.5 percent of the work facing a swamped review board. But in those cases, it consistently fails to reach decisions that are best for the individual, according to the commission. The entire release process -- which can determine if a youth moves straight into a community support program or stays in jail until age 21 -- is guided by 17 boilerplate conditions borrowed from the adult parole system and often applied with little consideration for individual case details.
The commission found that the board rarely explained the hearing proceedings or the significance of its decisions to the youth in question. Fewer than 2 percent were informed of their right to be represented by a lawyer, and Timberlake said most have no legal counsel. Most don't even have relatives present. In many instances, the short-staffed board left decisions to a single member, and the additional two required to review those rulings merely signed off. Few mental health or other treatment recommendations were followed up by mandates.
One commissioner observed a young offender being instructed to sign a blank form acknowledging that he understood his parole conditions before the hearing had even started.
The commission's far-reaching recommendations for improving juvenile justice in Illinois are less daunting because Arthur Bishop helped draft them. The director of the DJJ, who previously worked at the Department of Child and Family Services, has the understanding of youth needs that the Illinois Juvenile Justice Commission found so alarmingly lacking elsewhere in the system.
Already, Bishop is overseeing a pilot program in which 22 aftercare specialists are developing a new parole model, tailored to youth needs, that provides education opportunities, mental health services and other supports that help young offenders transition back into their communities sooner. The commission called for this aftercare specialist program to replace the surveillance model statewide.
The Illinois Juvenile Justice Commission's primary concern, however, was the hasty and often sloppy handling of cases by the Prisoner Review Board. It concluded that streamlining data sharing could equip the board with better information about individual cases and help prevent mistakes that keep youth in jail longer than necessary. Indeed, the commission called an upgraded and more integrated case management system "necessary" for preventing errors that juveniles are ill-qualified to correct on their own behalf.
The commission also wants the Prisoner Review Board to be staffed with more people like Bishop -- individuals with a more nuanced understanding of how juveniles develop and how youth needs can be at odds with adult parole procedure. Most dramatically, the commission recommended greatly increasing the frequency of hearings that reconsider parole for incarcerated youth and transferring the burden of many parole revocation hearings away from the review board.
"What's critically important to understand is that a young person's liberty is at the heart of that hearing," Biehl said. "The commission feels very strongly that an advisory committee should be put in place whereby revocation hearings can be transferred to courts around the state."
The commission wasn't charged with developing ways to pay for its recommendations, but many justify themselves. Timberlake, the retired judge, estimated that roughly 900 parole revocations are heard monthly in Illinois courts. Adding juvenile parole hearings to that caseload would translate, for example, to 29 to 33 additional hearings a month in Cook County. In most counties, courts would see only four or five more cases per year, and those numbers would plummet statewide as more juveniles were transitioned out of the prison system.
"I'm confident that Cook County can handle that and do it on a much more fair and constitutional basis than the [Prisoner Review Board]," Timberlake said. "When you look at the numbers, it's very doable now, and when you look at the future, it's just a blip on the screen."
The upfront cost of the technology upgrades, personnel training and transfer of youth to aftercare programs would be quickly paid for by dramatic reductions in costly incarcerations, the commission concluded.
"The per capita cost for youth in DJJ care now is around $87,000 a year," Bishop said. "Research has shown that if we use community-based services, the average cost for those specific services are between $4,000 and $7,000. If you keep X amount of youth from going back [to prison] and keep them in the community, there's definitely a cost savings. Our goal is to use those cost savings to enhance community-based services and in-house programs."
Furthermore, investment in intervention before young people enter the correctional system saves the state money in the long run, according to Rick Velasquez, executive director of the Youth Outreach Service of Chicago. "We have a comprehensive youth assessment system, as well as a substance abuse treatment system, that needs to be responsive to these kids," he said.
All those involved with juvenile offenders seem to agree that better support for troubled youth before and after they enter the corrections system would be more effective and less expensive than the current circle of incarceration and re-incarceration.
The commission's recommendations, said Timberlake, "could save money, save lives and reduce the expensive cycle of re-incarceration, which feeds our now-overcrowded adult prisons as these youth go deeper and deeper into crime."

Related
Popular in the Community