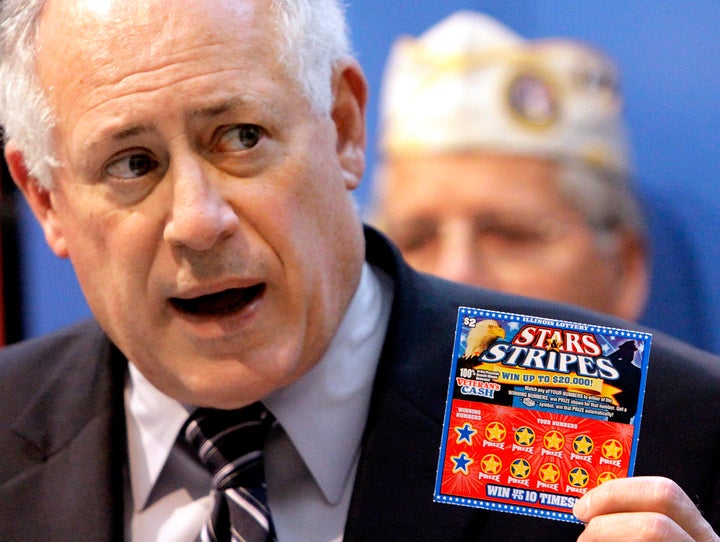 Starting bright and early Sunday, Illinois gamblers will be able to try their luck from the comfort of their own homes as the state becomes the first to allow online lottery ticket purchasing.
It's a move that has been a long time coming, according to Illinois Lottery superintendent Michael Jones, who oversaw research to determine how online lottery sales could impact Illinois residents and the state's revenue stream.
In Illinois' current cash-strapped condition, lottery revenues -- which contribute to schools and capital projects like road and bridge construction and repair -- could be a huge relief. But making it a viable revenue source required a change in the Illinois Lottery's ad strategy: from an emphasis on making current customers buy more tickets, to a focus on increasing the customer base.
And Jones said that today's customers are used to doing all of their shopping online.
"The lottery is the same as it was 30 years ago, but the retail environment has changed dramatically," Jones told The Huffington Post. "A great deal of retail now lives on the Internet. And the technology is there to allow the lottery to live there, too. I think it's essential to the state for the lottery to stay on the cutting edge of technology, and it has the added benefit of helping the lottery achieve its purpose: having a large number of people play a little."
Critics of the online lottery worry the increased access will have the opposite effect, making it easier for people who are struggling with -- or who are at risk of -- gambling problems to further their addictions.
"Our concern is that once people start gambling on the lottery online, they will go into other gambling websites, which are currently illegal, and lose money there also," said Anita Bedell, executive director of the Illinois Church Action on Alcohol and Addiction Problems, an active opponent of the legalization of online gambling. "This is going to open Pandora's box."
But Jones argues that the new, online lottery system could in fact help the state better identify and curb irresponsible gambling.
"On the Internet, we will have, the first time ever, the ability to monitor and stop people from playing too much," Jones said. "Right now I can't stop anybody from walking into a convenience story and spending all their money on tickets. Within the system we are going to have, we will know how much people are spending on the lottery."
The website that will be unveiled Sunday will require users to register with their Social Security numbers for age verification and their home addresses to confirm in-state residency, and will also incorporate geo-locating software to ensure tickets are only purchased within state boundaries.
Jones also said the Illinois Lottery is considering placing caps on the amount of money individuals can spend on a single drawing. So far, it's only hosting Lotto and Mega Millions, which have infrequent draws, and is avoiding scratch-off style instant games while it further develops protections.
"[We're making] the lottery interesting and relevant to a new group of players who philosophically support the idea of the Illinois Lottery, but who don't currently participate," Jones said. "Providing online access can maximize revenue, and do it in a socially responsible manner."
Popular in the Community