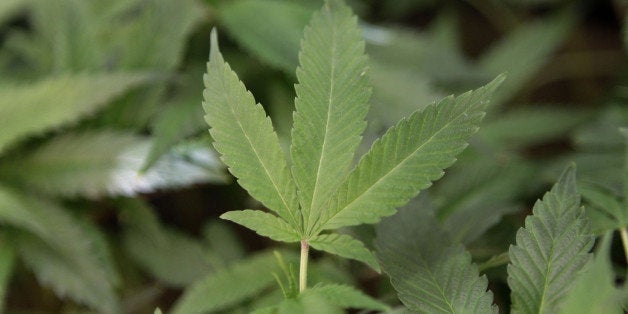 Illinois has moved one step closer to decriminalizing marijuana in small amounts.
The bill cleared the Illinois House on Thursday afternoon, 62-53. House Bill 218 would remove criminal penalties for possession of less than 15 grams (roughly half an ounce) of marijuana and protect against the penalty remaining on criminal records after a year.
Anyone in possession of less than 15 grams of marijuana would be ticketed and fined a minimum of $55, up to $125.
The bill's sponsors note that if the law is enacted, there would be about 115 fewer inmates in the state and a potential savings of approximately $29 million over the first 10 years.
Some of the state's harshest marijuana penalties can be found in the city of Aurora, where possession of up to 30 grams or paraphernalia means a minimum penalty of $500 -- and a maximum fine of $1,500.
In Chicago, meanwhile, possessing 15 grams of marijuana could result in a ticket costing between $250 and $500.
"In Chicago, there's the option to arrest [someone for possession] under the state law or write a ticket under the city ordinance," Linn explained. "What we saw was cops were writing tickets to the white kids and giving the arrests and penalties to black and brown ones."
"Even if those charges got dropped later, it didn't stop those officers from arresting that person and getting their fingerprints and photos into the criminal database," Linn said. "That means they'll have a record, which could affect housing or employment. If they're unemployable, they're not going to be able to take care of themselves and may potentially end up on social services, which cost taxpayers."
In Illinois, blacks were about 7.6 times more likely to be arrested for possession than whites, according to a 2014 report by the ICDP. Illinois ranks third in the nation for the black-to-white racial disparity of marijuana possession offenders, "despite the fact that marijuana use is the same between these two groups," the report said.
In 2010, Illinois ranked fifth nationally in the number of arrests for marijuana possession, behind New York, Texas, Florida and California.
Compared to other states, Linn said Illinois has proposed rather moderate policies. In Ohio, for example, possessing 100 grams of marijuana can mean a $150 ticket. But in Alabama, possessing any amount of pot for personal use is punishable by a year in prison and up to a $6,000 fine.
Linn said his group is optimistic about the bill's passage because it was "a real team effort" by a coalition of bipartisan lawmakers.
The state Senate is expected to take up the bill sometime in May.
This is a developing story. Please check back for new information.
Calling all HuffPost superfans!
Sign up for membership to become a founding member and help shape HuffPost's next chapter
BEFORE YOU GO
PHOTO GALLERY
Dogs Making Political Statements