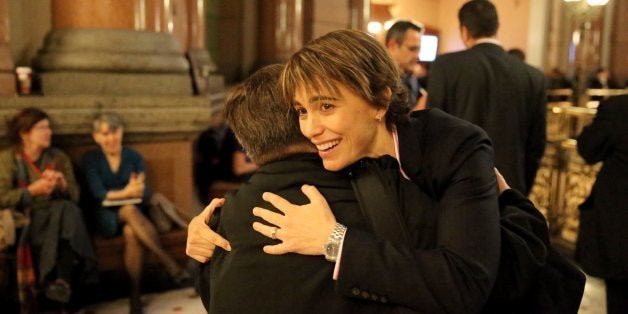 It's been a long road in Illinois, filled with bumps, bruises, and far too many blocks. But yesterday, by a vote of 61-54, the Illinois House finally passed marriage equality in the Land of Lincoln. In what is known as a "veto session," the House passed SB10, the Religious Freedom and Marriage Fairness Act, after some contentious debate, as well as months of intense community pressure and lobbying.
Following yesterday's House passage, the Illinois Senate quickly passed a concurrence vote on the amended bill by a vote of 32-21. With the historic votes in the House and Senate, the bill now goes to Governor Pat Quinn, who has said he would sign the bill into law. Since the bill was passed during the veto session, marriage equality won't take effect until June 1, 2014.
But the fight for "The Prairie State" to become the 15th state to recognize same-sex marriages has been a tough one, despite veto-proof majorities of Democrats in both houses and strong support from voters. The equal marriage measure was initially approved by the Senate on Valentine's Day, 34 to 21, but stalled in the House on May 31 -- which was met with shock and outrage in the community. The bill's state of limbo led grassroots activists to organize the March on Springfield, which turned out thousands of marriage equality activists and supporters. The groundswell of pressure both from community members and larger organizations, as well as near-constant lobbying of undecided House members, led to the bill's passage on Tuesday after months of delay.
In 2011, the state legislature passed strong civil unions, a so-called "everything but marriage" law called the Illinois Religious Freedom Protection and Civil Union Act. Yet almost immediately, problems with civil unions arose. There was a drawn-out legal battle between Catholic Charities and the state of Illinois over the $30 million in taxpayer dollars that the religious charity received for foster care and adoption services and their refusal to grant those services to same-sex couples in civil unions, which ended in a loss for the church.
Civil unions created a lower class of recognition that, while providing much-needed rights and protections, reinforced the idea that LGBT relationships are less than their heterosexual counterparts. Creating this new, separate, and different level of rights and recognition among committed couples only created further inequity, confusion, and discord.
Such was the case when the Springfield, Ill., Joint Labor/Management Insurance Committee deciding not to cover health benefits for the civil union partners of city employees. The committee used the different relationship status of same-sex couples and married heterosexual couples to carve out the exemption regarding civil union spouses. They cited the benefits for same-sex couples being too costly, which is an argument that would never be accepted when applied to a more universally understood institution like full marriage. Public outrage eventually made them change their decision and cover all couples equally.
Perhaps the most illuminating example was confusing the decision from the Illinois Department of Revenue saying that couples in civil unions "may not file joint Illinois returns" and that the new civil unions law "did not change the Illinois income tax laws." After much pushing from legislators and the community, the department reversed their decision, allowing same-sex couples in civil unions to file jointly in the state. Yet this confusion within the state government itself over the law shows just how easy it is for civil unions to fall short.
In a show of just how unequal civil unions were, 25 gay and lesbian couples represented by Lambda Legal and the American Civil Liberties Union of Illinois brought a lawsuit seeking to overturn Illinois' 16-year-old ban on same-sex marriages. Now that the law they are challenging has been altered in the way they were seeking, however, expect the lawsuit to be dismissed.
In fact, research has shown that in area after area -- whether tax law, health insurance, hospitalization, family issues, personal finance or actions by state and local officials -- same-sex couples, even ones in civil unions, were treated unequally or denied their basic rights, or singled out for discrimination.
It quickly became clear that while civil unions could be considered a first step, it could never be an end goal. As openly gay Illinois State Rep. Sam Yingling said during the SB10 debate:
This is a very simple issue. It's about family. Your family. My family. We feel pain when our kids feel pain. We strive to make sure they have every opportunity your kids have. But we are a family treated differently under the law. We do not have the same protections that your families have.
What Marriage Equality Means for Same-Sex Couples
The Religious Freedom and Marriage Fairness Act has far-reaching implications for Illinois' same-sex couples. Under the bill, marriage in Illinois will change from an act between "a man and a woman" to one "between two people." What the law means is simple: ALL couples in Illinois would have the same rights and responsibilities that come with full marriage equality. Couples would all just be married, gay or straight. The confusion over the "separate and unequal" status of same-sex couples, and the problems we have seen under the civil unions law, will come to an end within the state. The legislation also makes sure that no religious organizations are required to solemnize a marriage of gay couples, nor would any church officials be forced to allow their facilities to be used by same-sex couples seeking to marry.
The new law also means a financial boon for the state. A study from the Williams Institute at UCLA School of Law found that extending equal marriage to same-sex couples could add up to $103 million to the state economy and $8.5 million in new state and local tax revenue.
Here are the nuts and bolts of the new law, which takes effect on June 1, 2014. Civil unions are still available for couples (same-sex and opposite-sex) if they choose this option. Also, couples with civil unions may remain in a civil union.  Those who wish to convert their civil unions to marriages will have two options. The couple may apply for a marriage license and have a marriage ceremony to convert their civil union into a marriage without a fee. Alternatively, during the first year after the marriage law goes into effect, the couple may apply to a county clerk for a marriage certificate that will show them as married as of the date they entered their civil union, sign the certificate, and return it, also without a fee. The law also provides that marriages legally entered into in other states will be recognized in Illinois. If you are already married, your marriage will now be recognized as a marriage, rather than just as a civil union.
Marriage equality in Illinois also has far broader impact on same-sex couples in the state following the U.S. Supreme Court ruling on the constitutionality of the so-called Defense of Marriage Act, which denied same-sex couples federal benefits equal to their married heterosexual counterparts. Since the court struck down a key section of DOMA in June, the federal government now recognizes the marriages of same-sex couples, giving gay couples the full array of rights available to married heterosexual couples from the federal government. There are more than 1,100 places in federal law where a protection or responsibility is based on marital status. A few key examples include access to Social Security survivors' benefits, the option to use family medical leave to care for a spouse, the opportunity to sponsor a foreign-born spouse for citizenship, and access to veterans' spousal benefits. Starting June 1, Illinois couples can now access those federal rights.
As President Obama said in reaction to the Illinois passage of marriage equality:
Michelle and I are overjoyed for all the committed couples in Illinois whose love will now be as legal as ours -- and for their friends and family who have long wanted nothing more than to see their loved ones treated fairly and equally under the law.

As I said in my Inaugural Address last January, our journey as a nation is not complete until our gay brothers and sisters are treated like anyone else under the law, for if we are truly created equal, then surely the love we commit to one another must be equal as well.  And tonight, I'm so proud that the men and women elected to serve the people of the great state of Illinois have chosen to take us one step further on that journey to perfect our union.
The Emotional Impact of Equality
While there will be time for policy and procedural analysis in the coming days, I can't help but sit back, take off my journalist hat, and let the tears of happiness wash down my face. This isn't just a political story, an issue of benefits and dollars, or a simple piece of legislation for me. This is a very personal moment of recognition for me and my family. You see, I have been with my husband for 12 years.
This will be the first time in all those years that we will finally live in a state that recognizes our marriage, our commitment, and our love. We have done our best over the years to navigate the complex road of relationship recognition that same-sex couples face. We have traveled the winding road of relationship recognition over the years. We had a "commitment ceremony" with family when that was our only option. We had a civil union in Vermont when that state passed that as the only option in the country. We finally got legally married in California in 2008 before Prop 8 passed, grandfathering us into a kind of marriage limbo. We've lived in Florida during the dark days when they passed their constitutional amendment banning same-sex marriages. We even celebrated moving to Illinois and having the state pass civil unions, even though it legally "downgraded" our existing marriage.
In short, we've navigated the maze of what it means to be a same-sex couple simply wishing to declare their love -- and access the rights and responsibilities that come with marriage to one another. And in all those years, we have never had our home state recognize the promise we made to love and cherish each other.
It's hard for most to imagine what it's like to awkwardly say that we were "civil unioned," then explain what that means to those who don't know. I think it's hard for people who have never been denied basic dignity and respect, or had to listen as others debated their lives and relationships as a "divisive political issue," to grasp the emotions that wash over you after a lifetime of being told you are wrong, different, and less than everyone else.
So while there is much work do to in our quest for equality, today I will pull my husband close, share tears of joy, and celebrate this moment of history not just for our state but for our family.
Calling all HuffPost superfans!
Sign up for membership to become a founding member and help shape HuffPost's next chapter