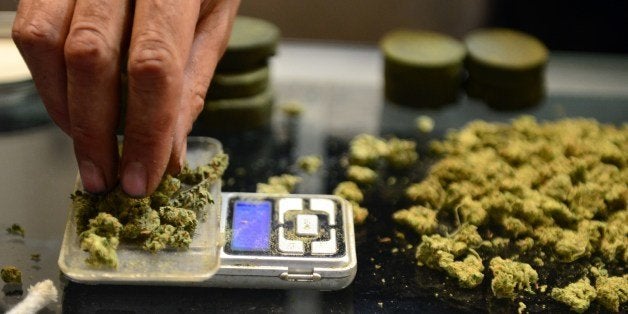 "I was livid. We're five years past this for the patients," State Rep. Lou Lang (D-Skokie), who originally sponsored the state's medical marijuana law, told The Huffington Post from Springfield Monday. "I think the governor made a serious and grievous mistake today."
"It is time to take the politics out of this issue and help these patients and families get safe and legal access to this medicine," Dan Linn, the executive director of the Illinois chapter of the National Organization for the Reform of Marijuana Laws, or NORML, told HuffPost via email. "Without these licenses being issued soon, hope is running out for some of these patients who are depending on these facilities to be opening soon so that their medicine will be legally available."
Under the legislation Quinn signed Monday, state regulators can now impose fines and other penalties -- rather than just revoke licenses -- on anyone who violates the medical marijuana law. Medical marijuana growers, patients and their caregivers now face tougher criminal background checks, according to the Associated Press.
Lang was less bothered by those updates to the law, telling HuffPost that while Quinn "can make small cosmetic changes to the law, he can't change the intent. I don't think [the changes] are going to stick in that form. It will have to be done with a separate piece of legislation."
Gross lives in Napierville, Illinois, but his wife and other children were forced to move to Colorado last year so their son Chase, who suffers from epilepsy, could access what Gross calls a "life-saving" form of cannabis oil. He said he's "trying to figure out who the boogeyman is in all of this. I see 60 percent approval ratings for this bipartisan issue."
Lang, however, didn't mince words when it came to assigning blame for the stalled process.
"State agencies told me they made their choices [for licenses] and were just waiting on the governor's signature," Lang said. "The the blame lies squarely on his shoulders."
Quinn spokesman Grant Klinzman told the Associated Press that the process of awarding licenses to business and cultivation centers "shouldn't be rushed out last minute."
"The agencies in charge of awarding these licenses have already completed most of the work in full accordance with the law, and the new administration will now administer the rest," Klinzman said.
Rauner, who was inaugurated Monday, is now responsible for shepherding the licensing process.
Gross said that while he's frustrated by the bureaucracy, he remains hopeful about bringing his family back to Illinois -- and that Rauner will act affirmatively on the business licenses.
"I can't think about the alternatives," Gross said. "My brain just doesn't want to go there."
Calling all HuffPost superfans!
Sign up for membership to become a founding member and help shape HuffPost's next chapter
BEFORE YOU GO