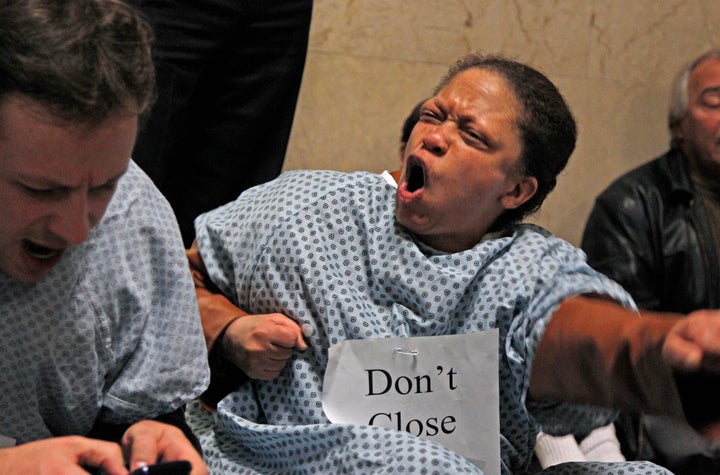 As patients, their families and employees react to Gov. Pat Quinn's planned closure of two state-run mental health institutions, Quinn is defending the cost-cutting measure, which stands to relocate hundreds of residents with mental and developmental disabilities.
"Funding for community mental health services has long been inadequate and continues to decline," states the report, which examined the state's mental health spending in Illinois' 2010 budget. "We rank no better than 35th in per capita spending on community mental health services despite being the 8th richest state in the country."
Quinn promises that state funding diverted from institutionalized care will "follow the person," according to CBS Chicago, suggesting that the 600 patients that stand to be displaced in the next 2 1/2 years will be transitioned to alternative, community-based care options that will receive more support from the state. It's unclear whether the state plans to relocate some of the 550 employees at the Jacksonville and Tinley Park facilities on the chopping block.
Closing institutions will not save the state money or improve services because community-based services are not already in place. If these facilities close, then people will have nowhere to go and costs will be shifted to already packed emergency rooms, homeless shelters, and correctional facilities. Not to mention needlessly increasing the suffering of people facing mental illness.
The statewide mental health cuts will be compounded by Mayor Rahm Emanuel's plan to close six of the city's 12 mental health clinics, a move that will displace 2,549 people currently reliant on the facilities for treatment. Patients and advocates have spoken out against the closures, which will force those that continue treatment to travel significant distances to the remaining six treatment centers.
"My therapist is like part of my family," Florencia Cano, a patient at Northwest Mental Health Clinic slated for closure, said in a Chicago Mental Health Movement report. "It's important for me that this clinic does not close. This is my neighborhood. Sending people to other neighborhoods is going to be very difficult."
Chicagoans speak out against the city's planned mental health facility closures:
Support HuffPost
The Stakes Have Never Been Higher
Related
Popular in the Community