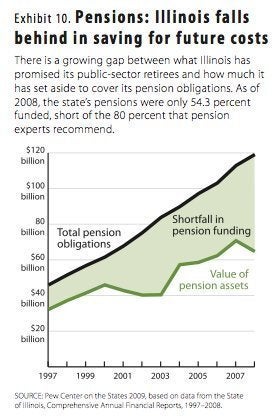 Nationwide, 84 percent of pension liabilities for state employees are funded--that is, states have set aside 84 percent of the money they've promised their retirees. This, the report says, is good news; anything above 80 percent is considered responsible by economists.
As of 2008, Illinois' pension liability was only 54 percent funded, the worst figure in the nation. And new estimates put that figure below 50 percent.
Part of the problem is that, under indicted ex-governor Rod Blagojevich, Illinois borrowed against the money it expected to earn from its pension fund. But the recession has undercut those earnings; the fund now earns 3.8 percent, as opposed to the anticipated 8.5 percent.
The state has resorted to borrowing and accounting tricks to duck its obligations, the report says. But Pew Center managing director Susan Urahn warns that the mounting liabilities "could have significant consequences -- higher taxes, less money for public services and lower state bond ratings."
Though it is worst in the nation, Illinois is hardly alone. Only two states, New York and Florida, had fully funded pension liabilities; 19 states were listed by the report as meriting "serious concern" in the area.
REAL LIFE. REAL NEWS. REAL VOICES.
Help us tell more of the stories that matter from voices that too often remain unheard.